More on Marc Chagall: tantalisingly just on the other side of the comprehensible
There can be no doubt that Marc Chagall is a firm favourite as G in London commented:

I don't "like" Chagall! I adore Chagall - for me, his work is wonderful, mystical, up-lifting and tantalisingly just on the other side of the comprehensible....Thank you Anne for a blast of light on an otherwise dull, damp and dreary day here in London.
'Maries au village' (Opera Gallery/Independent.co.uk)
The words from G in London so eloquently describe Chagall's works and capture the essence of the impact these remarkable images, created by an artistic genius, have on the viewer.

But how much do we really understand about Chagall's works?

I believe that to begin to understand an artist and their works you must start at the roots of their existence: where they were born, where they lived and under what influences did their perception of the world develop as a child and into their adult years.
Marc Zakharovich Chagall was born Moishe Zakharovich Shagal on 7 July 1887 in Vitebsk in what was then part of the Russian Empire but is now Belarus. He underwent name changes from Moishe Shagal, to Mark Shagalov and eventually Marc Chagall.

Marc was the eldest of nine children; his father worked for a herring merchant and his mother sold groceries from home and rented out small outhouses she had built near their home.


Chagall's Parents (en.wikipedia.org)
You will notice that fish appear as motifs in many of Chagall's works and according to his biographer Jacob Baal-Teshuva Chagall did this "out of respect for his father" and the daily grind he made carrying heavy barrels of herrings. (en.wikipedia.org)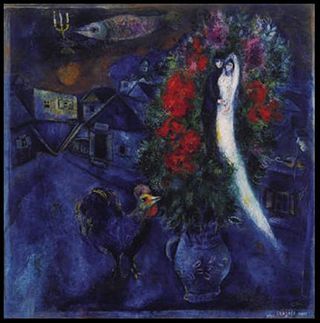 Many members of Chagall's family appear in his works.

Marc's mother Feiga-Ita Chagal was the eldest daughter of the Jewish butcher of Lyozno, a village near Vitebsk. When her mother died young, her father married Bacheva, the widow of Marc's paternal grandfather. It is these grandparents who appear in Chagall's pictures. (Marc Chagall: Life and Work by Franz Meyer)

Below is his grandfather, the local butcher.


Butcher 1910 (wikiart.org)

And it is claimed by Franz Meyer that the wrinkled old woman in Chagall's etchings and paintings is Bacheva his grandmother.


Old Woman with a Ball of Yarn c. 1906 (wikiart.org)

For me however it is Chagall's paintings of village life that I love so much and which start to give us an understanding of the man behind the paintbrush or the etching pen. One of my favourite Chagall works is I and the Village painted in 1911, a year after he had left his home in Russia to make his way as an artist in Paris.


(marcchagall.net)

"I and the Village" depicts Chagall's nostalgia for the simple world that he left behind: a world filled with magic and wonder. A man with a green face and wearing a cap jovially encounters a goat, or is it a sheep? On the cheek of the animal is a picture of a goat being milked. In the background, a man walks down a traditional Russian street with a scythe over his shoulder, while an upside down woman plays the violin. In the foreground, the green-faced man's hand holds an illuminated tree. Round his neck is a Christian cross.

It appears that in this village peasants and animals live side by side. The man and the animal regard each other with trust in what seems to a mutually beneficial relationship.The illuminated tree of life the man holds is perhaps the reward for their relationship. Animals connect us with the universe.

The artist does not comment on the extraordinary collage of images he has assembled in any way. He offers it as a gateway into the world of a Hassidic child growing up in a small rural settlement.

In "I and the Village" Chagall mixes modern and figurative elements with cheerful indifference to convention, perspective and the forces of gravity. His playful use of humour, colour and emotion foreshadows the style that would lead to him becoming world famous and exerting enormous influence on subsequent artists.(marcchagall.co.uk)
If you would like to extend your knowledge today on Chagall please follow this link to an excellent article by Joseph A Harriss on The Elusive Marc Chagall who with his wild and whimsical imagery bucked the trends of 20th-century art.
Much of my understanding of Chagall is being gained from a daily reading about his life and art as described in Marc Chagall Life and Work by Franz Meyer. Franz Meyer was Chagall's son-in-law as his first wife was Chagall's daughter Ida.

I will return with more on Chagall in a few days.