Troy Quinliven remembered with love and admiration - Part Two
Troy Quinliven impressed at art school (St George TAFE) as a portrait painter and became good friends with another talented artist who gave him a book to read (Dostoevsky) just prior to taking his own life. This had a profound effect and very soon Troy became a voracious reader. Sadly his younger brother died in an early morning accident (while driving to work) at the end of Troy's BFA just before Christmas in 2007. The brother also left a book behind that he had been reading, facedown on the bedside table. For Troy this was a symbol of a life story interrupted. 1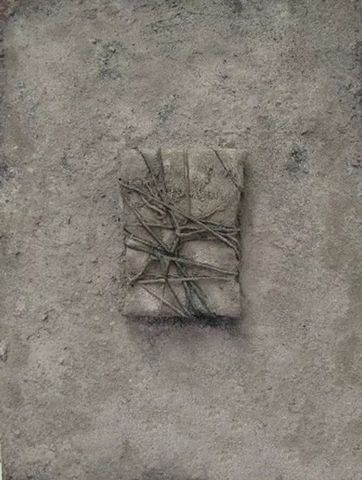 Kevin walked with Troy each morning over that summer and he worked through his grief during his Honours year with work that became more conceptual and involved books that he burnt, bound, covered in ash and in salt solutions. 1
Below is Troy's exquisite tribute to his younger brother Clay.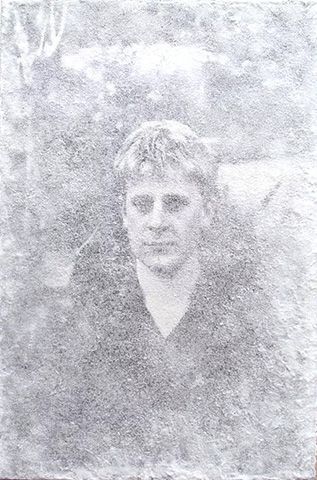 Kevin McKay provides us with an explanation:
First Day at Work (above), is a picture of Troy's younger brother, Clay...The portrait was covered with salt solutions that crystallised. An unintended effect was the image underneath would appear with greater clarity and disappear according to atmospheric humidity. Troy felt this reflected the nature of grief and memory.1
A painting (below) by Troy made with ash and referencing Mosaccio's Expulsion from the Garden of Eden, was a finalist in the 2008 Blake Prize, and one of his book works was included in Rev Doug Purnell's 2010 Stations of the Cross exhibition.1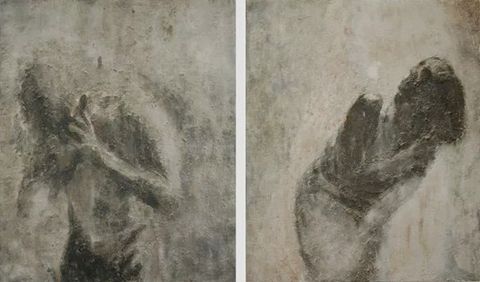 Kevin, again is able to provide us with a background to the painting.
Troy's best friends, Andy and Rhianna (who was also studying at NAS) were the models for The Expulsion which references the figures of Adam and Eve in the famous Masaccio fresco and their contrasting expressions of physical and mental shame at the consequence of their transgression.1
Troy began painting portraits of the authors he loved which he exhibited in a joint show with Kevin McKay late in 2016. He passed away suddenly a few months later on 10 March 2017 at just 33 years of age.
Troy's last exhibition was the only joint exhibition Kevin McKay had with Troy.
I viewed Troy's portraits of authors as him identifying with the creative agency behind the stories he read. He had wanted to call the exhibition Epilogue, which is the last chapter in a book. I convinced him to change it to Prologue, which kept the door open for more exhibitions on the literary theme. We had no idea that would indeed be the end.1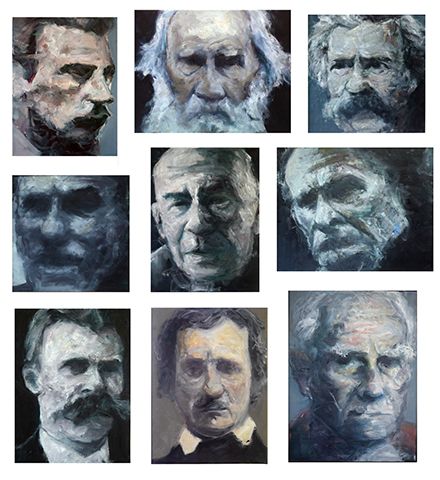 Oil on linen various sizes. These portraits of authors (above) were some of the works in Troy's last exhibition. (L to R) Top row: Rilke, Tolstoy, Mark Twain Middle: Celine, Henry Miller, Bukowski, Bottom: Nietzsche, Edgar Allen Poe, Moravia.1
Troy's Prologue Exhibition was held 30 November - 10 December 2016 at Sheffer Gallery 38 Lander St Darlington, NSW.
Kevin McKay recounts for us:
The last portrait Troy painted was of the Spanish poet, Garcia Lorca, whose life was also touched by illness and tragically cut short. I entered this posthumously for the Work on Paper Award at Hazelhurst, Troy's local Regional Gallery.1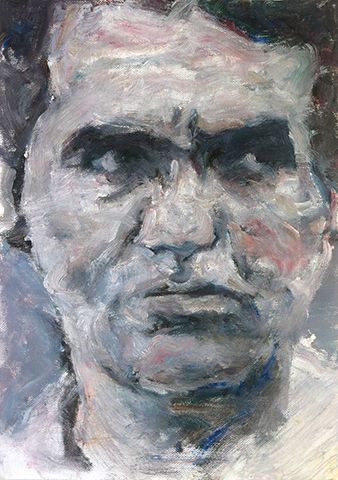 Kevin:
Doug Purnell contacted me shortly after Troy's death to ask me to contribute a work for the Stations of the Cross, and assigned the station: Christ is buried. I worked on a kind of posthumous collaboration to provide the third panel in a triptych Troy had started.1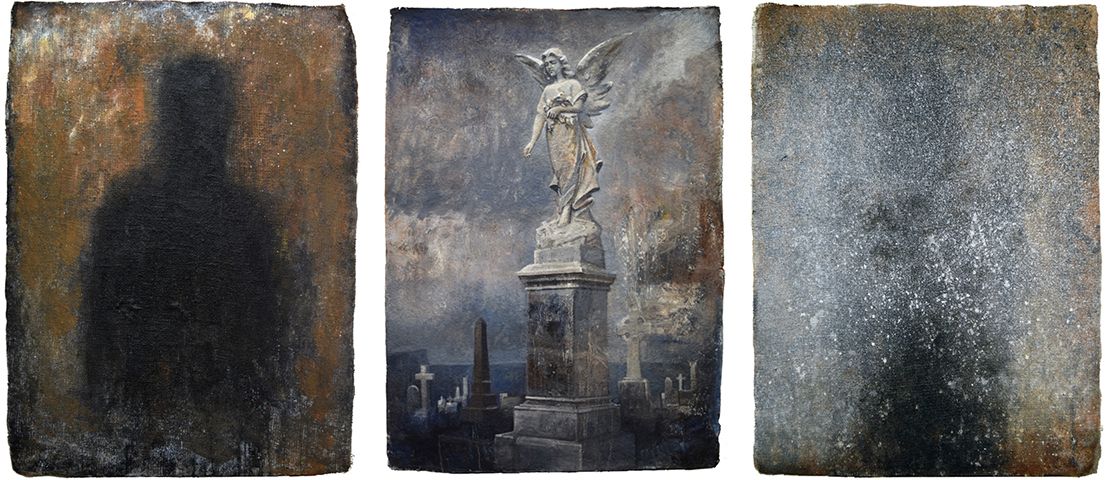 We conclude today with another remarkably powerful painting by Troy. His best friend, Andy, was the model for the pose and it was painted with ash for another Stations of the Cross exhibition.4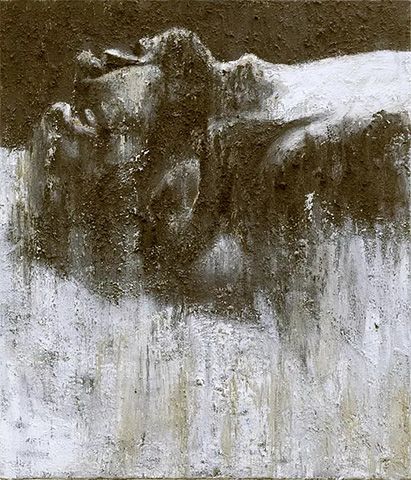 ---
Tomorrow we are going to have a Reflective post in memory of Troy Quinliven brought to us by one of Troy's favourite musical artists - Johnny Cash.
And following on from this you will see the painting that Kevin McKay created on a panel he recently repurposed from the unfinished and abandoned third panel.
❁ A very special thank you to Kevin McKay for his assistance in preparing this post on Troy Quinliven, for providing explanatory notes to accompany the images, and who kindly gave permission for the image of his portrait of Troy to be shared on AnArt4Life.
The late mail sees two new subscribers from across the globe join the AnArt4life on-line blog community. A very warm welcome to B.T. in Australia and R.C. in the U.K.
Credits
1. Explanatory notes provided by Kevin McKay
2. troyquinliven.com
3. Image provided by Kevin McKay