May Harding: the Woman who helped make Broken Hill the Art Capital of Outback Australia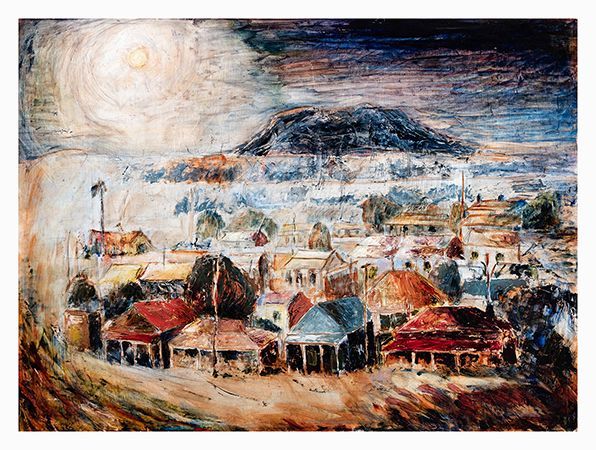 Some weeks back one of our subscribers, South Australian artist John Wylie, alerted me to the contribution the relatively unknown May Harding had played in many aspects of life in Broken Hill especially in the artistic fields. I contacted John Pickup OAM, one of the famous Brushmen of the Bush from Broken Hill, to find out what he knew about May Harding and he endorsed what many others have said: May Harding was instrumental in establishing Broken Hill as the home of Australian outback art.
Thanks to Eileen Wright, Collection Project Manager at the Broken Hill Regional Gallery, we have been able to locate many more works by May Harding - a selection of which we are going to showcase in this post.
Please see the footnote re copyright on the images.*
The painting above of Broken Hill Nocturne holds great significance to the story of May Harding. This painting hangs in the Broken Hill Regional Gallery and it is one of only two paintings by May Harding that we have been able to locate, as an image, on the internet. Sadly, the lack of an internet artistic footprint is the fate for many of the artists around the world who made their contribution to the art scene in pre-internet days. The AnArt4Life blog aims to rectify this where at all possible by publicising the works and stories of unknown and forgotten artists. Today we shine the spotlight on May Harding.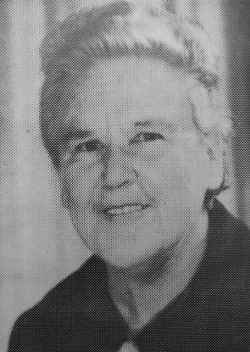 Turning the clock back we find that in 1908 in the mining town of Silverton, NSW a child was born and called Florence May Harding. When still a child, May Harding (as she was called) moved with her family the 20 kilometres to the mining town of Broken Hill in far western New South Wales.
May lived all her life in the family home in Broken Hill. As she never married she dedicated herself to passions which can be grouped into: collecting and identifying the native flora of the arid region west of the Darling River; teaching art and being engaged in a great variety of artistic activities; and helping those in need.2
Apparently May did study for a short period in Sydney at the National Art School (below) with Douglas Robert Dundas (1900-1981)2. But apart from this she was self taught in all her fields of interest.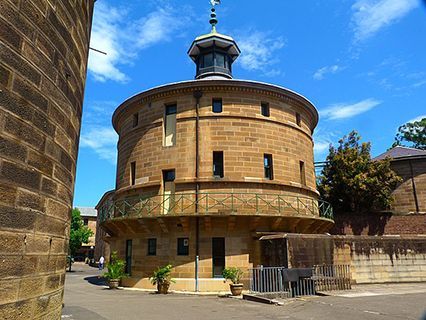 Early in life May developed a passion for the native flora of the arid West Darling region, collecting and identifying plants. Self-taught in botany, she combined this attraction with art, and as early as 1922 she began exhibiting paintings of wildflowers.2
I have found an image of the Barrier Field Naturalists Special Prize certificate May was awarded in 1922 when she would have been 14 years old, evidence of her early passion for learning about the flora of this area.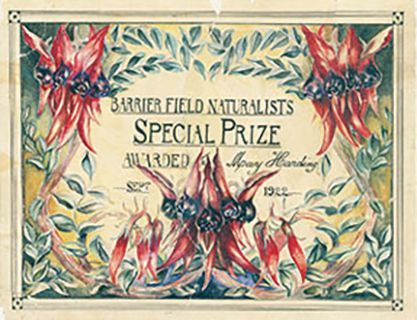 In the 1930s May's interest in the native vegetation of the Broken Hill region was further spurred by the actions of Albert Morris, who was determined to control the city's dust problem. Morris was in 1918 the inaugural Secretary of the Barrier Field Naturalists' Club, a position subsequently held by May Harding, her membership spanning 45 years.2
In February 2020, the Barrier Field Naturalists' Club celebrated 100 years of continuous community service and caring for our natural environment. The Barrier Daily Truth recognised this centential achievement and May Harding's 1922 award in the article Nature pioneers mark centenary.
In this role she was adept as organiser, researcher, librarian, and speaker at Club meetings, as well as leading numerous field excursions, both within the district and further, such as the Flinders Ranges. In 1944 she was a member of The Sturt Memorial Committee of the Barrier Field Naturalists' Club, contributing botanical artwork and editorial material for their commemoration booklet, Sturt 1844 - 1944. In 1946 she was made an honorary member of the North Queensland Naturalists' Club. By 1950 she had Australia-wide botanical connections, recognising her expertise in the botany of arid and semi-arid lands.2
May also organised annual wildflower shows at the Technical College in Broken Hill. And in 1965 she was selected to open the Festival of Australian Wildflowers in Canberra.6
The Broken Hill Regional Gallery has one of May Harding's paintings of the wild flowers she loved so much which from all accounts grow in the West Darling region of New South Wales.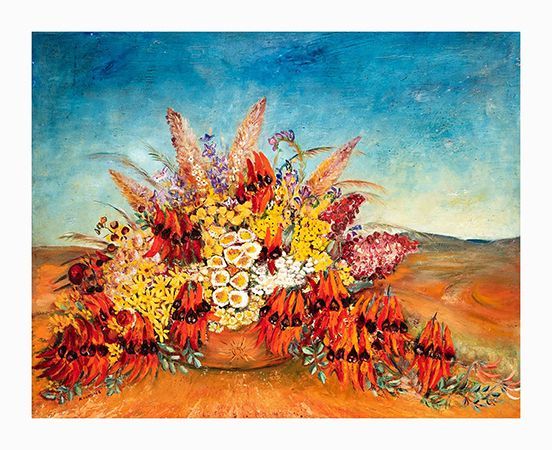 And thanks to Susan Pickup and the Broken Hillites who live away from home Facebook page, we were able to locate this painting of "Palaeoliths"- Aboriginal worked stones also from the West Darling region. Thank you to the Broken Hillite who uploaded this image to Facebook4. I love the colours May has used to represent the richness of the stones, the earth where they lie and their historical significance. There are some unusual shapes in the painting which no doubt hold the secret of May Harding's narrative about the land.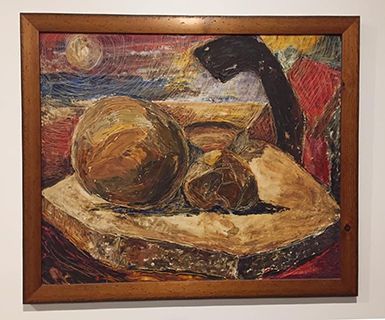 The only other painting illustrating her love of nature that we have been able to find is this Study of Moreton Bay Fig, a watercolour painting by May Harding produced in about 1950.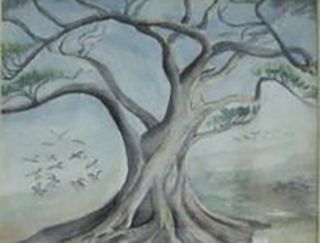 Between 1940 and 1970 May Harding was the sole teacher (part-time) of art and botany at the Broken Hill Technical College where from 1947 she also ran art classes for local children on Saturday mornings. In addition, we have learnt from some of the Broken Hillites who live away from home that May taught them scriptwriting and caligraphy from her home. Many of these former students commented on their wonderful memories of May's classes and one even remembers painting a backdrop in the Broken Hill Town Hall for a show.
Other Broken Hillites... remember May's cats which from all accounts had free run of the house. Apparently she always had a dozen or more cats lounging about her rumpled home amid her private library and favourite artworks, both hers and those of her artist devotees.2
Thanks to Janet Pickup we have a copy of one of May Harding's paintings that attests to May's love of cats. Janet Pickup owns the painting and on the back in May's handwriting is the title Mummy's Hoover6. A somewhat unusual title which is no doubt a reference in some way to the popular Hoover vacuum cleaner or washing machine. The same humorous message is taken up in Thank God for little girls and Hoover washing machines (below).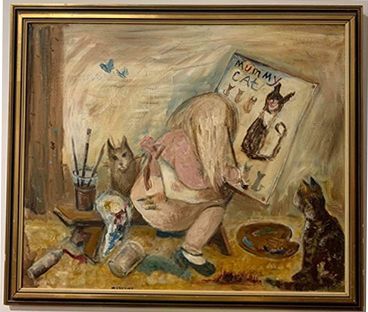 A talented artist and graphic designer in oils and watercolours, May failed to attract critical acclaim in her own right, but from the early 1950s was instrumental in zealously promoting the art and artists of Broken Hill.2
In 1961 May Harding along with Sam Byrne, Joyce Condon, John Gregory, Kevin 'Pro' Hart, and Hugh Schultz, formed The Willyama Art Society. The Aboriginal word Willyama means hill with broken contour and was the original name of Broken Hill. May Harding was elected Hon. Secretary, and later was Hon. Treasurer until 1971.7
May taught Sam Byrne who acknowledged the debt he owed to May Harding for her teaching and guidance in his career. She also taught well known Australian artist Pro Hart and Eric Minchin both members of the famous Brushmen of the Bush from Broken Hill.2
In some of Pro Hart's paintings you can see the palette of May Harding - especially in the use of the vibrant colours seen in Broken Hill wild flowers (above) and the rich copper browns and desert reds seen in Desert Lime and Omega as shown below.
Below is May's portrait of the artist Sam Byrne and alongside a portrait of F.E.B.Rost, Principal of the Broken Hill Technical School, to illustrate the variations in her style. I think you will agree that she has captured in both gentlemen - a joie de vivre.
The painting of The Connoisseur (portrait of F. E. B. Rost) won First Prize for Watercolour, Broken Hill City Art Gallery, Competition for Local Artists, 1959.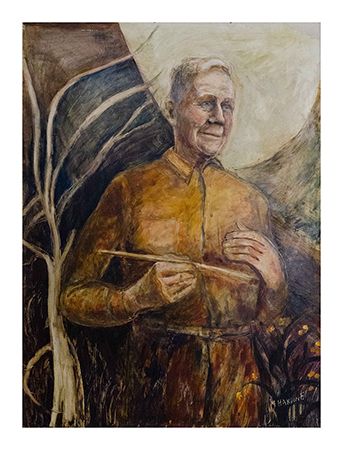 Looking through the paintings now held at the Broken Hill Regional Gallery, it is evident that May was very diverse in the choice of her subject matter and the style in which it was presented. Here are three examples of what could be defined as still life studies: each is very different in its presentation.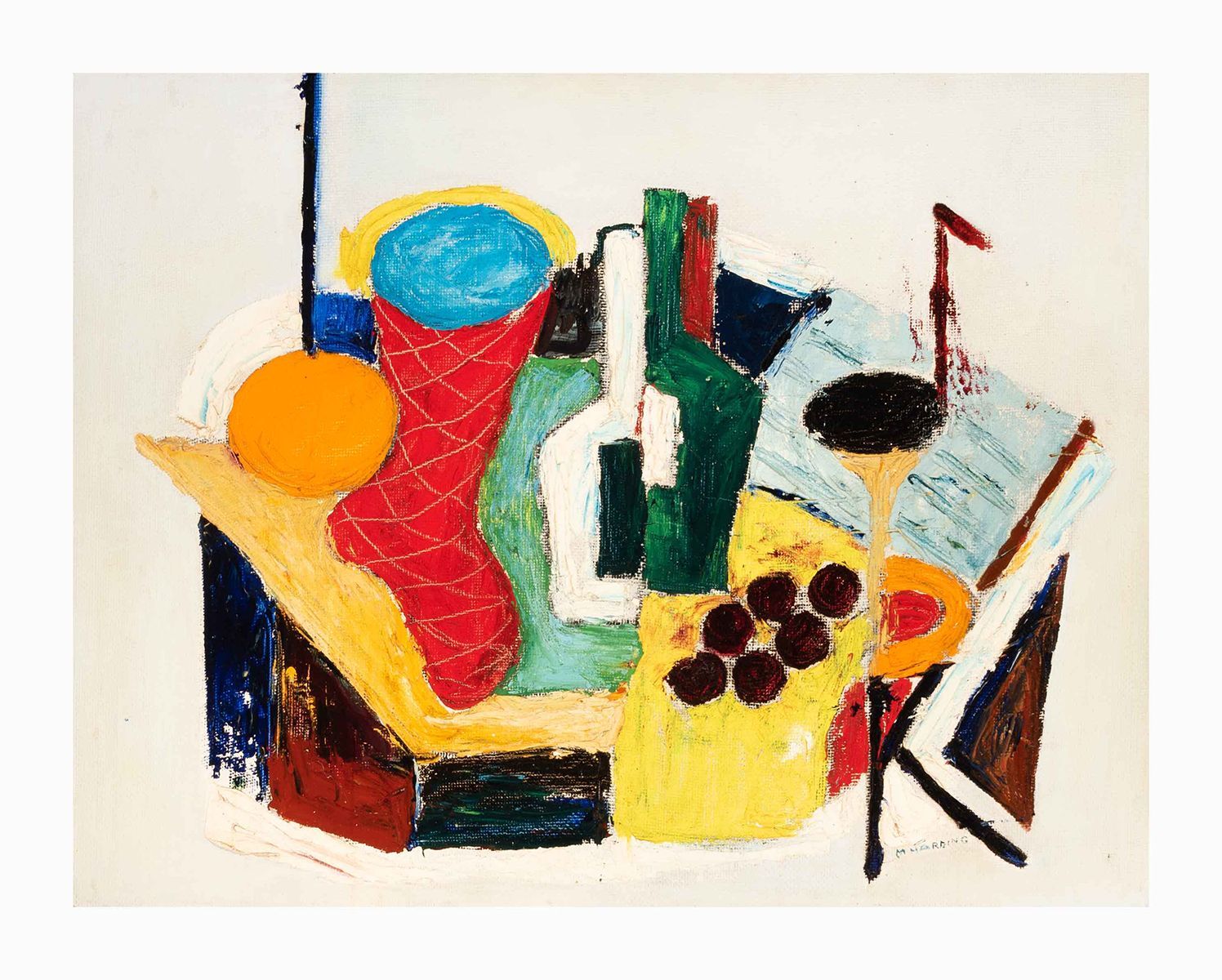 It would seem from the examples of work we have located, that May Harding was interested in the representation of people in her life. We have the two portraits above and also amongst the works are these two contrasting images shown below. The vine charcoal sketch on the left is of Mary Maguire, one of the first female presenters for ABC Local Radio in Broken Hill. This sketch was donated to the Broken Hill Regional Gallery by Delwyn Schinella, a relative of Mary Maguire's.
In contrast is the painting on the right - Desert Lime - which is the most intriguing of all of the paintings created by May Harding. I have learnt that the native fruit the desert lime is common to the West Darling region and rich in all kinds of nutritious elements. In the painting note the suggestion of figures behind the main subject. The style of this work is very different to the other portraits but more in line with the palette used for Palaeoliths-Aboriginal worked stones, West Darling, NSW (above). It would be wonderful to be able to chat with May so we could get closer to the narrative behind this painting.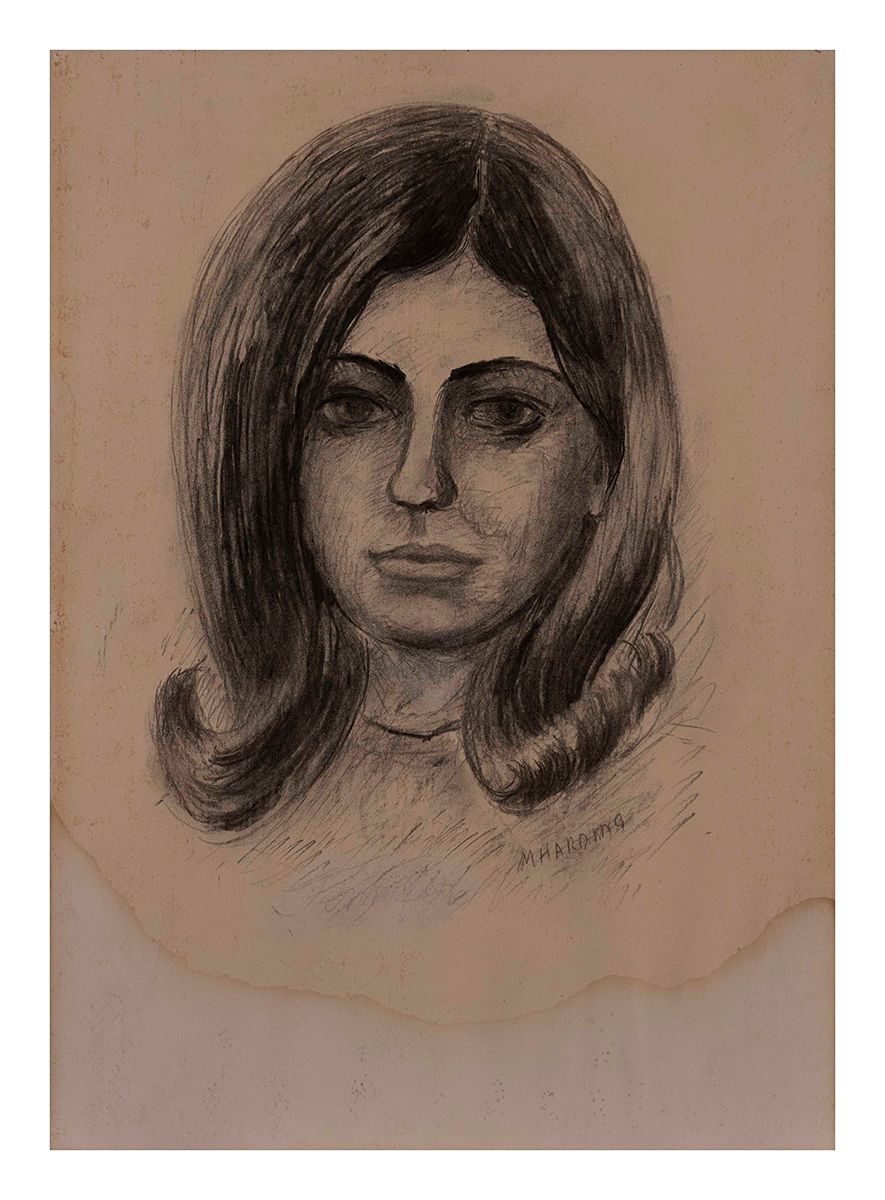 It would seem that May was a woman with a keen intellect and desire to explore more subtle messages especially about the land. Omega (below), again executed with the strong use of rich earth colours, contains many ambiguous interpretations arising from the title and what appear to be symbols within the composition.
May Harding: Omega 1960, Oil. Donated by the beneficiaries of Mrs Doris Hales' estate, in memory of her and Mr Henry Hales, 1993 (1)
Apart from painting and teaching May Harding was an Australian pioneer of natural-history photography with 35mm Kodachrome transparencies. She used an Exa 35mm SLR camera; (the original model, a simple version of the Exacta), with a 50mm f/2.9 lens and a set of extension tubes. Her full-colour photographs of local flora were shown by projection, particularly at the Barrier Field Naturalists' Club.7 Sadly we haven't been able to locate any of her photographs to date.
From our research it is evident that May Harding was a central character in Broken Hill: a much loved and respected figure. Her passion and dedication laid the foundations of the thriving Broken Hill art culture of today. She also worked tirelessly to record the native vegetation of the area. Apart from these life-long commitments, May devoted years of her life to helping the sick and needy in Broken Hill. 8
May Harding died on the 19th August in 1971 and is buried in the Broken Hill Cemetery. A section of the Broken Hill Regional Art Gallery (at its former location) was named in her honour and a Field Naturalists' flower show was dedicated to her following her death in 1971. A street in Broken Hill is named May Harding Drive after her. She is recorded at Design and Art Australia Online, and on The Australian Women's Register. 2 She was also an Honorary Life Member of the Arts Council of Australia (NSW Division).
This post has been a team effort with many people working to locate information and art works related to May Harding. With thanks to: John Wylie, John Pickup, Susan Pickup, Janet Pickup, the "Broken Hillites who live away from home" (Facebook) especially John Gibson and Delwyn Schinella, Kevin McKay, and most importantly Eileen Wright (Collection Project Manager at The Broken Hill Regional Gallery) who provided us with the images of paintings from the May Harding collection and the permission for their use in this post.
If anyone has further information on the artistic works of May Harding please get in contact with me.
Footnotes
*Copyright Note
May Harding's artworks are in copyright and are reproduced here with permission. Please contact Broken Hill Regional Art Gallery with any queries on this matter.
Credits
1. With thanks to the Broken Hill Regional Gallery - bhartgallery.com.au
2. en.wikipedia.org
3. bdtruth.com.au
4. Image provided by John Gibson, Broken Hillites who live away from home Facebook post
5. aasd.com.au
6. Image provided by Janet and Susan Pickup
7. daao.org.au
8. womenaustralia.info