Mary Cassatt - Her later life
Today we return to focus on the later life of Mary Cassatt, the period after approximately 1880.
Mary Cassatt was a strong woman, fashionable, and something of a feminist. She was an outspoken advocate for women's rights and equality, campaigning with her friends for equal travel scholarships in the 1860s, and the right to vote in the 1910's. In 1915 she showed eighteen works in an exhibition supporting the suffrage movement organised by Louisine Havemeyer, a committed and active feminist.
However, she did not explicitly make political statements about women's rights in her work. She painted women with dignity, character and an inner beauty, portraying them as "Subjects, not objects." Her work initially focused on the world of social interactions, such as the following paintings at the opera: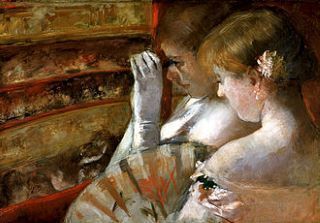 From the late 1880s onwards, Mary almost completely focussed on the subject of Mothers and Children, despite the fact that she never married or had children herself. She chose aspects of everyday life, yet the bonding shines out in these works to create an atmosphere of warmth and love.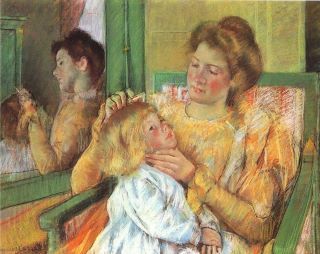 Mary was a past master at capturing facial expressions and the poses of everday life, as these images below show.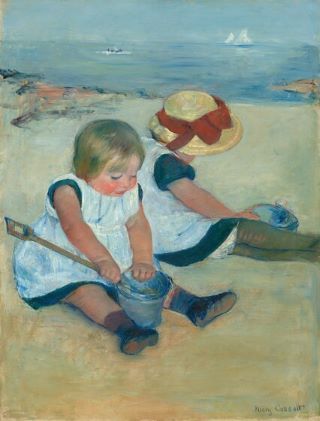 After her final exhibition with the Impressionists in 1886, Mary stopped identifying herself with any particular movement or school and began to broaden her horizons in style.
An example of this is that, after Japanese ports reopened to trade with the West in 1854, shiploads of oriental items began pouring into France. In 1862 a shop opened near the Louvre Museum which made Japanese items such as fans, kiminos, lacquered boxes, wall hangings etc. accessbile to all. Many of the Impressionists developed an interest in Japanese art, and woodblock print making, such as Monet, Felix Bracquemond, Van Gogh and Degas. Mary Cassatt decided to create a series of prints herself. She adapted the ukiyo-e art "floating world" school of print making.
As in her oils and pastels, Mary still portrayed everyday scenes of French women and children, for example, a woman caring for a child, having a wash or just sealing an envelope!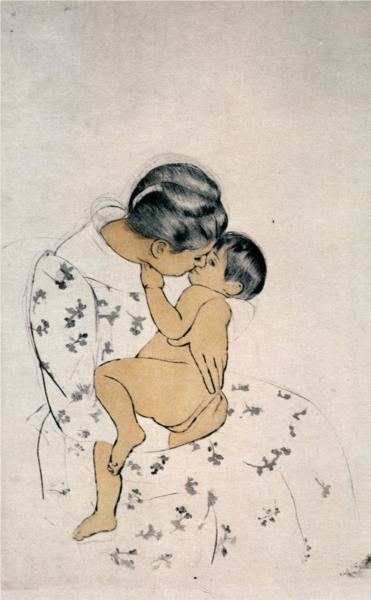 Later on, Mary Cassatt also began acting as a role model for young, American artists and sponsored fellow Impressionists. She became an advisor to several wealthy Americans and private collectors on buying artwork, on the proviso that their purchases would eventually be passed on to American art museums.
She continued to work, and even when she was diagnosed with diabetes, rheumatism, neuralgia, and cataracts in 1911, she did not slow down.
However, in 1915, she was forced to give up painting altogether as her vision slowly deteriorated due to diabetes. For the next 11 years, Mary was almost totally blind.
She died on June 14, 1926 at Chateau de Beaufresne, near Paris, and was buried in the family vault at Mesnil-Theribus, France, about an hour north of Paris.
In recognition of her contributions to the arts, France awarded her the Legion d'honneur in 1904. (Credit: marycassatt.org)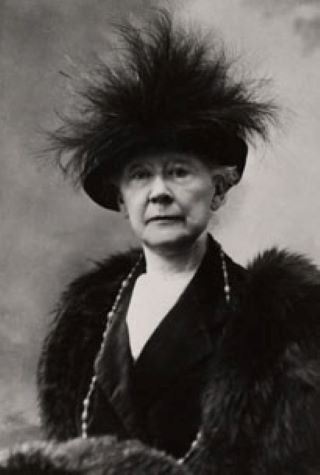 If you would like to read more about Mary Cassatt and her art style, click here.
If you would like to see the complete works of Mary Cassatt, click here.
Here, you will find access our earlier blog Berthe Morisot - a versatile artist in a man's world.
Here, you can will find our earlier blog about Berthe's daughter, Julie Manet - a box seat of the lives of the Impressionists.
Here, you will find our earlier blog about Marie Bracquemond, Successful against great odds - yet almost unknown!