Today we continue our series on Impressionist artists with a look at the life of Mary Cassatt, the third female Impressionist quoted as one of "Les Trois Grande Dames" of Impressionism, along with Berthe Morisot and Marie Bracquemond, who we have featured in earlier blogs (see links at the end).
All three were very important and influential in the Impressionist art movement. Do you wonder, like me, whether these three ladies were friends and allies in the (then) very much man's world of art? Or whether they were quite independent or even rivals? I was keen to see what I could find out!
But firstly, a little about Mary. She was born Mary Stevenson Cassatt on May 22, 1844, in Pennsylvania, America. She was the daughter of a well-to-do real estate and investment broker, and her upbringing reflected her family's high social standing. Like Berthe Morisot, her education centred around accomplishments such as music, sketching, painting and sewing, and how to properly run a household.
Similarly to the upper middle-class families in Europe, women of her day were not educated with a view to any future career. Nevertheless, Mary Cassatt enrolled in Philadelphia's Academy of the Fine Arts in Pennsylvania at age 16. She found the whole environment very unsatisfactory, with very little choice in subjects, the pace too slow, and the male dominated faculty patronising and derogatory.
She decided to move to Europe where she could study the works of the Old Masters on her own, firsthand. The family had previously lived in Europe for some years whilst she was a child, and she had learnt French and German, so Mary probably felt quite undaunted with this very big decision.
Nevertheless, her family were strongly against such a bold move, (her father declared he would rather see his daughter dead than living abroad as a "bohemian"). However, Mary prevailed and moved to Paris in 1866, aged 22.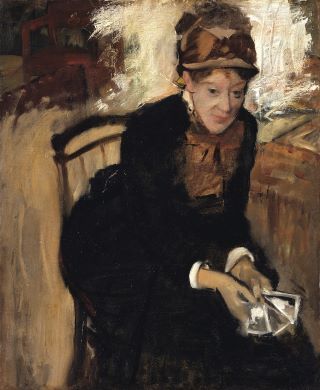 Like Berthe and Marie, Mary began work in the Louvre, where she would study and copy masterpieces. She also travelled extensively through France, Holland, Belgium and Spain, visiting museums and copying the paintings. She learned print making and acquired a sound knowledge of Japanese art.
Unfortunately, the outbreak of the Franco- Prussian war in 1870 interrupted this odyssey, and Mary Cassatt was forced to return home to live with her parents. Her father refused to pay for anything connected with her art, so, to try to make some money, she tried unsuccessfully to sell some of her paintings in New York.
However, Mary was then commissioned by the Archbishop of Pittsburgh to paint copies of two works by the Italian master Correggio. This gave her the perfect excuse to return to Europe, where the originals were on display in Italy. With the money she earned from the commission, she was able to stay in Europe, resuming her studying and painting in various countries, but eventually settling in Paris in. The Paris Salon accepted her paintings for exhibitions in 1872, 1873 and 1874, which was a wonderful accolade and endorsement of her work.
But Mary was beginning to feel increasingly constrained by the rules and boundaries of what constituted "acceptable" art by the Salon. She wanted to experiment with light, colour and new ways of representing subjects. Edgar Degas noticed her work and introduced her to some of the Impressionists whose work had been rejected by the Salon. Associating with them enabled her to follow her own direction with more confidence, and she joined the group in 1877 when her work was rejected by the Salon for the first time in seven years.
She was particularly inspired by Edgar Degas and they became good friends. His pastels, in particular, inspired her. "I used to go and flatten my nose against (an art dealer's) window and absorb all I could of his art," she once wrote to a friend. "It changed my life. I saw art then as I wanted to see it."
Mary's mother and father, and her sister and brother all migrated to Paris to live, when her father retired in 1877. Mary was allowed to set up her own studio, but she was also a very close companion to her sister Lydia, who was in extremely poor health, and Mary often used Lydia as a model in her paintings.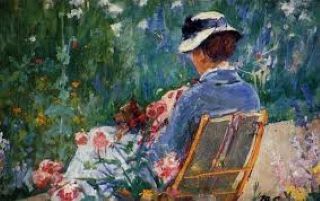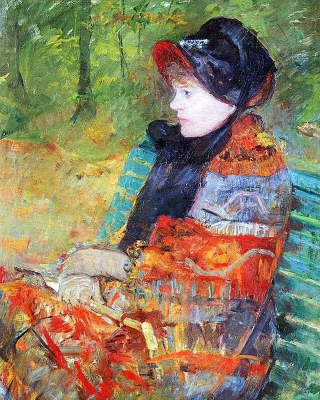 At the World Fair starting in May 1878 in Paris, there was only one Impressionist painting in the whole exhibition, and it was by Mary Cassatt, called "Tete de femme". It was shown in the American Pavilion, and so, was distanced from any recognition of the style in French culture! (No wonder making a living from painting was so difficult for the Impressionists during their lifetimes!!)
It is unknown exactly which painting of Mary's was in the Fair as the title in the catalogue may have been shortened, and Mary painted many "head of a lady" or "head of a young girl" works. Here are a few possibilities: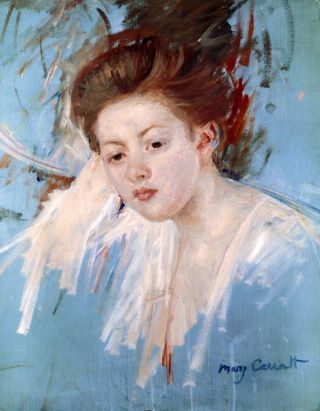 And now, back to the question of what friendships may have existed between these three pioneering women.
The fact that I could find almost nothing written about this seems to indicate that the three were not great friends or allies, but rather knew each other mainly by their participation in the Impressionist group as a whole.
We know that Mary Cassatt was a firm friend of Degas, and Berthe Morisot was a great friend of August-Pierre Renoir, Claude Monet and Edouard Manet (she married his brother!). We also know that Marie Bracquemond was friendly with, and mentored by, Degas and Monet. It appears that Marie was dominated and suppressed by her husband Felix, who interacted with the Impressionist groups in relation to his printmaking and engraving, whilst deploring his wife's art and philosophy. Therefore, most of Marie's interactions with the group were possibly mainly second hand, through her husband. Sadly, she does not appear to have had a strong, supportive friendship with the female members of the group, which may have helped her to persevere with her art.
I could only find one other small reference to this question. In 1879, Mary Cassatt helped to organise the fourth "independent" Impressionist exhibition. At this point, Berthe Morisot was greatly taken up with her new baby, Julie Manet, who she had had at the relatively older age of 37, only 6 months earlier. She was painting very little, except for decorative fans, and not terribly interested in exhibiting at the Salon or anywhere else. Author Sue Roe, in her book "The Private Lives of the Impressionists", sheds a little light on the question of how well Berthe and Mary Cassatt knew each other. She says that Degas suggested Mary could go and visit Berthe to shore up her inclusion in the Impressionist group's exhibition. Sue says: "The two women were not obvious soul mates: two more dissimilar personalities would have been difficult to find…… It has been suggested that they never got on, but Berthe was so self-contained that she could appear aloof even with her closest friends……There is no real evidence that they disliked each other…...."
The biography provided on the website marycassatt.org does state that Berthe Morisot and Mary were were friends. However, it is hard to determine the extent of that friendship, as there are no mentions of outings, afternoon tea, collaborations, or the like, in any other biographies I found.
Tomorrow we will return to take a look at Mary's life after the 1880s and how her style changed in her later years.
If you would like to read more about Mary Cassatt and her art style, click here.
If you would like to see the complete list of works of Mary Cassatt, click here.
Here, you will find access our earlier blog Berthe Morisot - a versatile artist in a man's world.
Here, you can will find our earlier blog about Berthe's daughter, Julie Manet - a box seat of the lives of the Impressionists.
Here, you will find our earlier blog about Marie Bracquemond, Successful against great odds - yet almost unknown!.