Joaquin Sorolla - Master of Light
Have you ever heard of the Spanish Impressionist Joaquin Sorolla?
I hadn't heard of him, but his work is now among my favourites. Joaquin Sorolla (pronounced Sor-oy-a) is one of Spain's most celebrated Impressionist artists, but he is not very well known outside his own country. Yet he was a prolific painter of both landscapes and portraits, and dubbed "The Master of Light" by the National Gallery in the UK in their 2019 exhibition.
Here are just two of his hundreds of paintings which I think certainly display the reasons for this very apt title: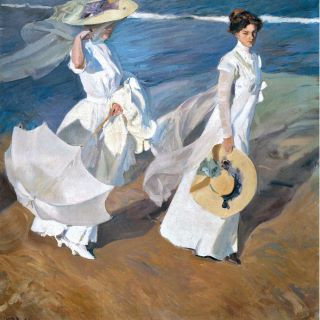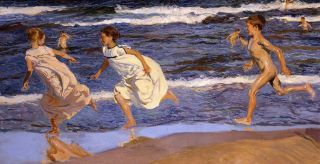 Joaquín Sorolla y Bastida was born in Valencia in February 1863, but was orphaned at only two years old when both his parents died in a cholera epidemic. He and his younger sister were adopted by their mother's sister and her husband. 1 His aunt fostered his early talent in drawing and in 1881 (age 18), he was accepted to the Academy of Fine Arts in Valencia. In 1884, not yet 21, he exhibited his first large history painting, which was acquired by the Spanish government. 1
Paintings by him were exhibited in Munich, Paris, Chicago, Vienna, Venice, and as far as Buenos Aires. By 1900, he was considered to be the most famous of all living Spanish artists. 1 Claude Monet once described Joaquín Sorolla as "the painter of light above all other."
He had three main loves in his life – his wife Clothilde and family, his hometown of Valencia, and of course, his all-consuming art. I think the following 5.16 minute video, (featuring his great-granddaughter), describes his life and work far better than I can, and is well worth watching …..
You might like to look at more of his work on the following website depicting his wonderful portraits and landscapes. Note the contrasts of his work - some is very dark capturing the physicality of the peasant working life, and others show the wonderful, bright sunlight of the Spanish coast, dappled gardens and children playing.
What do you think? Do you like his work?
Footnotes
With thanks to the National Gallery, UK.
https://www.nationalgallery.org.uk/artists/joaquin-sorolla