Magnificent Mansions - Chavenage House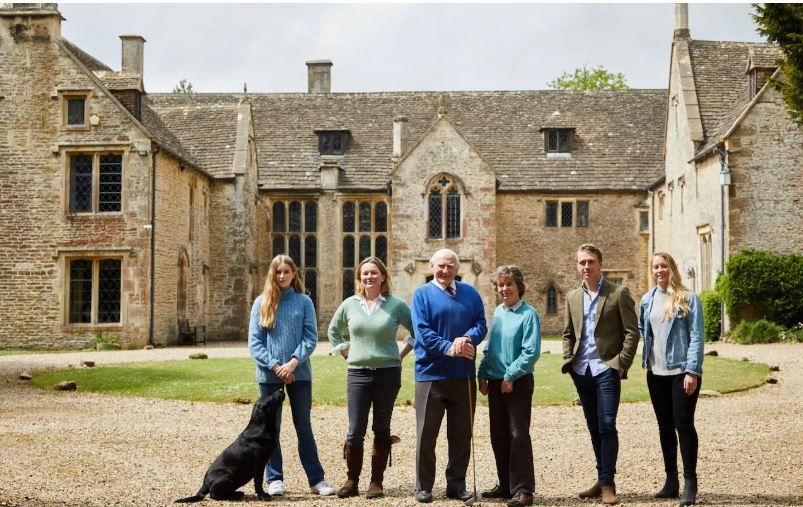 Chavenage House is an Elizabethan house, steeped in history, nestled in the glorious countryside of the Cotswolds. It has only been owned by 2 families, the Stephens and now the Lowsley-Williams, with the current family still in residence.
Chavenage House is the mansion featured in the TV series Poldark. It is only possible to visit on a private tour and while we were there in 2018, some filming was taking place - mainly horse and carriage sequences entering and leaving the front of the house.
I have not seen the series, but some of the girls were thrilled that the villain George made an appearance for a few photos and a quick hello.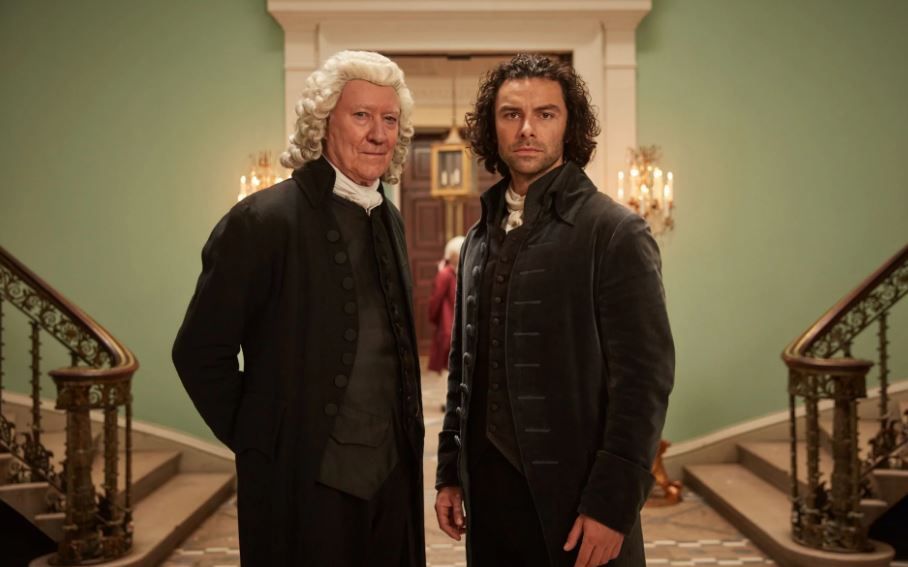 The history of Chavenage is long and involved, but suffice to say it was originally built in 1383, with additions and renovations to the property over the centuries.
The main historical interest centres on the English Civil War, when the house was owned by the MP for Gloucestershire. He was persuaded against his better judgement to vote for Charles I's impeachment and subsequent execution. Soon after the King was beheaded, Col. Stephens died and it is said that his ghostly form was seen leaving Chavenage in a carriage driven by a headless coachman wearing the Royal vestments.4
David Lowsley-Williams, an Old Etonian patriarch, was born at Chavenage; he inherited the Elizabethan manor house and 1,500-acre estate upon his marriage in 1958. David, his wife, Rona, 81, their three children – George, 58, Caroline, 54, and Joanna, 53 and her husband, plus six grandchildren - all live on the estate.
The children run tours and catering, which made it a very personal visit for us. Caroline seated us in the function room; a couple of spaniels made sure we spoilt them with pats and cuddles as she regaled us with fascinating family stories, while George led us through a few key rooms.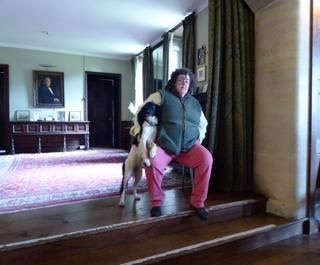 In the Cromwell Room (yes Oliver Cromwell slept here), the tapestries had turned almost black since being hung around 400 years ago. Through a government grant they were cleaned and rehung - to the delight of the family, an ordinary country scene, was in fact America - featuring woodland, a church and birds - an advertisement enticing people to the New World.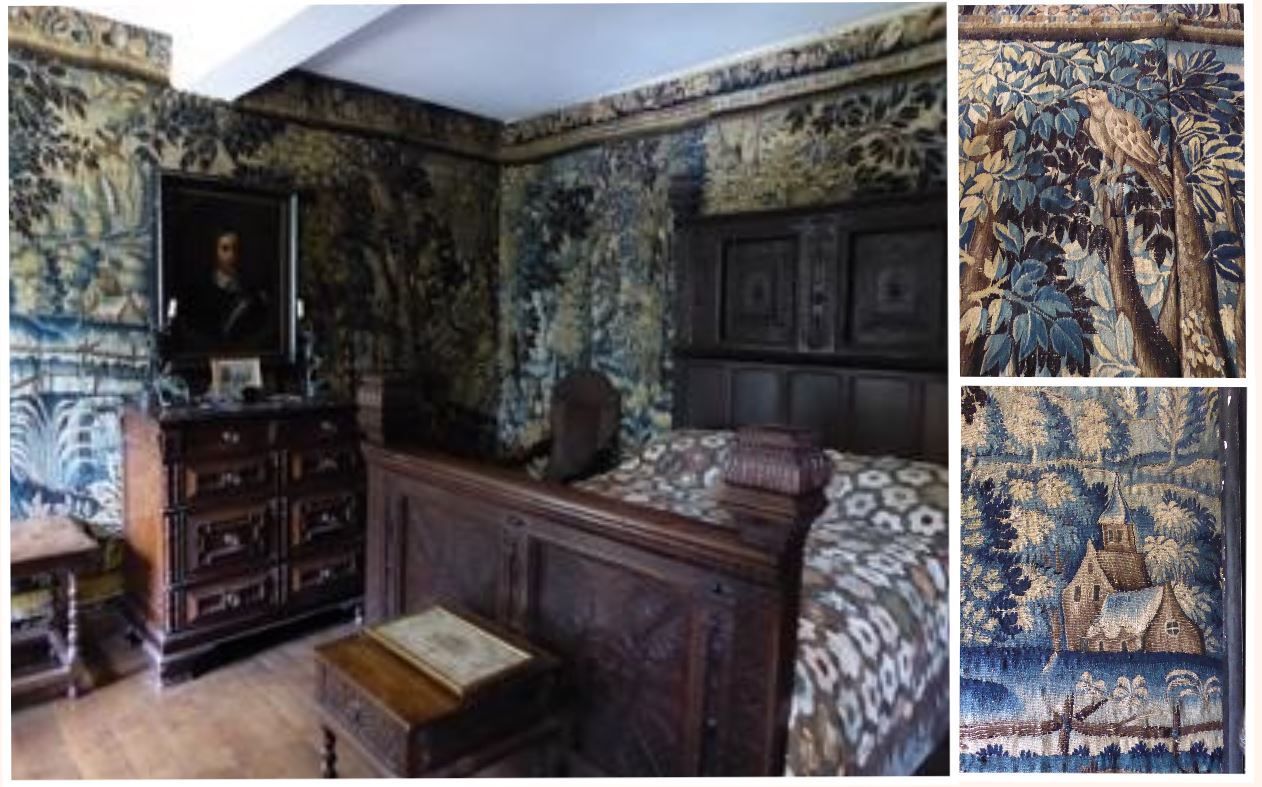 In the Oak Room, George pointed out an elegant painting – with a tiny keyhole in its frame – this would have opened to reveal a risqué 2nd painting for the gentlemen to admire when it was used as a smoking room.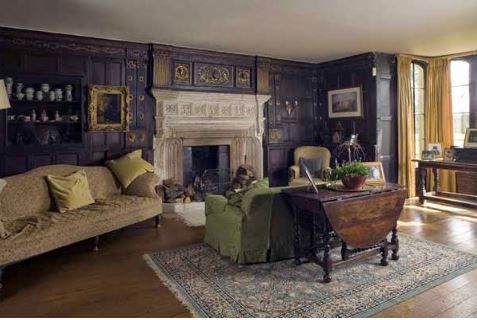 Drawings, with no connection to Chavenage, were found in the attic. No one knows how they came to be there but they proved to be interior drawings of Windsor Castle, signed off by King George IV. The Queen eventually purchased them, via a complicated transaction! As I mentioned in the post on Magnificent Mansions – Windsor Castle this is the treasure that proved invaluable in the restoration work after the fire at Windsor castle in 1992.
The windfall paid to have the roof of Chavenage completely replaced. The challenge today, is funding the high maintenance required for these large homes and properties. Several centuries ago a fleece of wool was worth several hundred pounds, these days the price is closer to £15 and of that, the shearer is paid £8.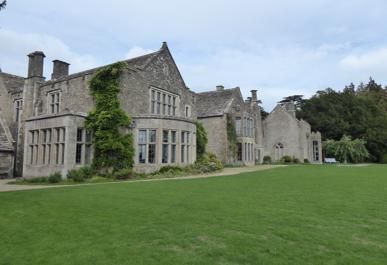 New avenues of income are constantly being considered. TV series are a godsend, while weddings and other commercial events are lucrative. Caroline Lowsley-Williams commented "funerals are a lot less stressful, the subject of the event having no say in the proceedings"!
Movies that have, at least in part, been filmed at Chavenage include Tess of the D'Urbervilles; The Pale Horse and The Mysterious Affair at Styles – both Agatha Christie mysteries, to name a few.
Movies are not the only stardust at Chavenage. Nearby estates - Highgrove, (Prince of Wales) and Gatcombe Park (Princess Royal), give it royal links. Prince Charles and a young Princess Diana attended one of the family's balls, while Princess Anne often holds her Christmas parties at the house.
Caroline and George were great story tellers, we could have listened to them for hours. Joanna manages catering and served a delicious high tea.
David recalled Princes William and Harry "often used to come to jump our jumps and I showed off my model railway". Interestingly, the boys are direct descendants of Charles I on their mother's side – not their father's. With a mischievous twinkle in his eye, he spoke of his happy memories spent in Australia.
Despite their illustrious connections the family is very approachable and Chavenage remains very much their home, evident in the living room with family photos dotted about.
It was not only a lot of fun, but also a joy and a privilege to be welcomed into their world for just a short time.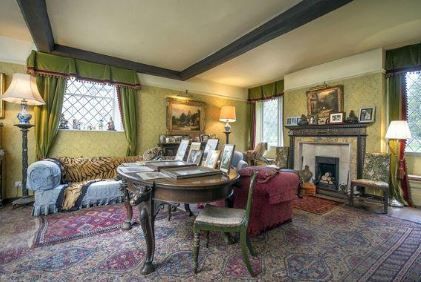 The next mansion to be featured in this series is Highclere Castle – it is also connected with a famous TV series and has connections with one of the most important finds of the ancient world.
Credits
1 telegraph.co.uk
2 my own photos
3 polarked.com
4 Cotswolds.com
5 tripadvisor
6 Thetimes.com.uk