Magnificent House Museums - The Johnston Collection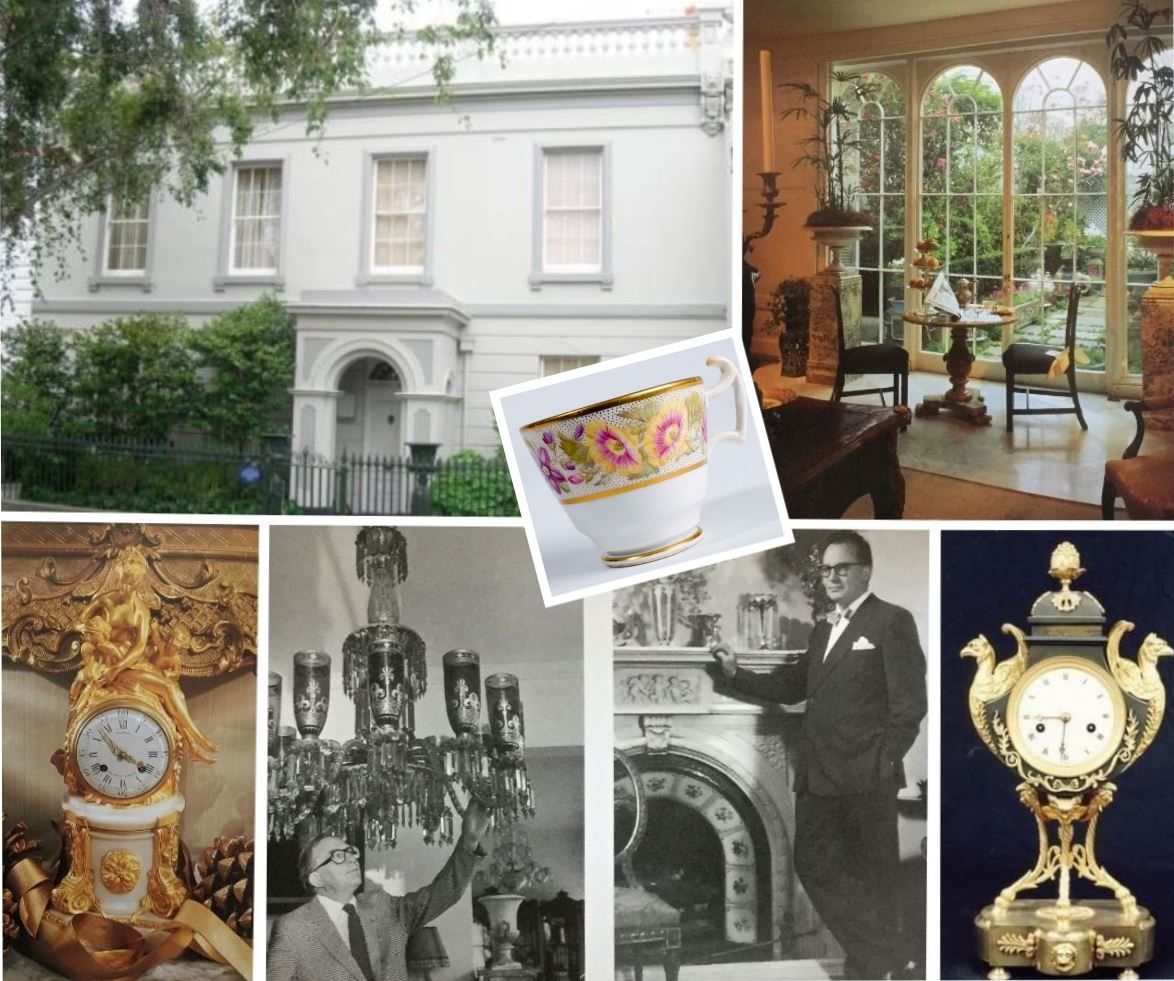 Following on from the popular series of magnificent mansions, let's continue with a few wonderful House Museums I have visited in recent years. Today our feature is The Johnston Collection located in a terrace house on a quiet suburban street in East Melbourne, Australia which was the final home of William (Bill) Robert Johnston (1911-1986).
Known as Fairhall, it's a hidden little known treasure, as visiting is by appointment only and you must arrive at Fairhall in their own courtesy bus after assembling as a group at a nearby hotel.
All details and photos, unless otherwise stated, taken from the 1997 publication purchased from their gift shop The Johnston Collection by Anthony Knight.
The collection started, when at the age of 8, Bill's grandmother gave him a small Minton coffee cup (c. 1811) (as shown above) – little did he know this was to be the start of a lifelong passion in houses, furniture, pictures and objets d'art, mainly from the late Georgian, Regency and Empire periods. His huge collection was spread over 3 houses – one in the UK, Chandpara - a country house in Central Victoria, Australia and Fairhall in East Melbourne.
A few examples of his collection (below) include:
An estate desk used at Chandpara, open to reveal its pidgeon-holed interior;
Two miniatures - watercolour on ivory by James Scouler dated 1788 an 1783;
A collection of Staffordshire greyhound pen or quill holders.

The young Johnston went to school at Kilmore in country Victoria and began his working life in the furniture department of Buckley and Nunn in Melbourne (now David Jones) in 1945. His parents moved to an old house in Brighton (Melbourne) and his mother encouraged Bill to acquire furniture to help decorate this house. His serious collecting began when he acquired two fabulous chandeliers and a white marble fireplace (refer first set of images above).
As with all collectors he soon found he had more furniture than he needed and arranged an auction - the sale was successful enough to have another auction and another. The proceeds enabled him to travel to the UK in 1947 where he became aware of the ambience of the houses of the English landed classes.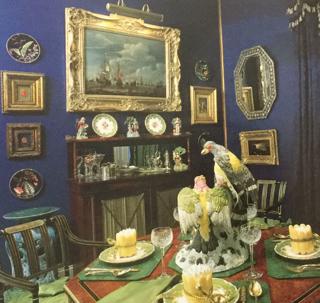 His antique business grew to include exporting to Australia in containers, a practice he continued for many years. Bill travelled extensively throughout his life, sometimes steerage class and other times with considerable style.
He visited India where he discovered a vast resource of English and French C19th furniture, relics of the British Raj. During the late 1960s he made contact with many maharajahs and subsequently purchased their furniture exporting it to Australia.
Some examples of his purchases while in India, below, which includes a set of gates, said to come from an elephant house belonging to a maharajah: they were originally installed at Chandpara, now the back gates to Fairhall.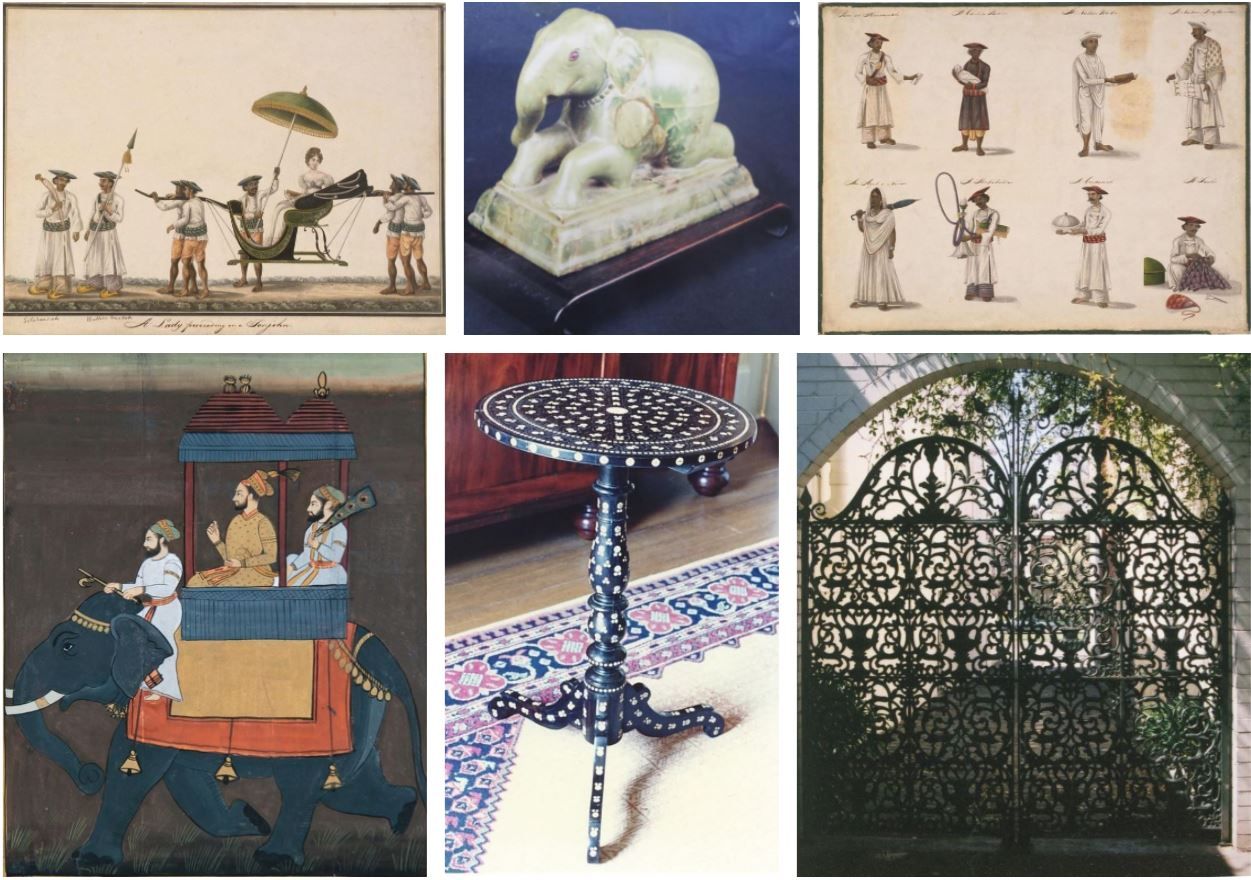 Bill could be sweet tempered but occasionally possessed a violent temperament and was often impatient; capable of flights of amazing pomposity often with a strong sense of the absurd yet displayed great humility. His knowledge of fine and decorative arts was intuitive and he built his fortune with entrepreneurial skill.
He was an only child and never married. Bill died in India in 1986 and his body was returned to Australia in a very elaborate Indian coffin.
In the 1970s Bill Johnston had already decided he wanted Fairhall and his collection to be available to the public after his death. He had enjoyed collecting it: he enjoyed using it and it was a source of immense satisfaction to him that his friends visited and discussed different aspects and fine points of it. He was always firm that he wanted the collection to be available in a house museum.
A few of the rooms and contents at Fairhall are shown below:
A bedroom with an Anglo-Indian four posted tester bed of Indian cedar c.1820;
Entry Hall;
Mid C19th mirror reflecting light from a pair of Anglo-Indian candelabra of the same period;
Louis XV Bureau Plat (c.1745) purchased in Cairo, reputedly the desk on which King Farouk of Egypt signed his adbdication in 1952, and two C18th Hepplewhite chairs.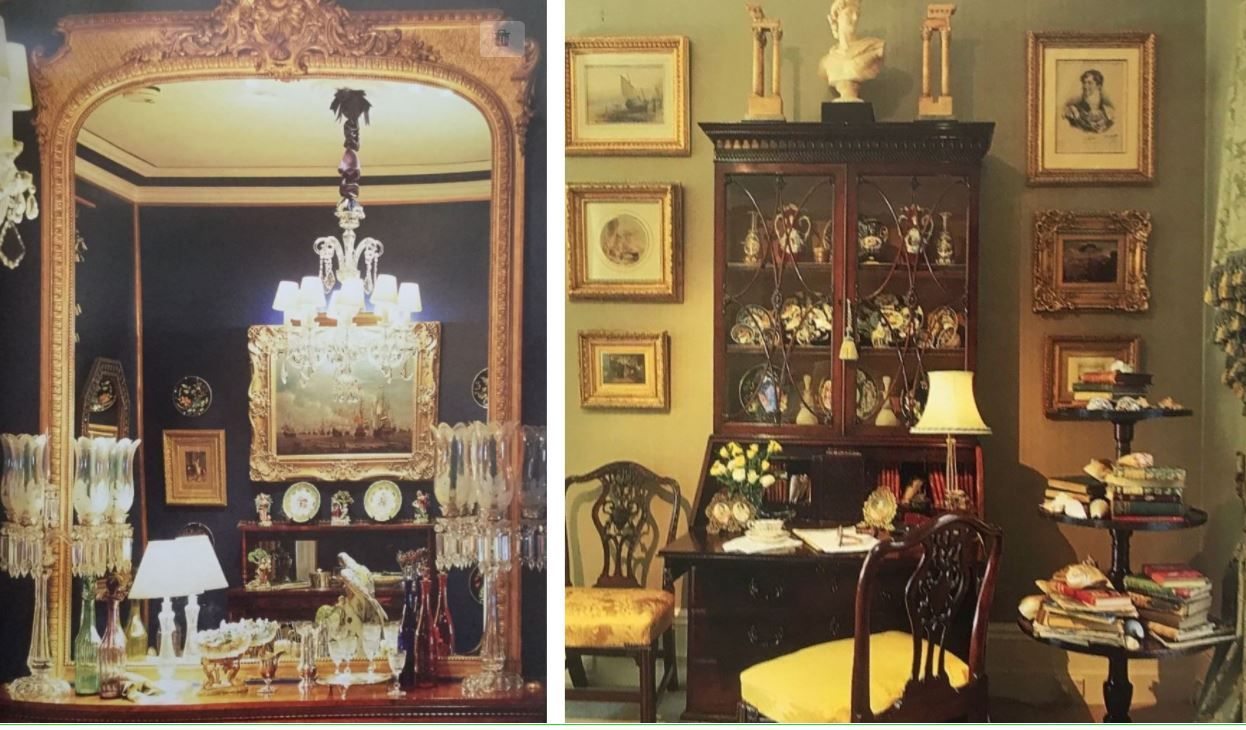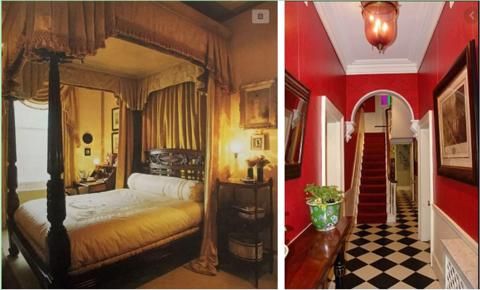 His collection continued to grow until his death and it was clear that no available house could hold all of it. Consequently a policy of changing the items on display was developed consistent with the aim that it remain a house museum. In addition, much of the larger pieces of furniture are either stored or on display at Government House in Melbourne.
A charitable trust was drafted to become effective after Bill's death. His home - Fairhall and an adjacent house were to be the setting and administrative centre for the collection which was to be managed by the National Trust.
Bill generously donated millions of dollars to ensure his dream of a small house museum could remain in perpetuity. The endowment is invested and income used to assist with the operational maintenance and conservation expenses.
We are fortunate that Bill's careful planning has resulted in one of Australia's greatest and richest house museums being open and operated to benefit the pleasure of our own and future generations. It can be enjoyed by thousands each year just as Bill Johnson wanted.
The presentation of the house changes 3 times a year, one of which is always a Christmas theme. Designers from various walks of life adapt rooms with their own style incorporating furniture and other items from the Johnston Collection.
Some examples of past exhibitions are shown below.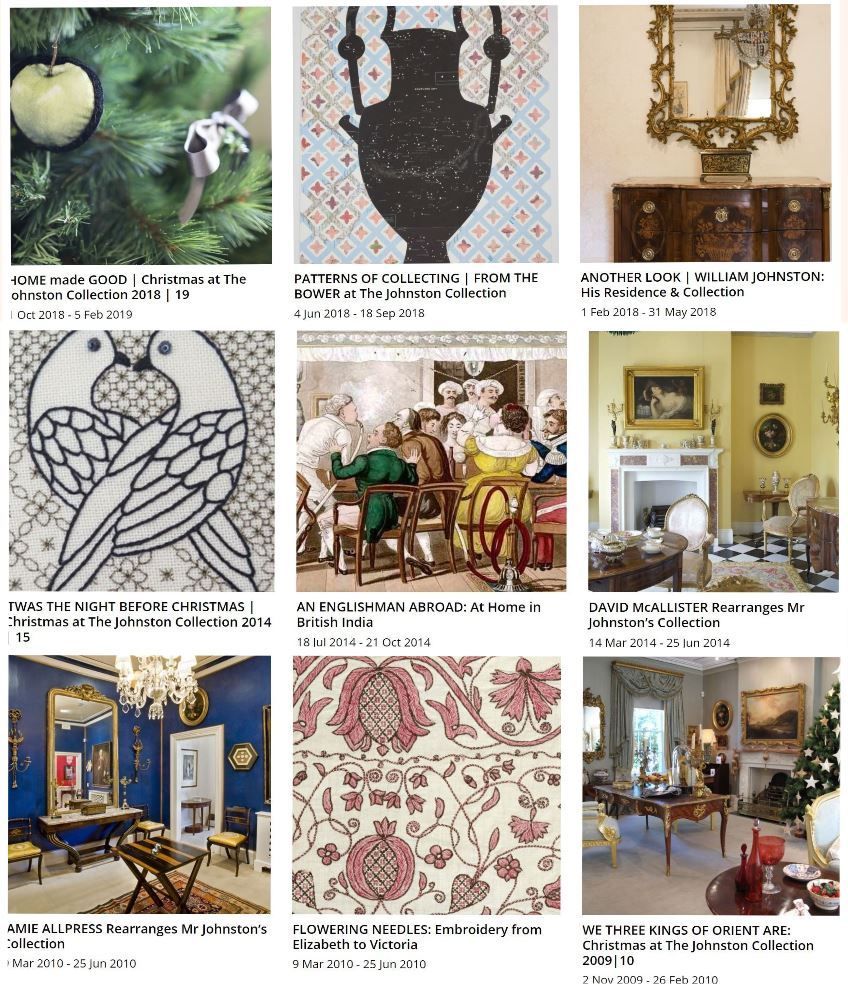 My last visit to The Johnston Collection was in January 2019 with some friends from Geelong, when the Christmas collection was still on display - titled HOME Made GOOD.
We were first treated to tea of coffee served elegantly in Royal Doulton cups and saucers along with delicious biscuits; a relaxed way to meet our guide and the rest of the group, which usually numbers around 8, due to the small size of the house. With small rooms and a narrow staircase, our bags were locked away, however we were able to take photos without flash.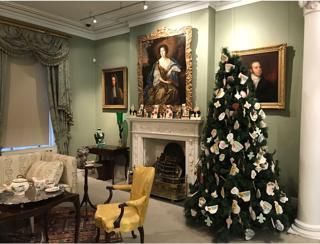 This video gives you a better look at the exhibtion - for each room featured, the artist or design group is mentioned at the bottom left corner. Keep a lookout for the Minton Cup - its on display somewhere in the house, at every exhibition.
The Johnston Collection is eclectic, idiosyncratic and peculiar to just one man – William Robert Johnston – he was not a purist – he simply loved exquisite things for their own sake, for their decorative quality and the sheer pleasure of their beauty. Today, through Bill's generosity we can share in that pleasure.
Next week, we travel to Stockholm in Sweden, to visit another house museum with a very different style.
Late Mail
The AnArt4Life blog is about to celebrate its sixth birthday and a library of nearly 3,000 posts as we have sent one out each morning for all these years.
And today we welcome yet another new subscriber in R.B. in California who just happens to have the same name as one of our very favourite artists whom we will leave anonymous unless he would like to be identified.