Magnificent House Museums - Hallwyl House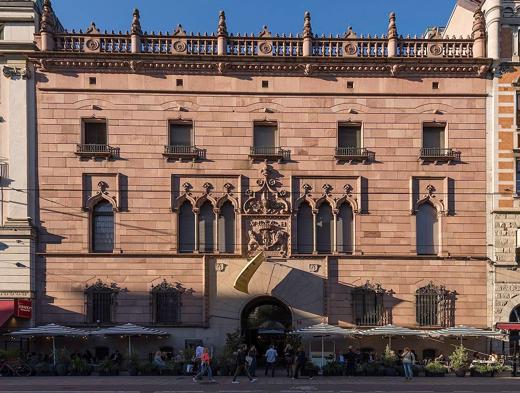 Behind a stately yet unpretentious façade close to the centre of Stockholm, its easy to miss Hallwyl House which was a palatial residence built as a winter home in 1898, for the Count and Countess Walther and Wilhelmina von Hallwyl, an immensely rich couple.
The beautifully preserved series of rooms, as originally furnished by Wilhelmina von Hallwyl, stands as a unique testimony of the lifestyle and décor of the late Victorian period in Sweden.
It is filled with Wilhemina's wide collection of objects and art works, old masters paintings, East Asian ceramics and bronzes, European porcelain, silver and jewelery, European and Oriental arms and other artifacts ranging over a great time span of 5000 years.
In 2009 during a tour of Scandinavia, I spent 5 days in Stockholm, a city filled with museums and art galleries. I discovered Hallwyl House by chance and booked myself on a guided tour. A similar routine as for the Johnston Collection in Melbourne, bags needed to be deposited in the cloak room, however we were able to take photos without flash throughout the sumptuous rooms.
Details and images taken from hallwylskamuseet.se unless otherwise stated.

Wilhelmina was born in Stockholm in 1844, the only child and heiress of the wealthy timber-merchant Wilhelm Kempe. At the age of 20 she married the Swiss-born Count Walther von Hallwyl (1839–1921), a captain in the Swiss general staff who later became a Swedish citizen. Hallwyl succeeded his father-in-law as general manager of the company and was a member of the Swedish riksdag (first chamber) 1897–1905.
Her family's wealth enabled the young Wilhelmina to cultivate an interest in collecting art and antiques, and she would pick up objects here and there while travelling with her parents. This interest continued after her marriage and was to remain her main passion throughout her life.
Walther and Wilhelmina von Hallwyl wanted a Stockholm home built to their own specifications and in 1893 engaged Isak Gustaf Clason, the most renowned architect in Sweden at the time.
With no budget restrictions, Clason opted for a combination of Venetian Late Gothic and Early Spanish Renaissance, creating in effect a Mediterranean "palazzo" in the centre of Stockholm, between 1893-98. This eclectic approach is also evident in the interior - the main rooms were decorated in a variety of styles.
From the street one does not realise it's a large house of 2000 square meters and 40 rooms - ample space for Wilhelmina's steadily growing collections, and an office wing for Walther, from which he could run the family business empire. There was no need to consider their 3 daughters who were by this time adults and living their own lives.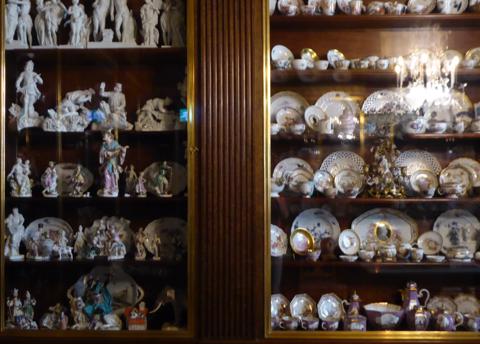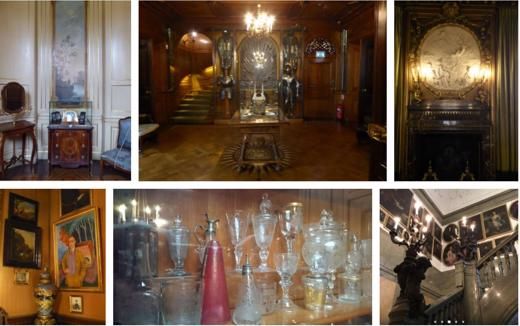 Unhampered by any budget restrictions the architect was able to use only the best materials and the most skilled craftsmen. Modern technology and conveniences were introduced at the outset - such as a dumb waiter, telephone, central heating (a hot air system) and electric lighting in every room. Hallwyl House was probably the first domestic building in Sweden to be thus equipped and is said to be the most expensive private residence ever built in Sweden.

Wilhelmina always planned for the house to become a museum, and in 1920 Walther and Wilhelmina von Hallwyl donated their Stockholm mansion together with its contents to the Swedish State. The terms of the bequest stipulate that the house must remain essentially unchanged.
Her vision became a reality in 1938 when the Hallwyl Museum was first opened to the public, eight years after her death. The house has been preserved exactly as it was left: and situated among the objects d'art are personal peculiarities including a chunk of the Count's beard and a slice of their wedding cake (which I didn't spot when I visiting in 2019!).
Wilhelmina was pedantic about carefully cataloguing her collections. This finally amounted to 78 volumes which included everything; even common everyday items such as razors and kitchen utensils received their own number in the directory. Nothing was thrown away!
The room I found most impressive was the picture gallery on the top floor. Light filled from a frosted glass ceiling: it was hard to believe the treasures as we walked around the room - every wall packed with masterpieces. I spotted 2 paintings by Pieter Bruegel the Elder – it would be easy to spend an hour in this room alone.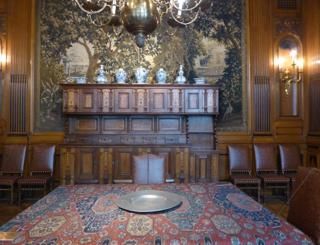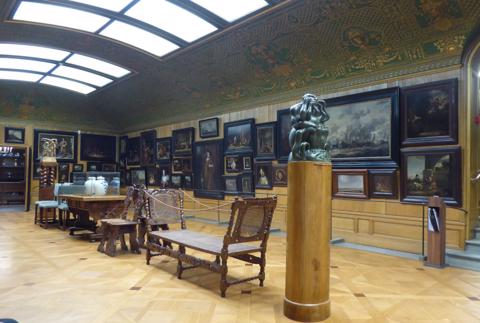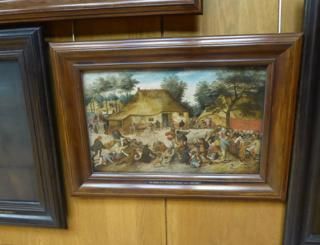 The photos I took when I visited do not do the house justice and I was surpised that there was very little detail available online regarding the specifics of the extensive collections acquired by Wilhemina.
The bookmark below displays the 1st floor of Hallwyl House in 3D - each number takes you to a 3D view of the room with a brief description, which provides an idea of the opulence and grandeur of the interiors.
The extensive jewellery collection of the Hallywyl's were also donated. Some examples are shown below.
In Image 1 Wilhemina is wearing a diamond brooch featured in Image 2.
Other images show Amethysts, diamonds and gold earrings, brooches, lapel pins and a necklace.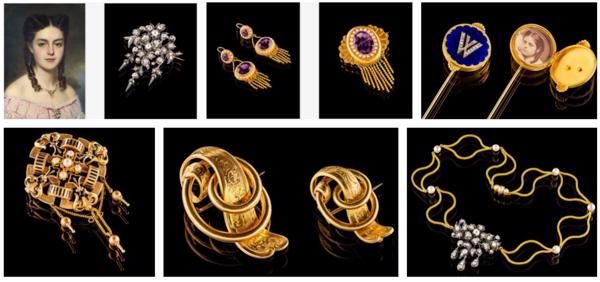 Wilhelmina became one of Sweden's great collectors at the turn of the last century. Once again an extensive and unique collection, that through her generosity we have the honour today to visit Hallwyl Museum where the eclectic and varied Hallwyl Collection is preserved and displayed in its original and opulent setting.
Next week we visit another House Museum - a hidden gem right in the centre of London.