Magnificent House Museums - The Wallace Collection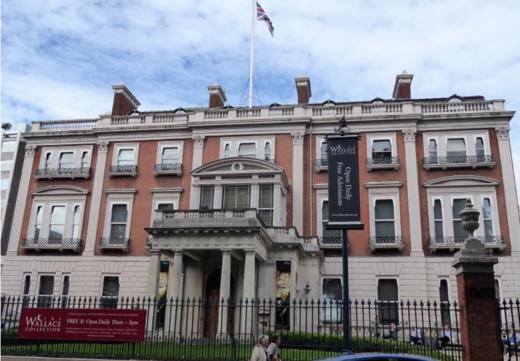 The Wallace Collection is located in Hertford House, Marylebone, formerly the London home of the Marquesses of Hertford and Sir Richard Wallace - bequeathed to the British nation by Lady Wallace, Sir Richard's widow, in 1897.
Hertford House is not far from the British Museum yet a world away from the well known galleries and museums - a gem quietly hidden in a spacious townhouse; its elegant rooms filled with beautiful furniture, an amazing collection of art works, ceramics, miniatures and armour.
Its main strength is 18th-century French art: paintings, furniture, porcelain, sculpture and gold snuffboxes of the finest quality and often with illustrious provenances from great collections.
When I was in London in 2018, a lady I befriended on tour, suggested I should not miss it – how right she was! The rooms are spacious with very few visitors, so it was a joy to wander around at my leisure to take in all the treasures that make up The Wallace Collection.
Details and images, unless otherwise stated are taken from my own notes and the museum's website wallacecollection.org.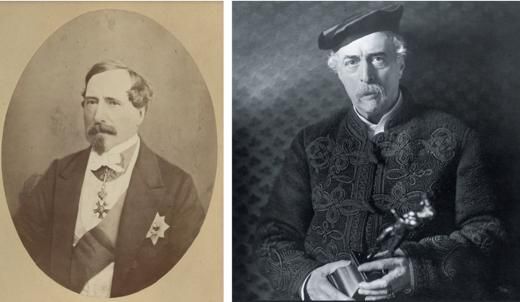 The Hertford family's association with Hertford House began in 1797 when the 2nd Marquess of Hertford bought the leasehold of the building. His wife was a great hostess, and in the first decades of the C19th was popular with fashionable London society.
The 3rd Marquess preferred to live at his other London residences, Dorchester House and St Dunstan's Villa, and the 4th Marquess, who lived most of his life in Paris, used the building largely as a store for his ever-expanding art collection.
The 4th Marquess, one of the greatest collectors of the C19th, determined the essential character of The Wallace Collection we see today.
I could not believe my eyes walking into the The Vedute Room (below) - full of Canalettos purchased by Richard Seymour-Conway, 4th Marquess of Hertford.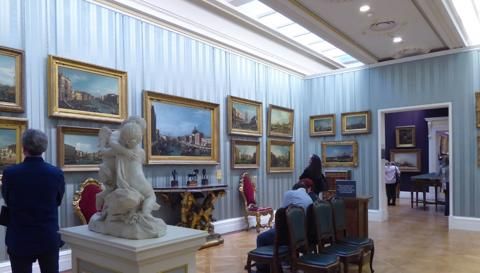 He died in 1870 and his supposed illegitimate son, Richard Wallace, bought Hertford House from the 5th Marquess in the following year. Wallace, who had been brought up in Paris by his father and grandmother, moved into Hertford House in 1875 only after extensive alterations to the building had been carried out.
A great philanthropist, Richard Wallace was knighted in 1871 for his charitable services during the Siege of Paris. Before leaving Paris he presented the City with 50 cast-iron fountains, known as 'Les Wallaces', which provided free clean drinking water to the public.
In 1872 he brought over to London many of the works of art inherited from his father, to which he added important collections of medieval and Renaissance objects and European arms and armour, in fact one of the largest and finest collections of armour in Europe.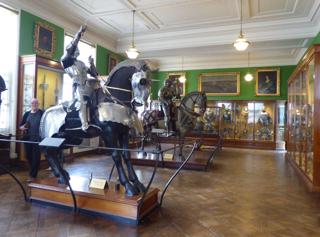 Sir Richard Wallace died in Paris in 1890; his widow continued to live at Hertford House, aided by her secretary John Murray Scott, until her death in 1897.
Between 1897 and 1900 the former private residence was converted into a public museum. Galleries replaced the stabling, coach-houses and smoking room as well as some private rooms on the first floor.
Let's take a look at some of the rooms housing this wonderful collection.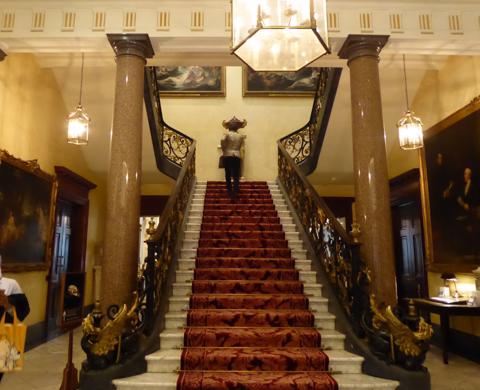 Just inside the entrance is the grand staircase, above, which features a Louis XV balustrade that was made between 1733-41 for the Bibliotheque du Roi in the Palais Mazarin in Paris, being sold as scrap iron when acquired for Hertford House. Isn't it wonderful it was saved!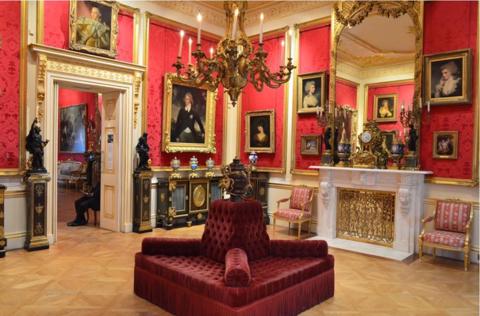 The Front State Room above, retains the look of an elegant town house, with portraits of royals and gentry. On either side of the fireplace, the portraits are by Sir Joshua Reynolds (1723-1792), on the left is Lady Elizabeth Seymour-Conway, and right, Frances, Countess of Lincoln.
In fact all the rooms are elegant and spacious, as you can see from the examples below.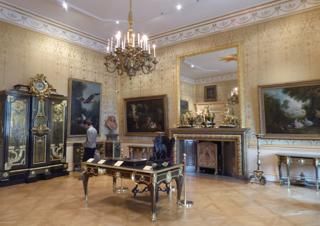 Highlights include oil paintings from the C14th to the late C19th by artists such as Titian, Velazquez, Rubens and Van Dyck, all displayed in the picture gallery (below).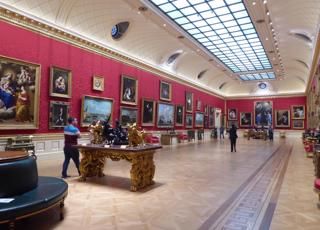 Below are just a few paintings: The Laughing Cavalier by Franz Hals, (c. 1580 – 1666) one of the Wallace Collection's most admired works. Also some of the paintings in the collection by Rembrandt, Rubens and Van Dyck.
As with some of the mansions and House Museums we have featured, it's astounding how much was collected by just one family.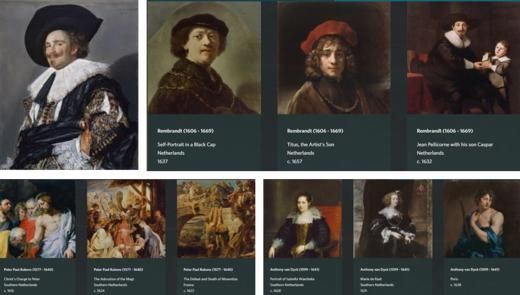 We continue to the finest collections of C18th French paintings and decorative arts. Superb medieval and Renaissance objects, including Limoges enamel, maiolica, glass and bronzes. A few examples below.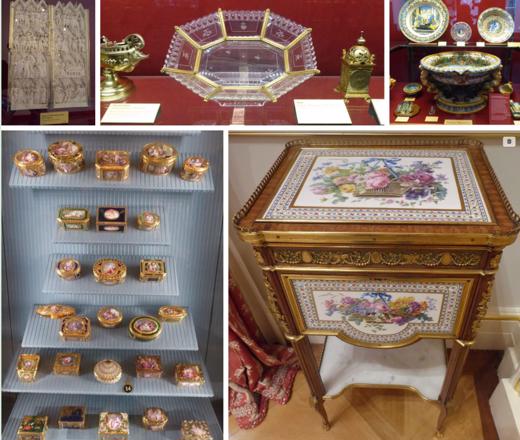 To appreciate Hertford House and just some of The Wallace Collection yourself, enjoy this short video.
If you happen to be in London, make sure you make time to visit - try to allow at least 1/2 day. Anne made it there last year on my suggestion and loved it. In an expensive city like London, you'll be pleased to know there is no entrance fee.
An inviting restaurant is located in the central atrium, a perfect spot to take a break.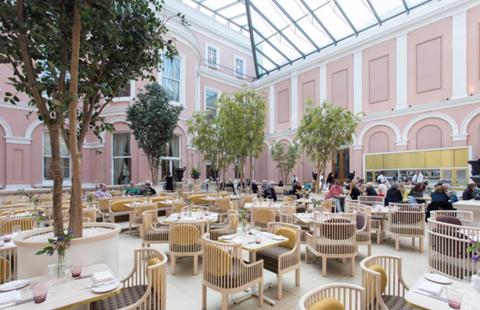 We have come to the end of this series of posts on magnificent mansions and house museums. I hope you have enjoyed reading them as much as I have writing them!
A Note from Anne
Thank you Jane for producing this amazing series of posts on mansions and house museums. I know the subscribers and supporters have enjoyed them immensely. Many have commented to me, especially on Facebook, that your posts reminded them of their own visits to these places. Others have said that reading your posts was a wonderful way to see a place that was on their cancelled tour itinerary for this year. Personally I have thoroughly enjoyed this enthralling journey through magnificent buildings and awe inspiring art works.
And as we sign off on your Magnificant Mansions we welcome in a new subscriber - delighted that H.E.F. in Australia has joined up to receive the daily dose of the AnARt4Life blog.