L.S.Lowry: Not such a simple man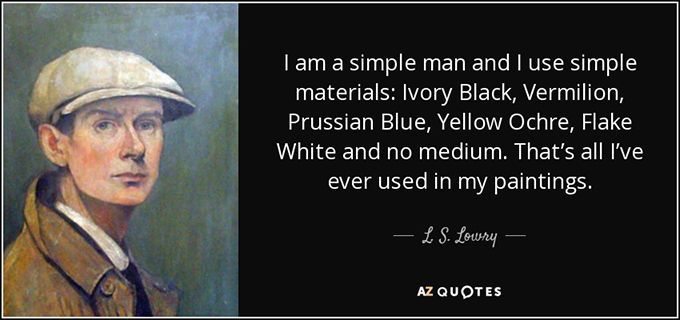 Some time back one of our subscribers Lady S (yes, some of our supporters have good breeding!!) sent me an link to an article on the film about my favourite artist Laurence Stephen Lowry (1887–1976). The article by Paul Byrnes begins to unravel the somewhat thwarted relationship Lowry had with his mother and which is the main theme of the film Mrs Lowry and Son. Here is a link to the article More to Mrs Lowry and Son than just watching paint dry.
The film, which was released in the UK in Novemeber 2019, stars Vanessa Redgrave as Mrs Lowry and Timothy Spall plays Laurence Lowry.
In the meantime, I have provided you today with a short video highlighting the Northern Ballet Theatre production of A Simple Man- a ballet based on Lowry's paintings. I have the DVD of the ballet and for any Lowry fans like me it is well worth purchasing; the dancers bring alive Lowry's paintings of the people of Pendlebury, Lancashire in a most authentic way.