Julie Manet: a Box Seat View of the lives of the French Impressionists
Our Julie has been researching more about the family life of Berthe Morisot whom she wrote on a little while back. Today she opens the door on Julie Manet - daughter of Berthe Morisot and Eugene Manet who was Edouard Manet's brother.
I'm sure that many of us like the work of at least some of the Impressionists, and we may even have a favourite, such as Renoir, Monet or Degas. But whilst we love their paintings, how much do we know of their lives, their interactions with each other in the art community in which they worked, or even the events of the period in which they lived?
Julie Manet, the daughter of Berthe Morisot, provides us with exactly that insight, in a diary she kept from 1893 (aged 14) to 1899. In it, she recorded many of her interactions and observations of living amongst the Impressionists, as well as some events in Paris at the time. Her diary is called "Growing up with the Impressionists" and was first published in French in 1987, then translated into English by Jane Roberts and published in November 2017. With her mother, the Impressionist artist Berthe Morisot, Julie had a "box seat view" of the lives of the Impressionists whose work we know so well!
Julie was born on 14 November 1878, to Berthe Morisot and Eugene Manet. Her father was also an artist, though not as well known as his brother, Edouard. This may have been because Eugene suffered from ill health all his life and was unable to engage in any consistent form of occupation. Some of the paintings by Berthe (in my previous blog Berthe Morisot - a versatile artist in a man's world) show Julie in the company of her father, often outdoors in the garden where he was getting some fresh air to help his lung and respiratory complaint.
Here are a couple of paintings of Julie as a very small girl, by Edouard Manet. The first "Tete D'Enfant" in 1879 of her as a one year old, and the second one, in 1882, was called "Julie Manet sitting on a watering can". Sadly, as Edouard died in 1883, (aged only 51), when Julie was 4, there are no portraits by him of her beyond this age.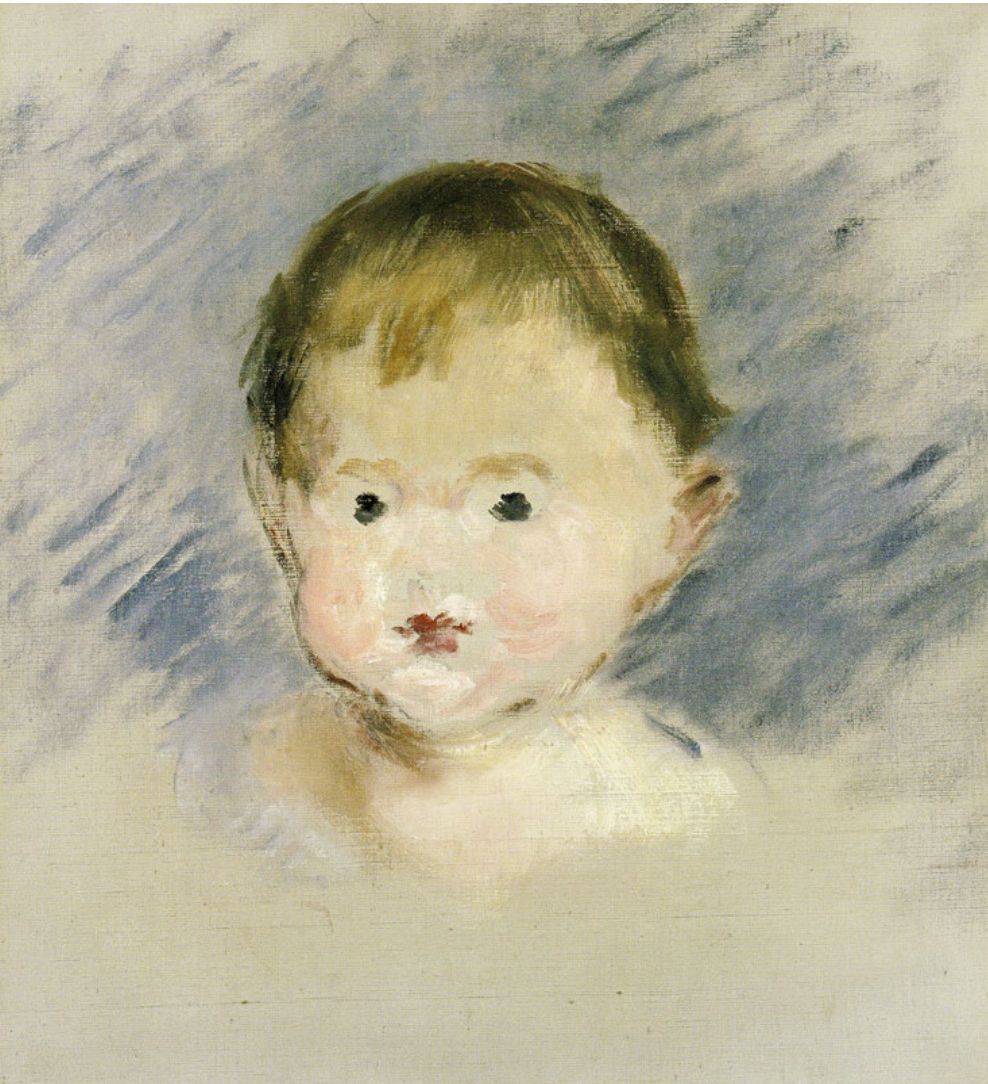 Here are two of many portraits of Julie by Berthe Morisot, the first a beautiful pastel of Julie, aged 11, in 1889, and the other "Artist's daughter with her Nanny", in 1884.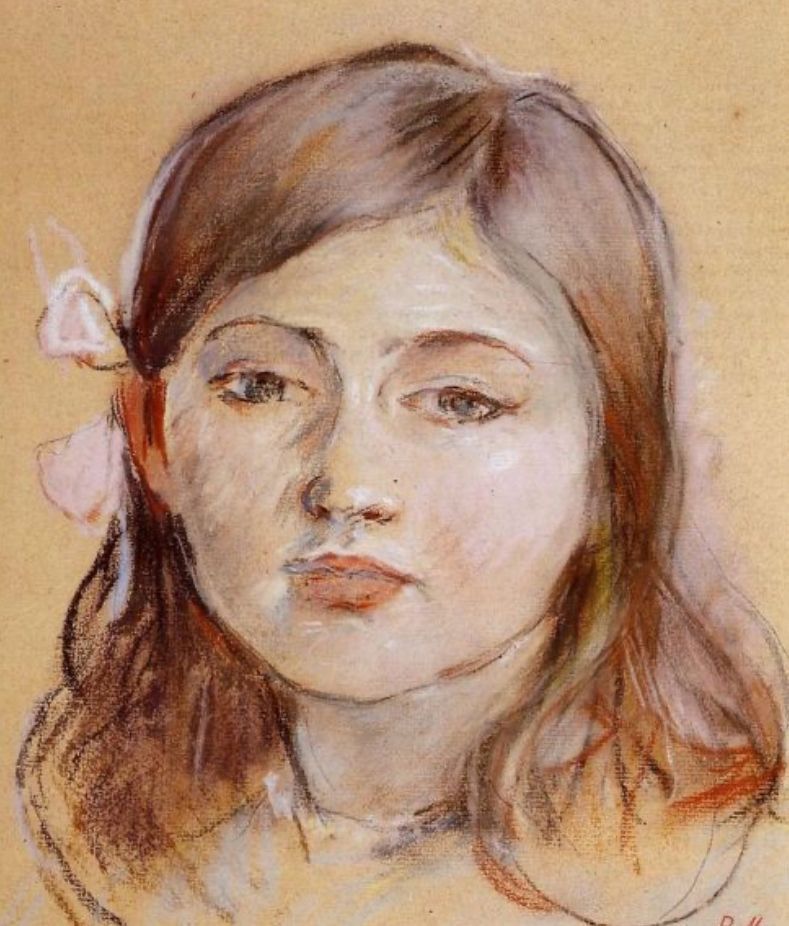 Julie was taught mostly by her mother, but also by other tutors often in the company of her cousins, the Gobillards. She received the basic schooling, but a lot of time was also spent on music, listening to the classical masters, but also playing the flute, piano and violin. Of course, art appreciation was also a major focus, in addition to her own sketching and water colourings.
Here are a couple of paintings by Berthe Morisot of a teenage Julie, the left one of Julie playing the violin (1893) and the right, with her beloved French greyhound, Laerte, 1893.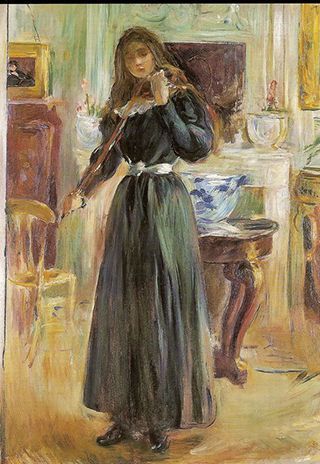 She was a beautiful girl, as seen in this photo of her, aged 15. She often sat as a model for Renoir, Manet and her mother.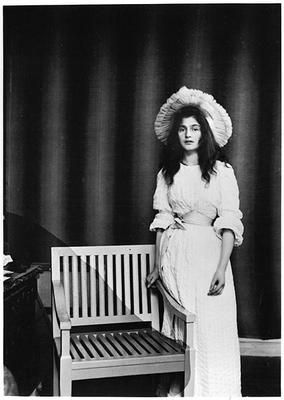 Julie was greatly influenced by her mother, and she was very critical of her work compared to her mother's. She did not have the desire or drive to be a professional artist. Consequently, very little of her work survives today, only some sketches and watercolours that are housed at the Monet Marmottan Museum in Paris, which I saw in September 2019. (Much of Berthe's work is also at the Monet Marmottan Museum, but that's a whole other story!).
Here are two paintings of Julie Manet, by Pierre-Auguste Renoir in 1894. The first is of Julie aged 16. The second is of Julie with her mother, Berthe Morisot at around the same time. Whilst Berthe was only 53 in this painting, her hair had turned prematurely white with the grief of losing her husband, Eugene, just a couple of years earlier.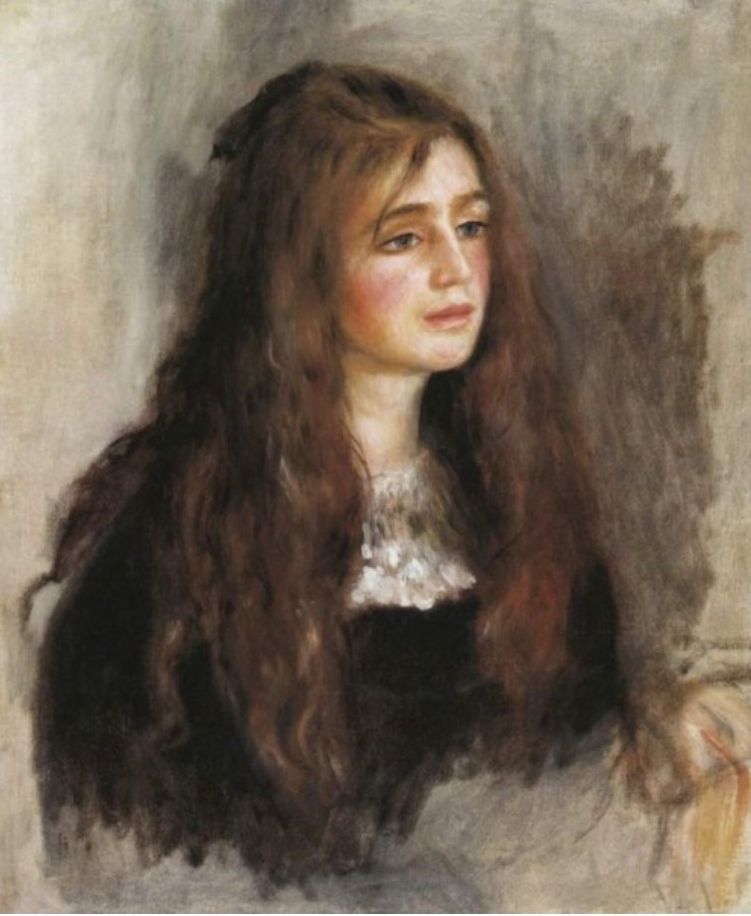 Julie was a very intelligent girl, and was encouraged by her mother to read, and take notice of politics and events happening around her. She would have initially associated with artists such as Manet, Monet, Degas, Sisley and Renoir in the company of her mother and father, but her associations with the Impressionist community continued after she was orphaned at the age of 16. Her father had died in 1892 (when she was 12), and then her mother, quite unexpectedly, died on 2 March 1895, aged 54, of influenza, which turned in to pneumonia whilst she was tending to Julie with a bad cold.
Julie was left to the guardianship of Stephane Mallarme, a poet and critic, who was a good friend of her mother's. With his permission she went to live in an apartment with two of her also orphaned cousins, Paule and Jeannie Gobillard (daughters of Berthe's older sister, Yves). Paule (also an artist) was 12 years older than Julie and Jeannie, and seems to have acted as a chaperon/maiden aunt to them, and even later to Edma Morisot's daughters as well.
The photograph below was taken in 1895 by the artist Edgar Degas, who also dabbled in photography. It shows (L – R) Julie's cousins, Paule and Jeannie Gobillard, Julie Manet (aged 17) and Stephane Mallarmé's daughter Geneviève. Julie's bleak face and the black dresses of mourning probably mean the photograph was taken not long after the death of Berthe. Degas' camera is reflected in the mirror.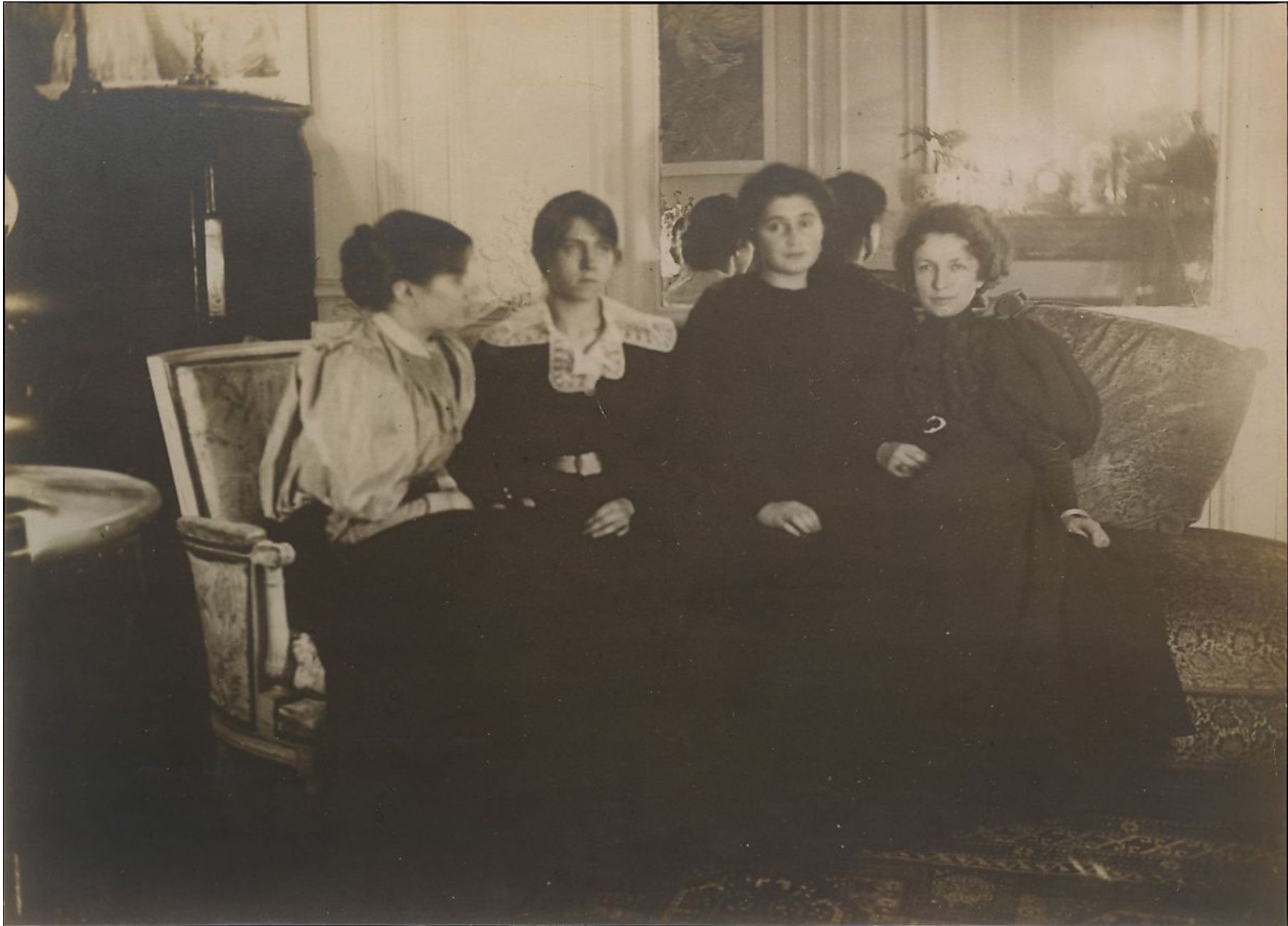 Julie continued her diary until 1899, just before she married, recording not only her grief and despair after her parents' deaths, but also accounts of holidays to Brittany with Renoir and his family, and to Giverny to stay with Monet and his family. She records their various discussions and opinions, whilst forming her own views at the same time.
She also describes the 1896 state visit of Tsar Nicholas II and the fallout from the "Dreyfus Affair", which was dividing France at the time. This was a long running scandal about a Jewish French artillery captain who, in 1894, was wrongly accused of passing secrets to the Germans and was court martialled twice, but eventually exonerated in 1906. Julie's diary includes candid accounts of dinner-table conversations about that Affair and casts light on Renoir's privately held views on patriotism and anti-Semitism.
In May 1900 Julie married the painter and engraver, Ernest Rouart. The wedding, in Passy, was a double ceremony in which Julie's cousin, Jeannine Gobillard, married Paul Valéry, a French poet, essayist, and philosopher. Paul himself was nominated for the Nobel Prize in Literature in 12 different years. (Credit: Wikipedia). Quite a talented family all round!
Julie had three children, Julien (born 1901), Clément (born 1906) and Denis (born 1908). Both Julien and Denis inherited some of Morisot's paintings, which now hang in the Marmottan Monet Museum. (Credit: Wikipedia). After their marriage, Julie and Ernest continued their close interest and involvement in art, and helped to organise several major Impressionist exhibitions.
Julie Manet died on 14th July 1966, aged 87. She is buried in the cemetery at Passy, Paris, along with her father, mother (Berthe Morisot), her husband, her sons, and Uncle Edouard Manet.
Julie Manet's diary is available at various online book stores.
If you would like to read a detailed excerpt of the translation of Julie's diary by Jane Roberts, including many unique photos, and her first meeting with Julie's second son, Clement....

Click Here