Jamie Wyeth Master of Portraits, Place & Pets: Part One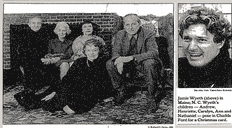 We have one more member of The Wyeth Dynasty to look at following on from the posts on other family members who are:
N.C.Wyeth
Andrew Wyeth
Henriette Wyeth Hurd
Carolyn Wyeth
Ann Wyeth McCoy and Anna Brelsford McCoy
And now it is the turn of Jamie Wyeth whose work is quite unusual although following on in a realist style like the other members of his family.
I chose to commence by showing you this painting which is titled My Mother and the Squall painted in 2016. Take a moment to study the painting and then I will talk a little about my reaction.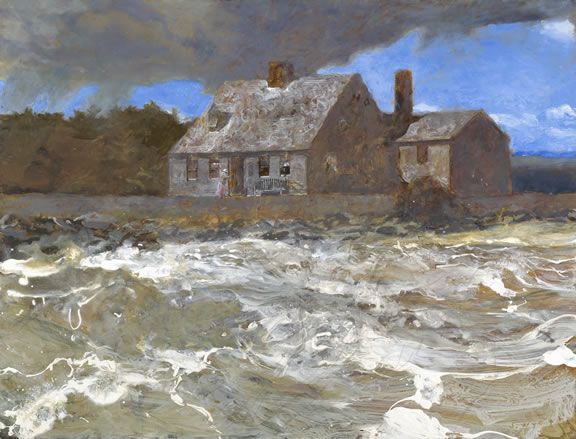 First I found the title unusual because, at first, I couldn't see his mother! A very careful look reveals her pale body against the grey stone of the cottage. A very subtle figure and I found myself wondering why he painted her this way if he wanted to convey the strength she obviously possessed to withstand the stormy weather. The squall is dominant and rather wonderful and looks ready to engulf his mother. What do you think?
The other unusual information about this painting (and this is for the artists among you) is that Jamie Wyeth has used an unusual combination of acrylic, gesso, oil, and watercolor paints on the panel which is about 79cm x 104cm. I can't explain to you how he has used these combinations of paints in a multi-media format but I have located an article (see at the end of the post) which goes someway towards explaining how Wyeth combines different mediums to get the images he desires.
Further searching revealed there is a subtly about the works of Jamie Wyeth where often what we would consider essential details are omitted. Below is a portait of his wife!!
Jamie Wyeth creates an invitation to imagine.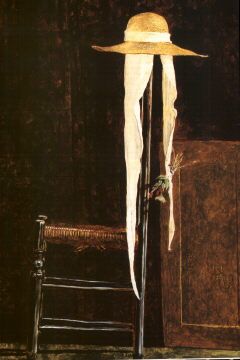 Jamie Wyeth (1942 - ) is able to evoke the character of a person without actually including them in a painting. Wolfbane (above) painted in 1984 is a portrait of his wife Phyllis Mills Wyeth, who has been the subject of many of his works. Here, however, she is not visible, but is represented by her hat, which hangs over the back of a chair. The delicately painted hat, with its highlighted white sash, suggest a feeling of gracefulness.2
Jamie Wyeth is the son of Andrew Wyeth who painted Christina's World and obviously Jamie learnt from his father the art of creating a provocative image that leaves much to be filled in with the imagination. Below is the Portrait of Henry Teel which exemplifies the subtle and creative intrigue created by Andrew Wyeth.
But today is about Jamie: an equally outstanding artist.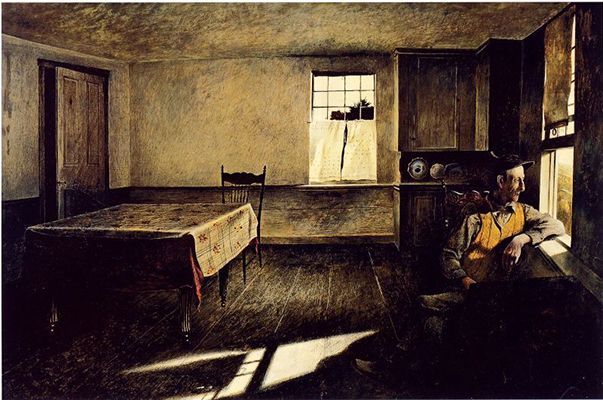 If you love portraits, or you want to paint portraits, I highly recommend you study the works of Jamie Wyeth. This artist has a magical touch which comes, not only from his prodigious talent, but from his heart. He is not painting an image but a human who breathes, loves, hates, has fear and joy: Wyeth captures the inner emotions of his subjects.
Look at these two wonderful portraits below. Portrait of Shorty was painted in 1963 when Jamie Wyeth was very young. It depicts a worn down Chadds Ford, Pennsylvania, neighbor with a stubbly chin and wearing a grimy tank top. ...this vividly realistic picture reads as a masterpiece in the old sense of the term —works crafted by apprentices to prove they had achieved the skill of master artists.5
And then Wyeth (when in his early 20s) was asked by J.F. Kennedy's family to paint JFK after his death in 1963. Watch the video below and you will learn the remarkable thinking and work that went into producing this poignant reminder of one of the world's remarkable humans and leaders.
As you watch the video you will learn about Jamie Wyeth's love of painting, whether it be the President of the United States or a farm animal.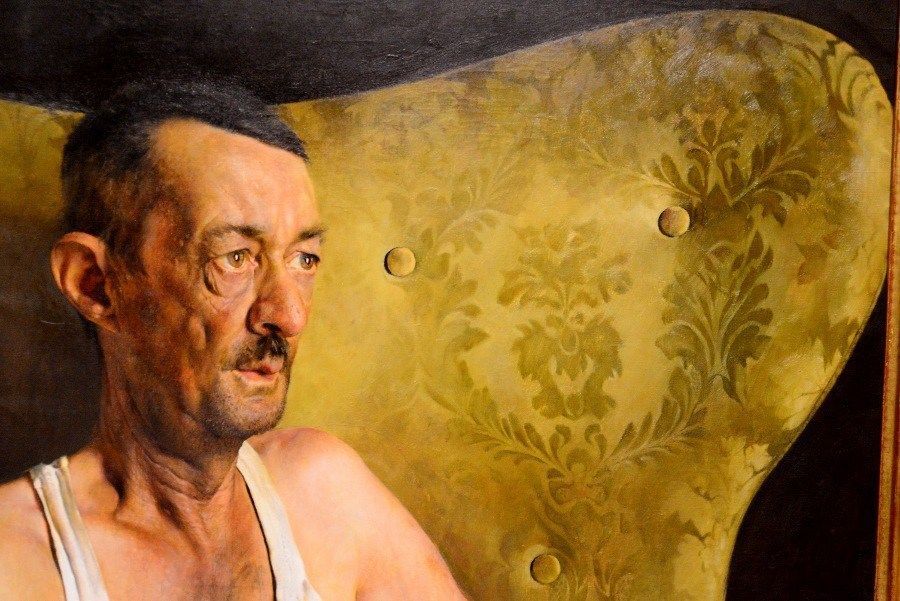 If you are not impressed yet with the artistic style of Jamie Wyeth take quite a few minutes to study this self portrait as shown below. The composition, palette, and message is, in my opinion, quite remarkable: even the title is intriguing!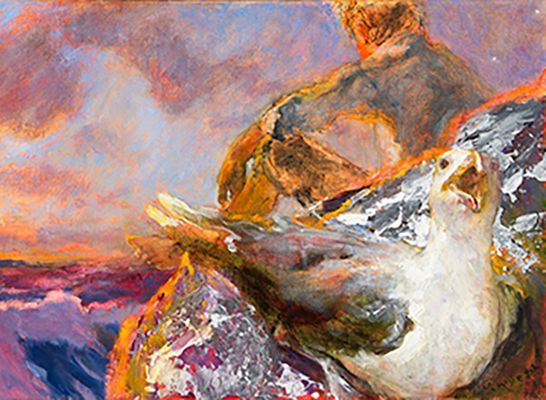 It seems appropriate to conclude today with Jamie Wyeth's creative interpretation of another great artist: Andy Warhol.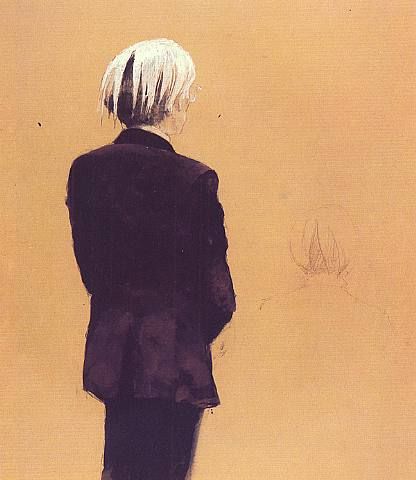 The Artistic Wyeth Dynasty is in good hands: not only does Jamie Wyeth live to paint, he paints what he knows.
There is nothing artificial, slick or superficial about the paintings of Jamie Wyeth - each work of art he has created has a story and has been part of his life.
Below is a link to the website of Jamie Wyeth for those of you who are intersted in knowing a little more. I have also included a link to an article on the technique Wyeth uses with paints to get his unusual style.
We will return very soon to look at Jamie Wyeth paintings of a sense of place and then finally, for a real treat, absolutely wonderful paintings of animals.

A special thank you to the Brandywine River Museum of Art, Chadds Ford, Pennsylvania, for their assistance in acknowledging the credit source for some of the images.
WE WANT YOU TO COMMENT
We need to know that our posts are of interest to you. We need you to comment. A like or a don't like will suffice.
How can I comment you ask?
The easiest way to tell us what you think is to do a Reply on your daily email from us. Click reply and type loved it or hated it or more please and we will get a better idea about your interests.
A HUGE THANK YOU TO THOSE OF YOU WHO DO COMMENT. WE LOVE TO HEAR FROM YOU.
Credit:
nytimes.com
jamiewyeth.com
Jamie Wyeth (b. 1946), Wolfbane, 1984, mixed media on paper. Brandywine River Museum of Art, Purchaed with Museum funds, 1984. © Jamie Wyeth/Artists Rights Society. (Item No. 84.19)
curiator.com
wbur.org
artspace.com
farnsworthmuseum.org
totallyhistory.com