Chiara Magni: Specialist in Finger Painting Up Close and Inspiring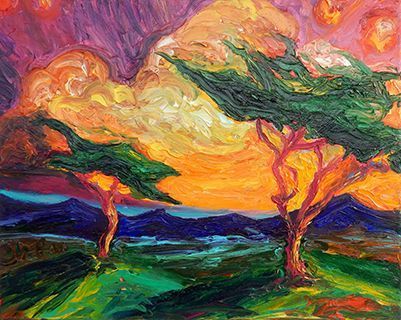 I have recently come across a young Italian painter Chiara Magni who lives near the beautiful Lake Garda, in Northern Italy. There is much about Chiara's style to impress but what strikes me first is the incredible vibrancy of her images which literally dance before your eyes. The palette is bold and alive and the shapes unbridled.
In her portfolio there are Views, Humans, Underwater, Flora and Fauna, Nudes and Abstracts: an example for each category is shown below.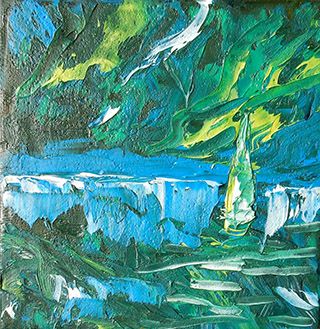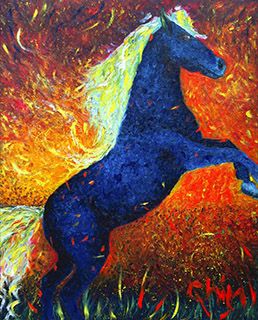 To help you get to know Chiara Magni a little better, I will quote from her website:
Creativity and art have always been fundamental parts of my life. Ever since I was a child I immediately started to develop a very instinctive and almost visceral approach with creativity and with the desire to express myself and my emotions....
Growing up, there have been various phases of my life, not all of them were easy and many times I haven't listened to my artistic drive and decided to force that drive into a lethargic mode. But the truth is that everything I had cultivated since I was a child never left me, and all my baggage was always there ready for me! At a certain point in 2013 I surrendered to the fact that creation and ART were my life, my past, my present and my future!
From that moment on, besides being a pleasure, it became a "job" and I never stopped! Over the years I have experimented with practically all the classic and even less classic mediums, even trying to create very unusual things that I never thought was possible to mix without creating strange chemical reactions, I've really tried everything! In the end though, I understood and that the feeling of positivity, happiness and fulfillment that oil paint gave me no other medium was able to give me and so I made my choice! 1

I share Chiara's love of oil paint from the moment it is squeezed from the tube onto the palette, mixed with a little medium to give it fluidity and then placed on the canvas where it rises, swells and finally settles comfortably within its rightful place in the image.
In the hands of an expert such as Chiara Magni oil paint is like the life blood of the artist's creativity. And note, those of you who are artists - Chiara does not use a medium: preferring the unadulterated nature of the paint.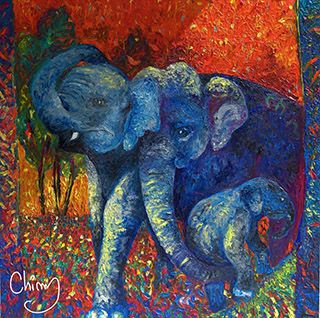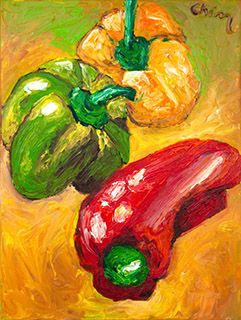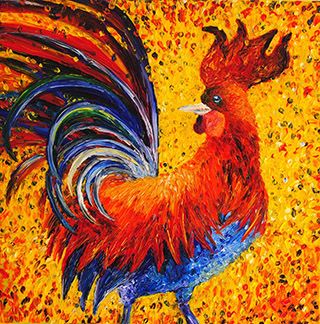 Most oil painters use brushes or a palette knife but Chiara Magni paints with her fingers. I'll let her explain.
I have always been a bit special and sometimes bizarre both in my personal life and in the artistic field and so is my style, I am specialized in FINGER PAINTING.
This technique requires that only the fingers are used, the color is given pure from the tube to the canvas without thinners, and creates a very strong and 3D texture with really vivid colors. It is a technique that gives a lot of satisfaction, and allows me to project myself into another dimension, a world of my own where there is only what I am creating.
Most of my paintings are 100% finger painted, but I have always believed that we should always aim to be better and that a painting should be as perfect as possible, within the limits of the artist's style.
For this reason there are occasions where I also use other tools to create the exact optical effects that I intend to see on my painting. Sometimes I use brushes, spatulas, paper, fabric, wooden sticks, sometimes I throw a very diluted paint directly onto the canvas.
I decided not to put limits on my creativity and to do all I can to evoke strong and positive emotions in the observer.
The strength of both shapes and colour is very present in Chaira's creations of the female form. There is nothing static about these nudes: each is celebrating the vitality of women. Chaira Magni has said:
"To me, women represent beauty, regardless of what body shape they have. One of my goals as an artist is to celebrate the aesthetics and amazingness of the female body and I am totally committed to this."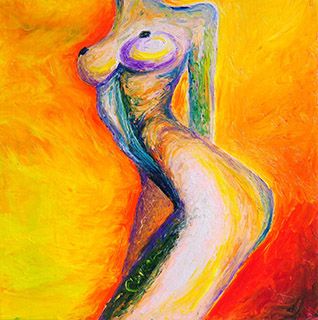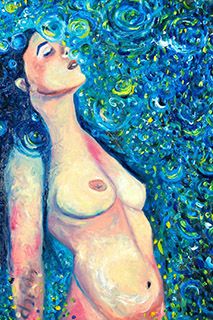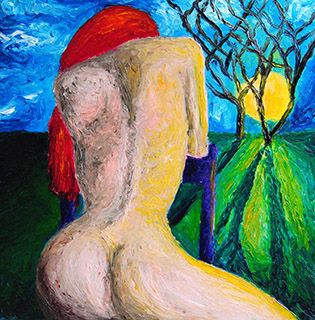 If you would like to read more about Chiara's mission to devote her paintings to body positivity please follow the Bookmark link below.
Chiara is best known for her use of sharp and vivid colors, and her portrayal of the female form, fields, and landscapes, whether natural or urban. Her stylistics can range from the easiest snapshots of nature to the most complex shapes and portraits. By encompassing these elements in her work, each piece of art is indeed a sight to behold. She can transform any dull canvas into a hypnotic and mesmerizing portrait of textured oil using thick paint, resulting in a 3D masterpiece bursting with color and dimension. If you're an art enthusiast fond of the impressionistic style, such as those of Claude Monet, Henri Matisse, or Vincent Van Gogh, her art will surely catch your eye.
If you would like to see more of the paintings by Chiara Magni please follow the Bookmark link below.
As an artist I believe I have the task of making our society a little better, or at least more colorful! Chiara Magni 1
Credit:
chiaramagni.com
kten.com