Jagoda Buic: Frieze Week Artist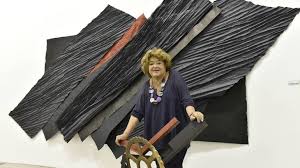 One of the artists featured in Frieze Week in London is Jagoda Buic who was born (1930) in Split, Croatia and is best known for her monumental fiber art installations and tapestries which are absolutely wonderful.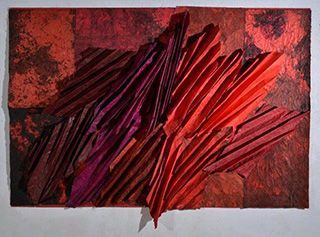 Buić studied at the Zagreb Academy of Fine Arts and Art History at the University of Zagreb before graduating in interior architecture and scenography, textiles and costume design at the Academy of Fine Arts Vienna in 1953.[1] After graduation she went on to study film set design at the Cinecittà studio in Rome and the history of costume design at the International Centre for Arts and Costume housed at Palazzo Grassi in Venice.[2]
(Wikipedia)
The first of her works we will look at is a tapestry Fallen Angel (240 x 220cm) created in 1969. I have shown you the pattern in a close up.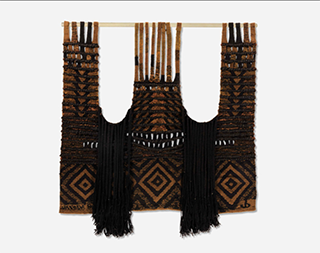 Next we look at Clytemnestra II (113 x 132 cm) created 1972 in wool and gold.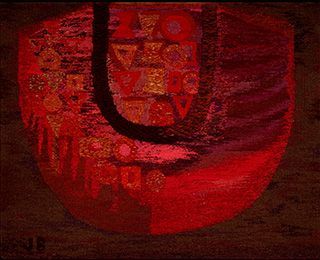 Whilst Jagoda BUIĆ is best known for her immersive installations and work in textiles her creative practice extends to encompass scenography and set design, costume design, works on paper and collage. Her interdisciplinary approach draws on her profound connection to theatre, antiquity and her Dalmatian roots,
creating tactile works, often on a large-scale, brimming with style and self-assurance. By dispensing with the traditional loom, Buić gives her materials a new and powerful corporeality, boldly venturing into three-dimensional space and creating 'textile environments.' (Wikipedia)
Below is White Reflections (140 x 170cm) ) made in 1977 from wool, cotton and silk.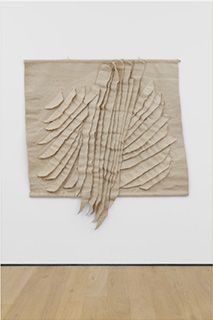 Buic's 1969 exhibition Wall Hangings at the Museum of Modern Art in New York signalled the entrance of textile into the art world. I found a photo of this exhibition but sadly not in colour.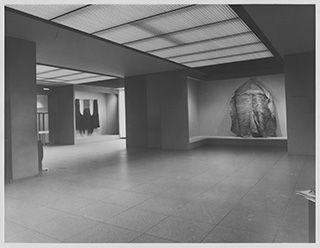 (Credit: moma.org)
Buic went on to work on more than 120 projects as a costume and stage designer in various opera, ballet, theatre and film productions at various theatres in Vienna, Zagreb, Osijek, Dubrovnik and Split. (Wikipedia)
In 1965, at the Lausanne Biennial of Textile Art, Buić impressed contemporary art critics with her first textile installation which was immediately bought by the Stedelijk Museum Amsterdam. She continued to exhibit her monumental textile works at art shows and contemporary art museums around the world, becoming known for vast installations made out of textile cords, hemp and wool, and experiments with unusual surface textures and space. Since the 1970s, Buić, together with Polish artist Magdalena Abakanowicz (Wikipedia)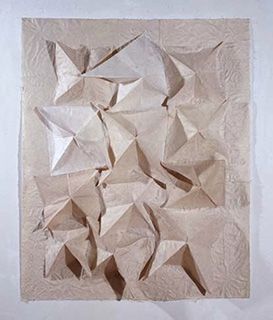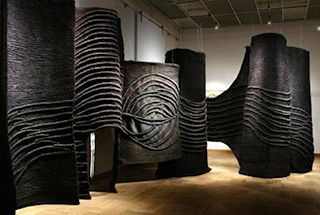 In the 1980s she started using metals in her sculptures and installations, and in the 2000s she turned to using collages of assorted materials, including paper, cardboard, wool, etc. (Wikipedia)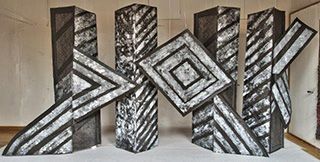 I will leave you today with a quote from Jagoda Buić:
Art is like a subterranean river with its own course. I believe in its cosmic charge.