Hugh Schulz Paintings: the Collector
Recently we showcased Steve Cook's collection of Namatjiri School paintings. This is not the first time we have done a series of posts on a collection or for that matter a collector! One of the AnArt4Life blog team, Andrew from the Hunter Region of New South Wales is a collector of Hugh Schulz paintings.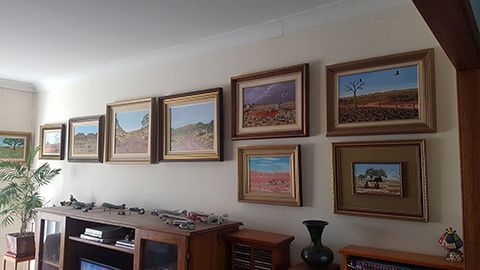 Regular and long term subscribers and followers of the AnArt4Life blog will know that Hugh Schulz was one of the Brushman of the Bush along with our friend and blog team member John Pickup OAM, Pro Hart, Jack Absalom and Eric Minchin. Our library of posts has many posts on all of these artists - too many to give you links - so please use the search magnifying glass or check out the tag Outback in the TagCloud to see our past posts on these artists.
Over the next few days Andrew and I want to take you further on his journey as a Collector of Hugh Schulz paintings. In fact it would be reasonable to claim that Andrew has the best collection of Hugh Schulz paintings owned by anyone.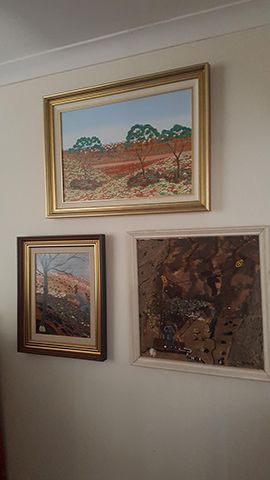 Hugh Schulz (1921-2005) was a miner in outback Australia who loved his country so much he set out with his paint brush to share his love of his country with the world.
Naive artists such as Hugh Schulz are in fact visual dramatists. When they create a painting they set out deliberately to entertain, to pique the interest of the viewer, to surprise. These paintings are as real as a dramatic play.
Hugh's quirky sense of humour is also present in his because if you look very carefully into Coming Storm Outback you will find two rabbits scampering away, perhaps to find shelter.
Hugh's quirky sense of humour is also present because if you look very carefully into many of his paintings you will discover animals particularly emus and rabbits camouflaged by their natural habitat. Hugh loved rabbits so much that we created a post just on this theme in his paintings. Follow the bookmark link below to join us in discovering the rabbits and more of Hugh Schulz.

As a naive painter Hugh Schulz seeks to recreate the truth of the scene as he perceives it. This is the technique used by naive painters to marry the narrative to the image. If you are interested in discovering more about the visual narrative created by Hugh Schulz follow the bookmark links below to past posts on this topic.


What attracts a person to a work of art?
So many answers to this question. Sometimes it's the subject matter; often the medium - some people love watercolour paintings, others prefer the depth of oils. And the composition, the style all play a part in attracting the eye, mind and soul of the viewer.
So what attracts Andrew to a Hugh Schulz painting? What attracts him so constantly that he has been collecting Hugh Schulz paintings for over 40 years.
Andrew will now take over and continue his story as a collector of Hugh Schulz paintings.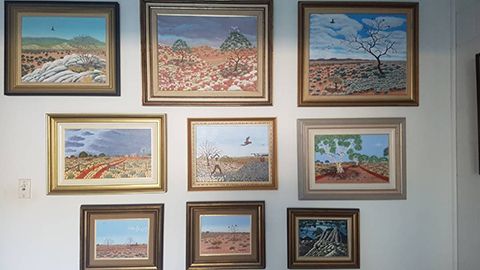 I feel as if I could walk into his paintings and see the emus scampering away from me. I can see the wedge tailed eagles soaring above me. I can sense the atmosphere and feel the warm desert winds. I can see the rabbits hiding behind the saltbush.
I can smell the desert flowers and just be enveloped by the beautiful red earth and all the different blues and greens of the vegetation around me.
I believe that you have to have visited the desert to fully understand these amazing and beautiful works.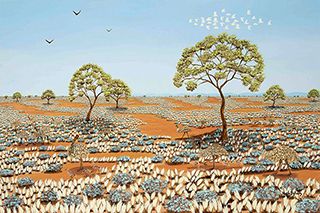 What is involved in becoming a collector of paintings created by one artist?
When I first started collecting it all started with a book of poems illustrated by Pro Hart which led to buying my first painting, one by Pro Hart.
This led to an interest in art which has only become stronger over the years. I've been fortunate enough to have visited many galleries over the years in several countries and as with many of the AnArt4Life blog subscribers, fell in love with the Impressionists and Post Impressionists.
But then I started to realize what amazing artists we have here in Australia, some of these artists gave me the same sense of awe and wonderment as did the Impressionists.
My original Pro Hart painting prompted me to take a trip to Broken Hill where I not only discovered the stunning Australian outback but also some of the artists who saw this country in ways that I could never imagine. Some of these artists had become known as "The Brushmen of the Bush", a group of five artists - Pro Hart, Jack Absalom, John Pickup, Eric Minchin and Hugh Schulz - the latter who became the artist who completely captivated me with his beautiful naive paintings.
I found that Hugh could portray the desert in such a way that no-one had ever done before, he became the artist who to me rivalled the works of the Impressionists in his unique colourful style. Each of his paintings took days if not weeks to create due to his very detailed meticulous way of painting. Yes it's in the naive style but also completely and entirely in a style of his own, the word unique is not out of place here and yes I fell in love with his paintings.
I managed to purchase a couple in Sydney in the mid 80s...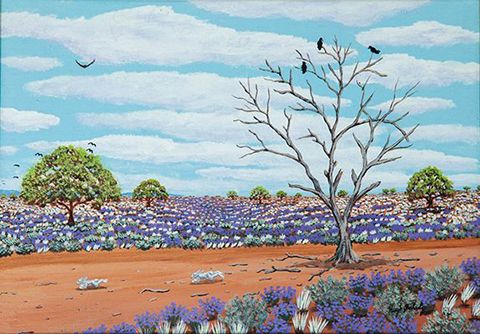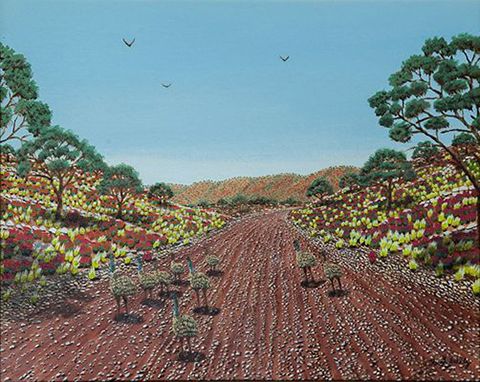 ... and then on another trip to Broken Hill met Hugh and purchased two paintings from him in 1991. That was just the beginning.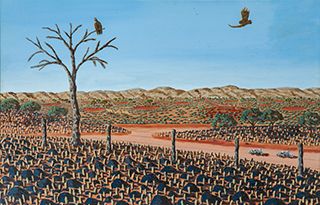 Over the last six or seven years I've made a concentrated effort to collect Hugh's paintings from many different sources, online such as Ebay, art auctions, word of mouth, another trip to Broken Hill as a research project which led to me meeting his daughter Sandy Lindeman, and more recently I've been in touch with an art collecting family from Broken Hill.
Collecting Hugh Schulz paintings is only part of the story, a large part admittedly, but collecting also means collecting books, posters, prints and anything else that has a connection to Hugh - just lately prestamped envelopes. Just when you think you've got all the literature etc. something else pops up.
This collecting of Hugh Schulz paintings is most certainly a passion bordering on obsession but as any collector will tell you it's also an almost unexplainable joy which makes one feel warm and fuzzy inside and brings a smile to my face every time I look at his paintings and that is very often - so much so I sometimes feel a little guilty at having all these beautiful works around me but also very fortunate.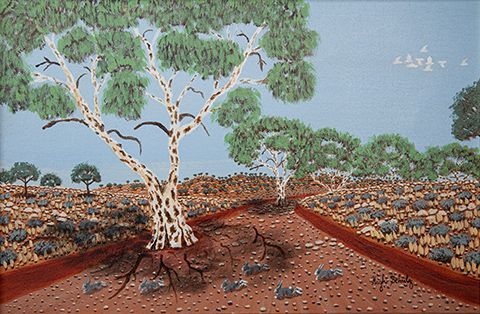 Many paintings require some restoration work - some far more than others. The painting on the left below, titled Red Hop, required no restoration whereas the one on the right, Moonlight Lake required extensive work and is the feature painting in the posts to follow as I explain the restoration process.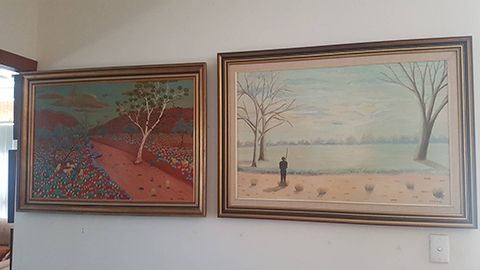 I enjoyed the post the other day about the collector Steve Cook, a man after my own heart. So much of what Steve said and how he acquires his paintings is pretty much parallel to how I go about collecting, It's more than a passion, closer to an obsession - oh... but what a joyous, rewarding and fulfilling obsession.
Tomorrow, Anne and I will begin to take you into the world of painting restoration.
© All works by Hugh Schulz displayed here have been done so with the permission of Sandra Lindeman, daughter of Hugh Schulz.