Following on from our look at paintings of animals I want to share the delightful sculptures of Israeli artist Hannah Miller who features many animals amongst her subjects.
Hannah Miller was born in Israel in 1947 and is a Graduate of the Textile Design Department, Shenkar College of Textile Arts Israel.Most of Hannah's works are figurative sculptures inspired by Mediterranean heritage, archeology, and decoration. Her objects are hand-built. Her use of naive motifs and vivid colors expresses a vital joy of life. She hand-makes each item personally, using her own unique design. (shlushshloshim.com)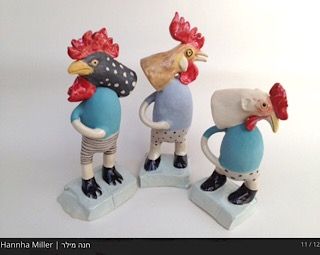 Hannah is a member of a leading ceramics gallery Shlush Shloshim in Neve Zedek,Tel Aviv and her works are on permanent display in many museums and galleries in Israel and abroad, mainly in New York, Chicago, Miami, San Francisco and Madrid. Here are a few of her quirky animal sculptures for you to enjoy.