Grace Cossington Smith – A pioneer in Modern art
Today we are going to look at another Australian female artist named Grace Cossington Smith (20 April 1892 – 20 December 1984). It is no co-incidence that she also features in the Know My Name initiative of the National Gallery of Australia, as she is thought to be the artist who introduced Post-Impressionism to Australia, and in fact, was an important pioneer of modern art in Australia. She was a contemporary of Margaret Preston, who we looked at recently. (Click here if you missed it.) Whilst both artists lived in Sydney, their development as artists, and their resulting objectives and styles were very different.
She was named Grace Smith when she was born in Neutral Bay, Sydney, on the 20th of April 1892. She was the second of five children of London-born solicitor Ernest Smith and his wife Grace, née Fisher, who was the daughter of the rector of Cossington in Leicestershire. 1 The family moved to Thornleigh, New South Wales in around 1890.
I am fascinated by the fact that so many people, and artists in particular, had multiple names in the early 1900s. For many women artists, the extra name was their married name. But Grace Cossington Smith never married. She adopted the middle name of Cossington in 1920. Cossington was significant to the family, given their mother's heritage in Leiceistershire, England. In fact, both their family homes in Sydney were also each named after her mother's home in England, Cossington Hall. We don't know why Grace chose to add it to her name. Perhaps because Smith was such a common name, and she wanted to lend some distinction to herself as an artist? Certainly, by the 1920s, she was becoming known and confident in her unique art and style.
Grace liked art during her school years at the Abbotsleigh School for Girls in Wahroonga. After leaving school she continued to study drawing with Antonio Dattilo Rubbo. She then went to live in England with one of her sisters. They lived with an aunt at Winchester between 1912 and 1914, where she attended drawing classes as well as classes at Stettin in Germany. This is where she learnt about the work of the famous Roccoco artist, Watteau, in Berlin.
After returning to Sydney in 1914 she resumed painting classes with Dattilo Rubbo, developing for the first time an interest in modernist theories. Her painting, The Sock Knitter (1915) was arguably Australia's first post-Impressionist painting. It reveals the influence of post-impressionist European painters Paul Gauguin, Paul Cézanne and Vincent van Gogh. It shows her sister, Madge, knitting socks for soldiers serving on the frontline in the First World War. Grace went on to paint many other scenes motivated by World War One.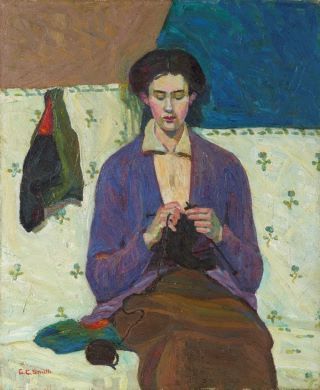 Grace Cossington Smith is also famous for recording the urban development of the city of Sydney and its suburbs from the 1920s onwards.
When the Prince of Wales, (the future King Edward VIII who later abdicated), visited Sydney in April 1920, Grace stood amongst the crowds lining the streets to see him pass by. She did sketches of the buildings around where she was standing, and later painted The Prince (1920), accurately showing the scene of the prince being driven in his car through the crowd lined street. 1 Two other famous paintings, one called Rushing (c.1922) and the other, Crowd (1922) also accurately record developing Sydney city life, showing crowds of people rushing along to work, all wearing hats, as was the fashion of the times.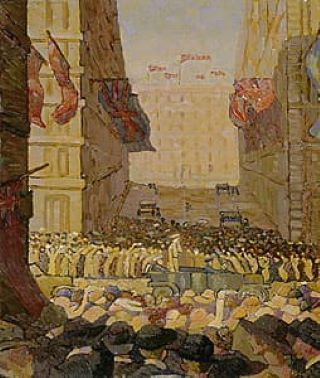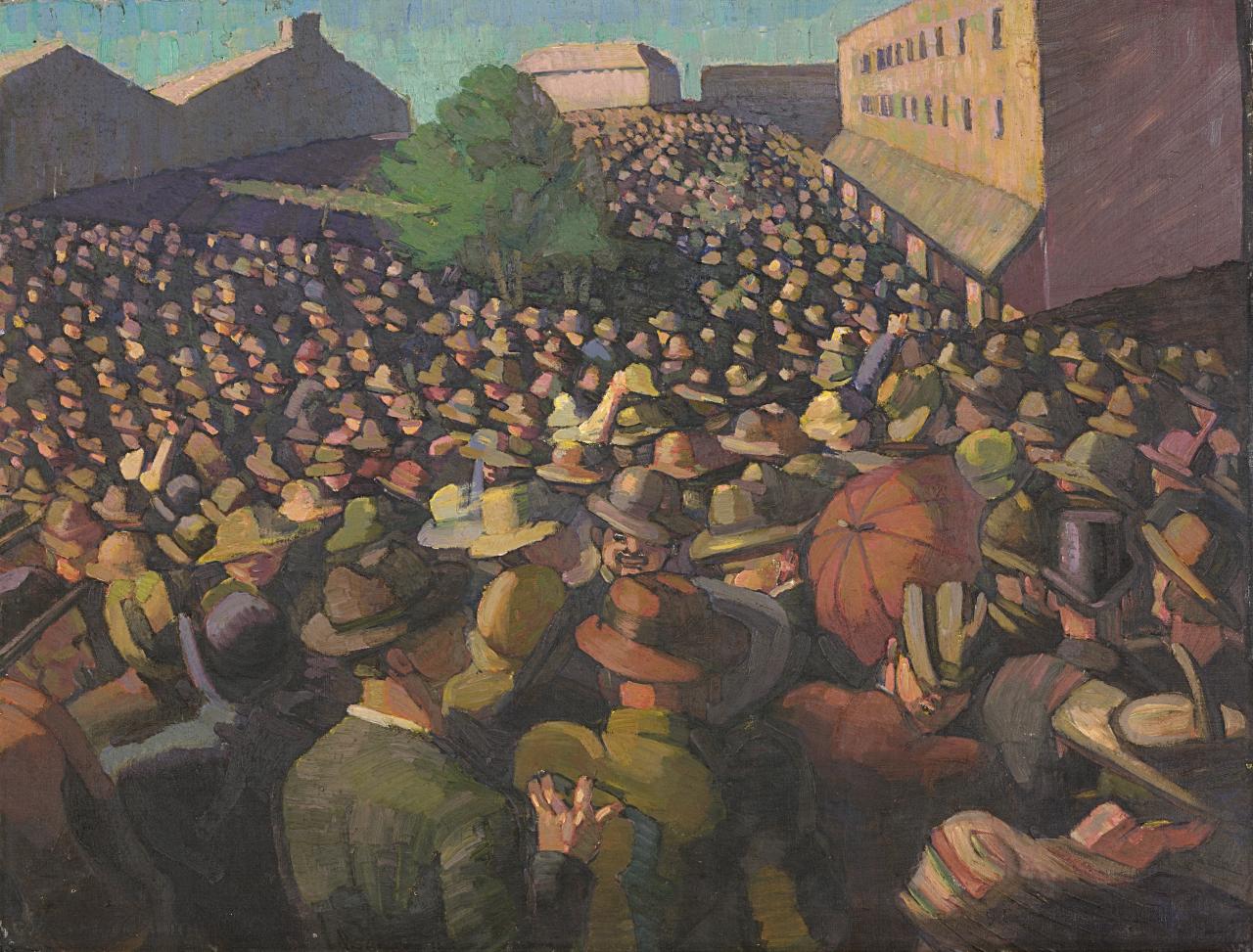 Grace developed a highly individual technique, using small squares of both bright and cool colours to create form, sunlight and shadow. Her aim, she said, was 'to express form in colour – colour within colour, vibrant with light' and colour became the key mode through which she represented structure, depth and solidity. 1
In breaking away from Impressionism into Modernism, it is said that she did get a lot of criticism in the press, but she was very bold and she knew what she wanted to achieve.
The Lacquer Room (1936), shows a view across an Art Deco styled café called the Soda Fountain, located in the David Jones department store in Sydney.
Wikipedia contains a lovely description of this work:
The work itself is highly stylized, with pinks, yellows and blues on the walls and on the floor. The people depicted have little detail shown in their faces, though in what is shown they look obviously surprised and somewhat condescending in their glance towards the viewer. The vibrant glaring colours reflect modern style. The painting is notable for its absence of shadow; the walls are glowing with bright non-directional light and colour. Everything about the painting seems modern, from trendy green table tops to pinkish and red colours on the chairs and on the walls. Two unusual yellow modern style lamps on the walls have an Art Deco look. The customers wear fur coats with stylish hats, giving an impression that this is a place for respectable, middle-class people. The waitresses wear a bright green colour in keeping with the rest. The chairs have huge backs and tiny legs, reflecting a new modern world of manufactured objects, rather than traditional wooden furniture.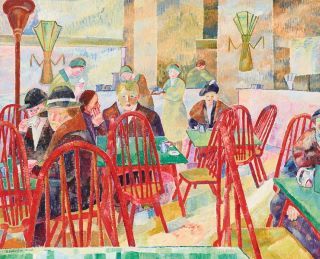 One of her most famous paintings is possibly The Bridge in Curve, which also records Australian history. It was one in a series depicting the Sydney Harbour Bridge being built in 1928. (This iconic landmark opened in 1932).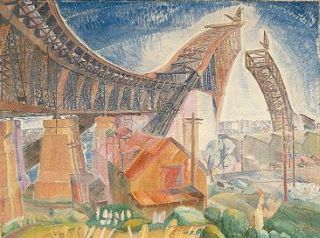 Grace lived most of her life in the second family home at 43 Ku-Ring-Gai Avenue, Turramurra, Sydney, which they moved to in 1920. As mentioned, like their first home, it was also called Cossington. Grace's mother died in 1931, and her father in 1938, and from then on, Grace became the head of the household.1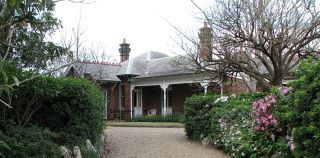 By the 1940s Grace was concentrating on landscape scenes around the area, and once again, they record the development of the northern suburbs of Sydney.
Whilst Cossington in Turramurra is privately owned today, it is now heritage-listed.
As with the First World War, she also recorded the Second World War in various ways. Paintings such as Dawn Landing (1944), which shows troops and a tank disembarking from a ship after the Allied landings in France, and Signing (1945), which depicts the signing of the peace treaty at Yalta, where the three allied world leaders are vaguely recognisable, again record the important events of the time.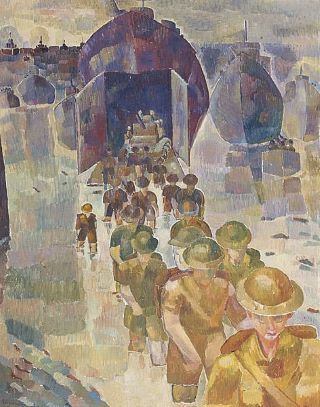 Grace travelled back to Europe for an extended stay, from 1948 to 1951. She returned home to care for her much-loved sister at home, who had a long illness.2 During this time she concentrated more on domestic indoor scenes, producing paintings such as the masterpiece The Window, 1956 and Interior in Yellow, (1962/1964). Her brilliant use of colour has had her likened to Pierre Bonnard, whom we have featured previously (Click here if you missed it.) I can also see similarities with Cezanne and Seurat. What do you think?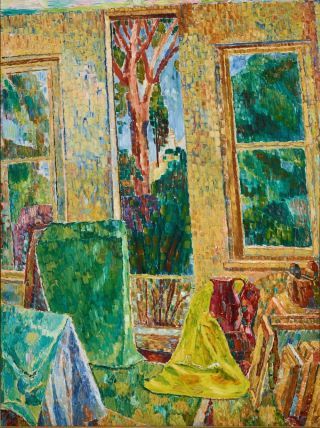 Grace exhibited extensively throughout her life, from her first solo exhibition at Grosvenor Galleries in Sydney in 1928 through to the Macquarie Galleries from 1932 until 1971.
In 1973 she was awarded an Order of the British Empire and had a major retrospective exhibition at the Art Gallery of NSW, after which she gave up painting. 1 She was also made an Officer of the Order of Australia in 1983, and the Governor of New South Wales made a special visit to her nursing home in order to present her with the honour. She died at Roseville, New South Wales on 20th December 1984, aged 92.
Grace was indeed a wonderful pioneer for modern art today, opening many doors to freedom of style beyond the accepted mode. Like many of the women in the Know My Name initiative, she must have been a woman of strength, courage and ingneuity to forge her own path amongst difficult times.
If you would like to see other works by Grace Cossington Smith that are held by The Art Gallery of NSW, please click the bookmark below: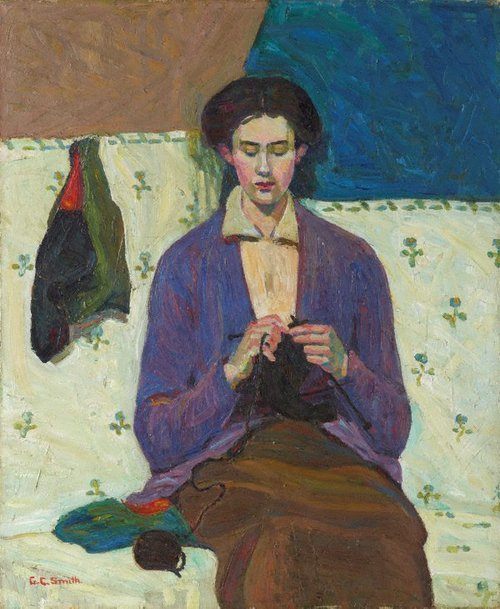 Footnotes
With thanks to Wikipedia
With thanks to the Art Gallery of NSW