Margaret Preston – an Australian identity
One of Australia's most significant lady artists featured in the Know My Name exhibition and book that we mentioned recently (click here) is Margaret Preston.
She was a key figure in the development of modern art in Sydney from the 1920s to the 1950s after studying in Australia and in Europe and Africa in her earlier years.
She developed a very distinctive style, focussing on Australian landscapes and native flora in both her paintings and woodblock prints. She was dedicated to developing "a national art style" and was an outspoken public voice on Australian culture. Margaret was one of the first to use Aboriginal (indigenous) and Asian motifs in her work. 1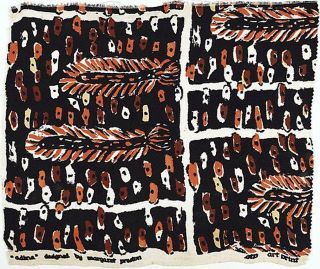 Margaret Rose Preston was born on 29 April 1875 in Port Adelaide as Margaret Macpherson. Her family called her by her middle name (Rose), and it was only in her mid 30s that she began to use Margaret.
The family moved to Sydney in 1885, where Margaret showed an interest in art, first with china painting and then with private art classes with William Lister Lister. She describes her first visit to the Art Gallery of New South Wales at the age of 12, recalling it as:
"a big, quiet, nice smelling place with a lot of pictures hanging on the walls and here and there students sitting on high stools copying at easels. [My] first impression was not of the beauty of wonder of the pictures, but how nice it must be to sit on a high stool with people giving you 'looks' as they went by... This visit led [me] to the decision to be an artist." 1
After this, Margaret went on to study at the National Gallery of Victoria Art School under Frederick McCubbin from 1889 to 1894. Her studies were interrupted after this by her father's illness and death. But 1898, she transferred to Adelaide's School of Design, where she studied under H. P. Gill and Hans Heysen. She showed a strong preference for still life painting instead of people, and in 1897, she won the school's Still Life Scholarship, which afforded her a year's free tuition.
Margaret taught art at various schools in Adelaide to help support herself and her family, as well as holding private art classes in her own studio, which she established in 1899.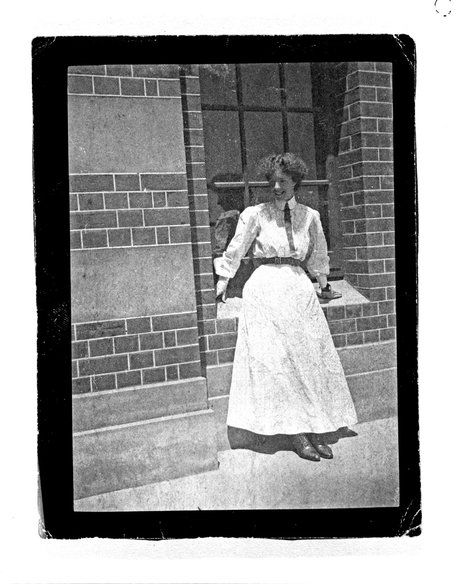 After her mother died in 1903, Margaret and Bessie Davidson, her friend and former student, travelled to Europe, visiting Munich, Paris Italy, Spain, The Netherlands, and Africa over a three year period, between 1904 and 1907. Margreat exhibited in the Paris Salon of 1905 and 1906. Her leanings to Modernism were influenced by French Post-impressionists such as Paul Cézanne, Paul Gauguin, and Henri Matisse as well as by Japanese art and design. Japanese art in particular gave her a focus on plants as subject matter, and an appreciation of simplifying patterns. 1
Preston leased a studio with Bessie Davidson in South Australia when they returned in 1907, and they put on a joint exhibition. One of her paintings Onions (1905), was bought by the National Gallery of South Australia. Preston went back to France (Paris and Brittany) in 1912 with Gladys Reynell, but when World War I broke out, they moved to Great Britain. There Preston studied pottery and the principles of Modernist design. Later, she and Reynell taught pottery and basket-weaving as therapy for shell-shocked soldiers at a military hospital1 in Devonshire and continued to exhibit her work in both London and Paris during this period.
Margaret closely followed the Modernists' analytical approach to design, with a sense of simplified form, and simplified space, which all became hallmarks of her work. 1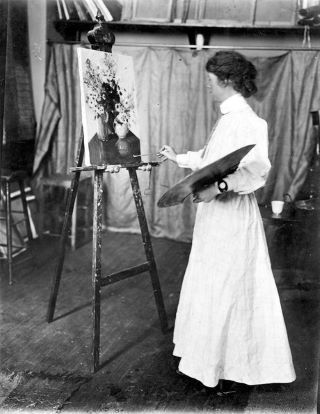 In 1919, Preston went to Pennsylvania, America for an exhibition and on the boat coming home, she met her future husband, William George "Bill" Preston, also returning home as a recently discharged second lieutenant of the Australian Imperial Force. They were married on the 31st of December 1919 and moved to the Sydney suburb of Mosman were they lived for almost 45 years, with the exception of seven years in the bush at Berowra, New South Wales, during the 1930s. Bill was a successful businessman, and was very devoted to, and supportive of, his wife and her art and travel.
Margaret was very prominent and successful in the Sydney art scene, as a founding member of the Contemporary Group in 1926 and joining the Society of Artists. She became a friend of its president, Sydney Ure Smith, the influential editor and publisher of various publications. He allowed her to contribute regularly to his publications, and other women's magazines, which was a terrific forum for expressing her ideas on Aboriginal art and the need to develop a national identity in art rather than always following European models.
Besides painting, Margaret also worked extensively in woodcuts, linocuts, and monotypes. Her prints were inexpensive to produce and helped her to reach a broad market.
Preston created over 400 known prints, largely featuring Australian native flora such as the banksia, waratah, and gum blossom, as well as local Mosman landscapes. These prints, together with her frequent articles in a range of magazines, enabled her to reach a large proportion of the ordinary population, and gave her a prominence that she still holds today.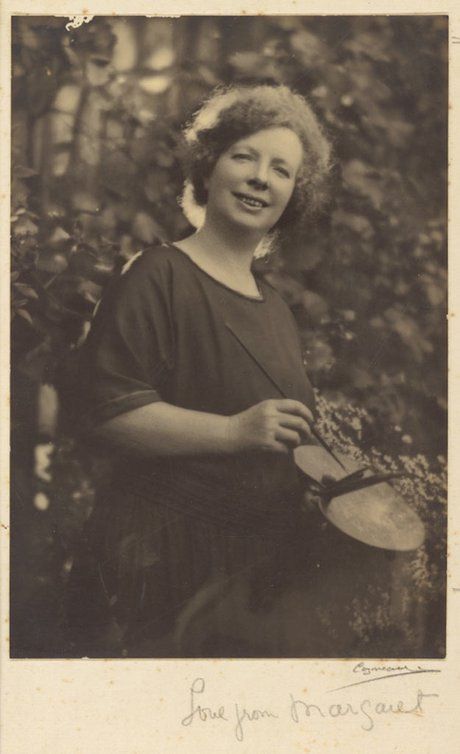 You may like to browse through the following website where there are many examples of her work: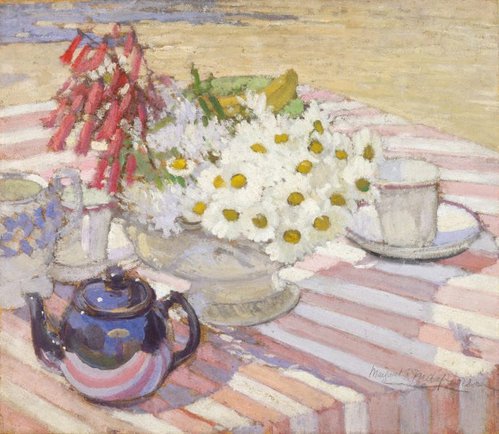 I wonder if Margaret Preston was an influence on Australian contemporary Cressida Campbell, as I can see similarities in Cressida's woodblock prints. (We have featured Cressida previously (Click here and here.) What do you think?
Preston's later works built on the Aboriginal themes developed during their 7 years in the bush at Berowra, and her very last works had overtly religious themes, possibly in response to the Blake Prize instituted in 1951.
Margaret Preston died in Mosman on 28th of May 1963. I was not able to discover if she died before or after her husband, Bill, or whether they had any children. But from the lack of information, it appears not………. Nevertheless, her huge legacy continues today.
Footnotes
With thanks to Wikipedia.