Pierre Bonnard – Diverse and revolutionary!
On 9 June 2023, the National Gallery of Victoria (NGV) is to open a wonderful exhibition of the work of the French artist Pierre Bonnard and some of his contemporaries, showing over 100 works.
I saw some of Pierre Bonnard's work in the Musee D'Orsay in Paris a few years ago, and co-incidentally, the exhibition coming to Melbourne was curated in conjunction with the Musee D'Orsay.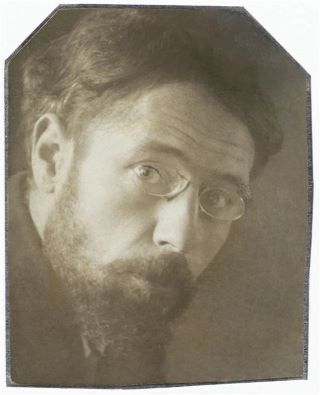 Pierre Bonnard (3 October 1867 – 23 January 1947) was a French painter, illustrator and printmaker, who led the way in transitioning from Impressionism to Modernism, Symbolism and Abstraction. He is known for his bold use of colour in painting landscapes, urban scenes, portraits and nudes. 1 But he is particularly known as being an "Intimist," painting domestic interiors showing the unusual aspects of everyday life.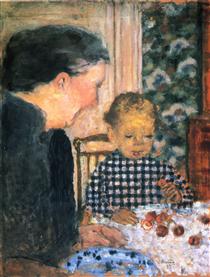 Pierre Bonnard was born on the 3rd of October 1867, in an inner suburb of Paris. He showed talent for drawing, and water colours, and caricatures and often sketched in his spare time. He also showed a strong interest in literature. He received his baccalaureate in the Classics, and, then studied law to please his father. Whilst studying law during 1886/7, he continued to attend art classes at the Académie Julian in Paris. Here he met his future friends and fellow artists, Paul Sérusier, Maurice Denis, Gabriel Ibels and Paul Ranson. 1
But whilst Pierre earned his license in law, he failed the exam to be listed on the registry of lawyers, which meant he couldn't actually practice.
So he then turned to art as his profession. He was accepted by the École des Beaux-Arts, where he met Édouard Vuillard and Ker Xavier Roussel. In 1891, he won a competition for a poster advertising French Champagne, and was paid 100 francs. This first commercial venture enabled him to convince his family that he could make a living as an artist.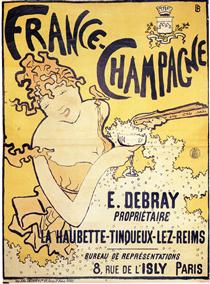 This poster reminds me very much of the work of Toulouse Lautrec, who we have featured previously click here. What do you think ? I wonder if Bonnard was influenced by him, as we know he met Toulouse Lautrec in 1891, perhaps around the time of completing this poster......
With an introduction from Toulouse Lautrec, Bonnard showed his work for the first time at the annual exhibition of the Société des Artistes Indépendants. This was a small collective of innovative artists such as Paul Cézanne, Paul Gauguin, Henri de Toulouse-Lautrec, Camille Pissarro along with Georges Seurat, Paul Signac and Henri-Edmond Cross, who were breaking away from the accepted order to create their own style and philosophies, particularly around the "science" of colour.
Pierre Bonnard was also influenced by the work of Paul Gauguin, as well as the prints of Japanese printmakers such as Utagawa Hirosige, Hokusai and other Japanese artists. We have written about Hirosige previously, (click here) and Hokusai (click here) and (here.).
He saw Japanese art at the Gallery of Siegfried Bing, in Paris and then in 1893, a major exposition of works of Utamaro and Hiroshige was held at the Durand-Ruel Gallery, who represented some of the Impressionists as well.
It is interesting that so many artists of this era and the earlier Impressionists were influenced by Japanese artists, particularly Monet, Degas, Cassatt, Vuillard, Toulouse-Lautrec and Van Gogh, to name a few of the more well known names. (We have featured all of these artists at one time or another, which you can find using the magnifying glass search tool at the top of the page to search for specific artists, or you can scroll through all our posts on Impressionism if you click on that word in the Tag Cloud, if you are interested).
Also interestingly, whilst Bonnard became good friends with Henri Matisse, he was largely unaware of the earlier Impressionists until well after his career was established.
In the early 1890s, Pierre and his friends, Maurice Denis, Édouard Vuillard, Paul Ranson, Paul Sérusier and Félix Vallotton joined together to form an avante-garde art group called Les Nabis. They saw themselves as the Prophets of a new art that they envisaged as touching every sphere of modern life – interior design, furniture, fans and textiles, stained glass, and commercial illustration and advertising. 2
Such was Bonnard's passion for Japanese art within all these mediums that his friends the Nabis gave him the nickname of Le Nabi le trés japonard.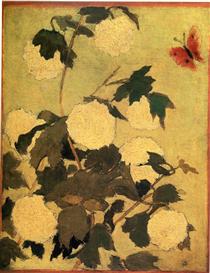 In 1893, Pierre met Maria Boursin (who had changed her name earlier to Marthe de Méligny). They lived together and eventually married in 1925. She was his model for a number of nude studies, both lithographs and paintings, particularly during the years of the First World War when outdoor painting was curtailed.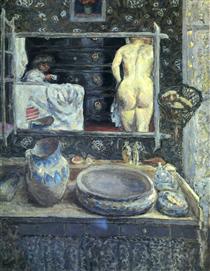 Marthe and Piere had many visits to the south of France for Marthe's health, and there Pierre painted landscapes. This brought a new intensity of colour to his work, 'this colour that drives one wild' he said. They moved to Le Cannet, near Cannes, at the outbreak of World War II, and Pierre lived there for the rest of his life. He died on 23 January 1947.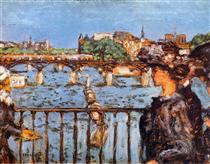 If you are able to get to the NGV in Melbourne, I think this would be a terrific exhibition to go to. But if you are not in this locality, you might care to scroll through more of his paintings and see if you can identify the various influences I've described above….
Footnotes
With thanks to
Wikipedia
NGV – National Gallery of Victoria