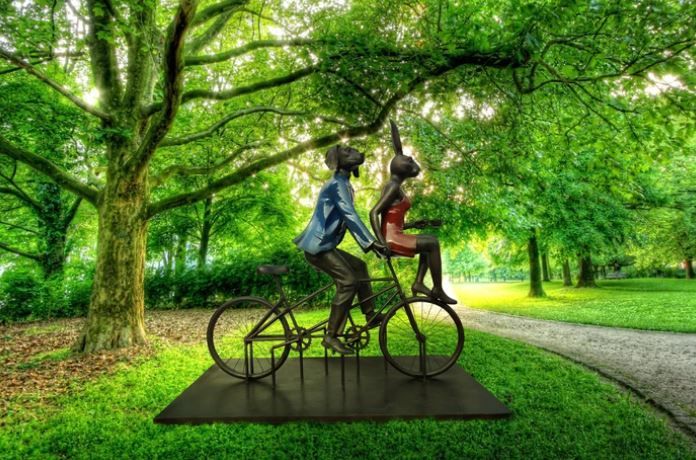 Last week on my post A Changing Urban Landscape you saw the sculpture Tower of Love by Gillie and Marc. Creating some of the world's most innovative public sculptures, Gillie and Marc Schattner an Australian collaborative artist couple, are re-defining what public art should be, spreading messages of love, equality, and conservation around the world.
On checking their website I was drawn to their graceful, beautiful art and could see why they are known as "the most successful and prolific creators of public art in New York's History" by the New York Times.
All details and images are taken from the Gillie and Marc website, available at the end of this post.
Although a lot of their public art is on display in Australia, many others are located all around the world. A few examples below.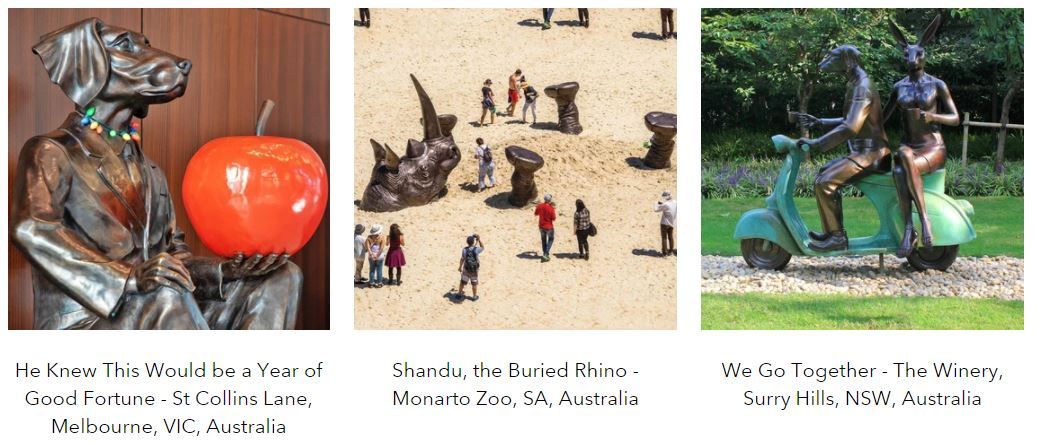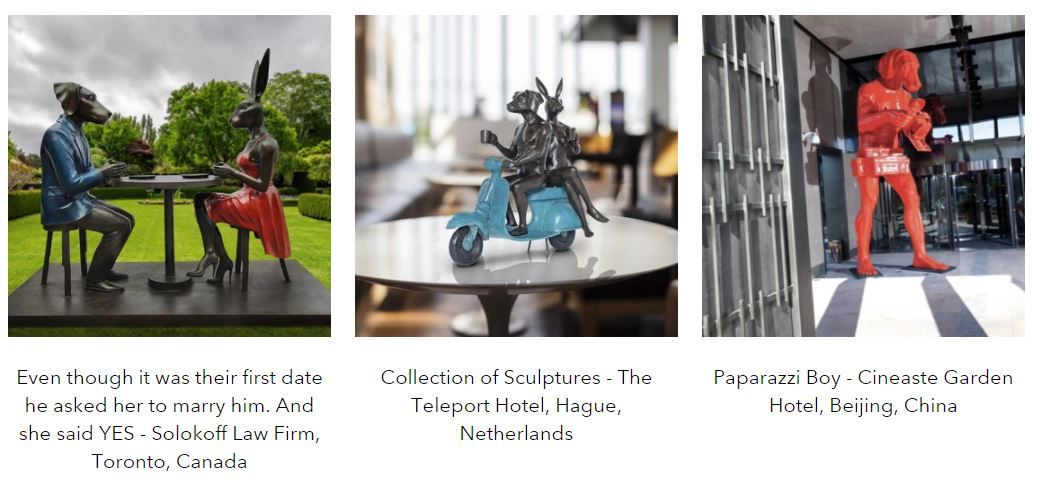 Gillie and Marc are best known for their beloved characters, Rabbitwoman and Dogman, who tell the autobiographical tale of two opposites coming together to become best friends and soul mates. As unlikely animal kingdom companions, the Rabbit and the Dog stand for diversity and acceptance through love.

They believe art is a powerful platform for change. Their art is multi-disciplinary, paying homage to the importance of togetherness, as well as the magnificence of the natural world, and the necessity of preserving it – for we are it, and it is us.
Their highly coveted sculptures and paintings can be seen in art galleries and public sites in over 250 cities. They're Archibald Prize Finalists and have won the Chianciano Biennale in Italy, together with winning 2 years in a row People's Choice Award in Sydney's Sculpture by the Sea, among other notable awards and accolades.
It's a joy to browse their website. One of the many headings that attracted my attention was Escape with us to a happy place. Reading on they say:
Everybody has a happy place. It's a place completely unique to each of us, whether it's alone in peace and tranquillity with towering trees surrounding us or in the middle of a vibrant celebration with everybody we love. These are the places we can escape to when we need them, and now Rabbitwoman and Dogman are bringing them to you in vibrant colour in our latest online exhibition!

With a selection of paintings, resins, and bronzes, Rabbitwoman and Dogman appear as a burst of life in a celebration of joy and colour. Whether they are riding the backs of an endangered animal or quietly sitting by themselves, our favourite lovers bring an escape from the stresses of the world into a realm of pure joy. Expertly crafted with a lot of love, this exhibition is our brightest yet and aims to bring everybody's happy place to life.
A few examples below.


I am sure, like me, you will be captivated browsing the website – you may even by tempted to make a purchase, seek out your own art trail to view their art works for yourselves or even indulge in a gift! The prices are very reasonable. Some examples below.