A Changing Urban Landscape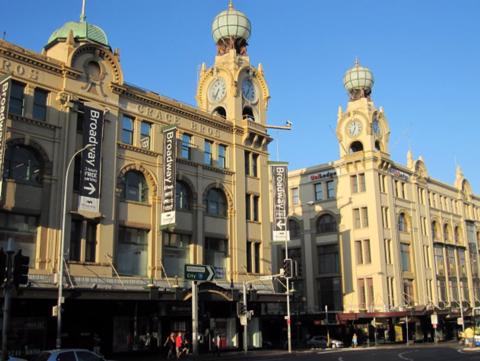 In the 1970s I worked on Broadway – not Broadway in New York, but Broadway in Sydney – a wide thoroughfare leading out of the CBD past the University of Sydney and out to the sprawling western suburbs.
I worked in the iconic Grace Bros Building with its distinctive glass and steel globes. This area was the centre of retail back in the 1920s but when I worked there the building and the whole area was shabby and rundown.
During my recent visit to Sydney I had the chance to explore this area and I was amazed at the rejuvenation which made me consider how urban landscapes are constantly changing.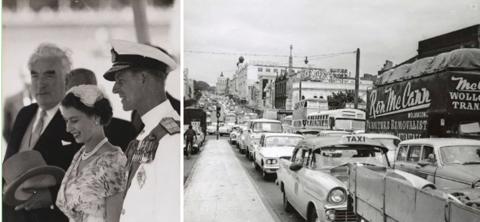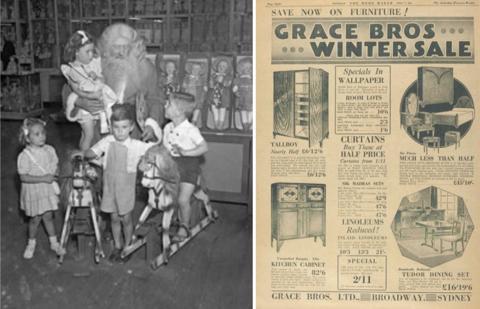 Broadway itself was one of the first roads built in the new colony back in 1795. It was widened in 1906 when Central Station was built. It even had a toll at one time as it was traditionally the main traffic artery to the city from the west.
The Grace Brothers buildings were completed in 1923 and look very much the same today. The stores boasted over three acres of furniture as one of its selling points. It also had its own private electricity generator and an auditorium that regularly hosted dances, fashion parades and other children's events.
In 1954 it was even visited by Queen Elizabeth which highlighted how significant the area was during that time. The Grace Brothers store was closed in 1995. In 1998 the West side was reopened as a mixed retail and cinema complex, while the Eastern side is currently used as a Hotel.3
I used to travel from the western suburbs on the train to Central station – arriving to the overpowering odour of hops – which emanated from the nearby brewery. Closed down now, however its memory lives on with this photo and plaque in Central Park.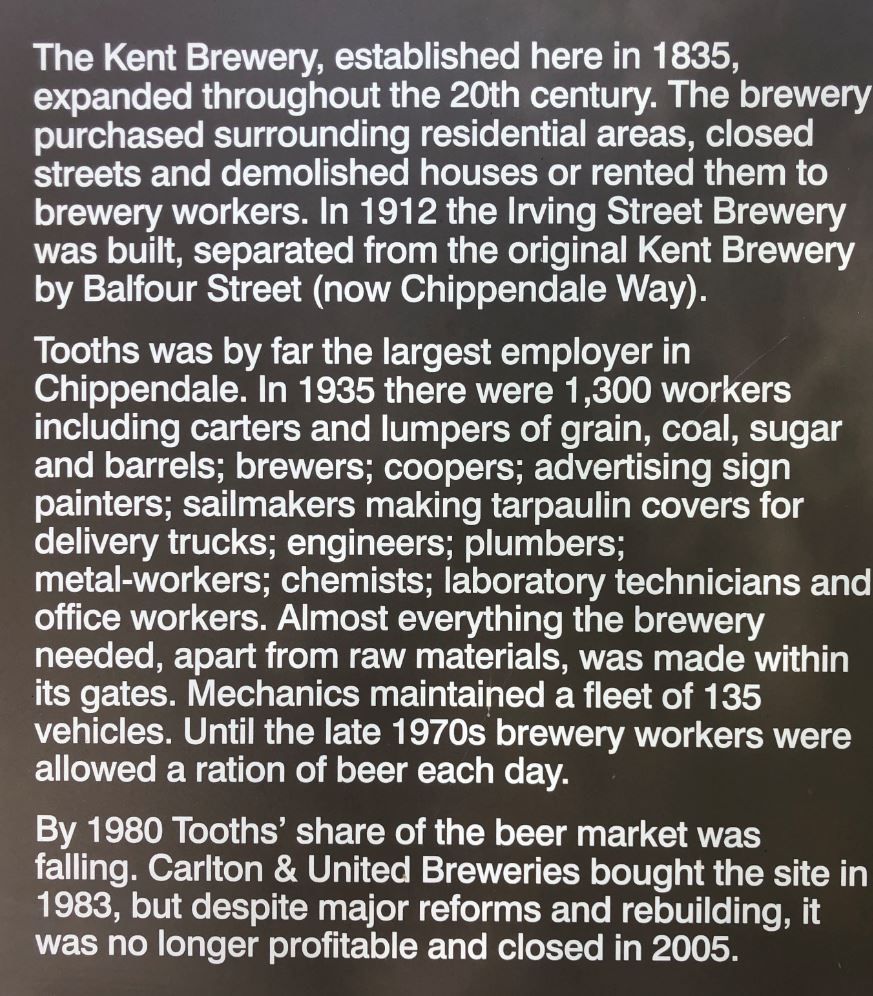 Central Park (yes it's named after Central park in NYC!) is a new and attractive green space – surrounded by striking buildings, incorporating interesting design elements, such as the vertical gardens on an apartment building, a sculpture by Gillie and Marc. (Watch this space for more on this artistic duo tomorrow)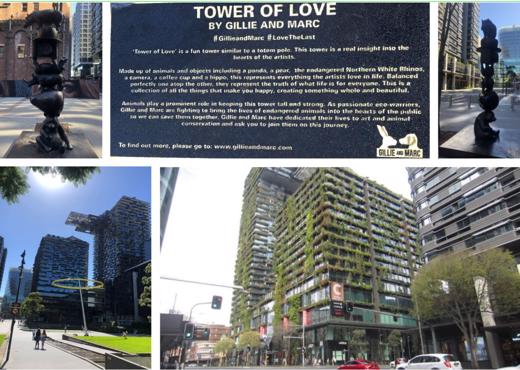 The area is a mix of new and old: Spice Alley with its enticing Asian food aromas – a far cry from those overpowering hops! To the original terrace houses, now highly prized residences.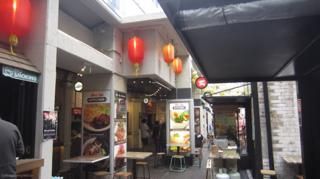 Exploring further is the White Rabbit Gallery - opened in 2009 to showcase what has become one of the world's most significant collections of Chinese contemporary art, which now includes more than 2000 works by almost 700 artists.
Dedicated to works made in the 21st century, the White Rabbit Collection is owned by Judith Neilson, who was inspired to establish it after her first trips to Beijing in the late 1990s.

Judith Neilson is a patron, adviser and benefactor to a diverse range of charities that help vulnerable people in Australia and around the world. She supports a number of causes targeting slavery, homelessness, children's health, affordable housing, climate change and food scarcity along with a long-standing interest in architecture and design. Judith feels that the opportunity to work within these areas will provide a powerful force for change in the lives of vulnerable people around the world.

Judith's charitable work and contribution to the arts were recognised by her appointment as a Member of the Order of Australia (AM) and the awarding of an Honorary Doctorate by the University of New South Wales, in recognition of her philanthropy and role in furthering knowledge of contemporary art.5
The gallery building, a Rolls-Royce service depot in the 1940s, was completely refitted as an exhibition space by architect William Smart. Through her generosity admission to the gallery is free.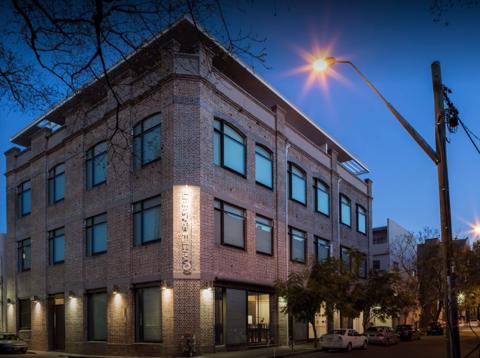 The current exhibition is Lumen:
In this exploration of light, artists use LED bulbs, video, metronomes, miniature household items, kinetic sculptures and intricate structures to illuminate the visible and invisible.

Where light is commonly used to extinguish darkness, the pieces in White Rabbit Gallery's 23rd exhibition use both to navigate between their transition and opposition.

Forty works from Judith Neilson's collection of Chinese contemporary art are being exhibited as part of Lumen, spread out over the gallery's four levels.6
A few examples shown below.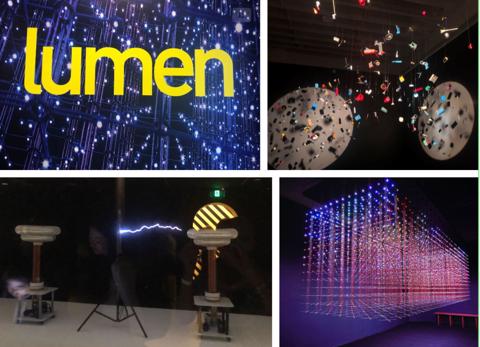 It was such a pleasure to see how this area, that I had known as dirty and non-descript in the 1970s is now a vibrant urban suburb filled with a new vibrancy yet retain its history and touches of bygone gone days.
Credits
1. sydney-city.blogspot.com
2. Archive photos thanks to State Records NSW and archive.org
3. historyofsydney.com.au
4. sydneycompletion.com
5. judithneilsonprojects.com.au
6. google.com
7. broadsheet.com.au