From Theatrical Realism to Epic Productions

Opera has always been considered to be a somewhat rarefied art form for a select audience and the connoisseurs of music and theatre. Grand productions in exotic locations endeavour to be much more engaging which intend to dazzle and sometimes become a reason to visit a city or destination.
For some years now the Handa Opera feature a peerformance for a limited season during April on a floating stage opposite the iconic Opera House and Harbour Bridge in Sydney. What a wonderful reason to visit Sydney – to be wowed by an amazing set, with backdrops that are larger than life. It often rains in Sydney during April and occasionally a performance is cancelled – however even if the stage is almost flooded by torrents of rain, the performers battle on and the enthralled audience don ponchos, reluctant to miss a minute.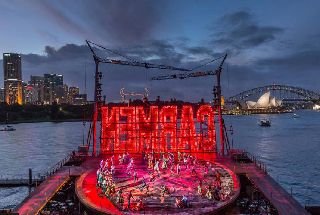 A scene from Turandot in 2017.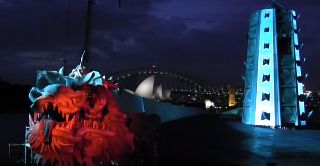 And two scenes from Aida as performed in 2018.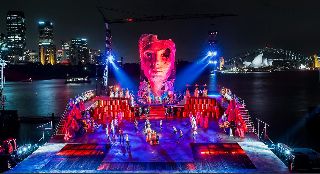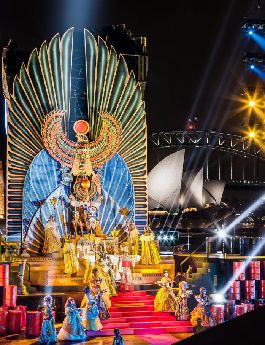 On two occasions I booked tickets to a Handa Opera and flights to Sydney – alas to my regret due to inclement weather or poor health I had to offer my tickets to Sydney friends.  Westside Story has been selected for 2019 – perhaps I will try again.
Some operas are especially conducive to presenting as a grand spectacle. In 1988, Australia's bicentennial year, I was thrilled to attend a performance of Aida at the Sydney Football Stadium. Last year I discarded 50 years worth of theatre programs, including this one, and I was not able to find any images to show you. However, I do remember the stage filled with real Elephants, Camels and a wealth of other animals – it was indeed an amazing sight to behold. I also recall torrential rain however we were completely mesmerised and oblivious to being soaked through!
I have found an image though of the latest outdoor production of Aida – just this week at the Verona Summer Festival. Now there is a great excuse to plan a trip to Verona for their festival in 2019!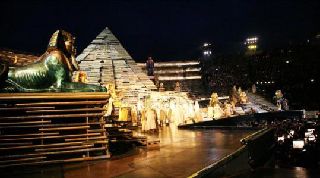 Turandot is another opera often presented in grand dimensions and locations. Images below are from Bregenz, Austria (2015) and again Verona in 2018.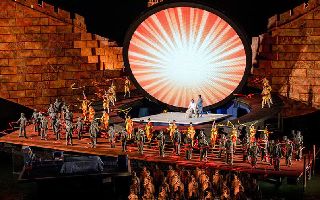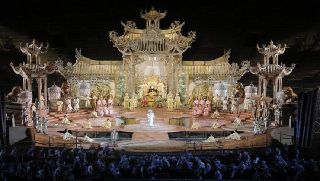 The story of Princess Turandot  is of a woman of great beauty, but an icy heart will only marry a man that answers 3 riddles: many fail to her great satisfaction. But then one day a man succeeds: she is initially horrified but then succumbs to love.
Even those not familiar with opera, would recognise the pivotal aria Nessum Dorma - made famous in the 1990s when sung by Luciano Pavarotti– especially during the Three Tenors concerts and tours.
In another blog I will feature Andre Rieu – he has popularised classical waltzes – much to the chagrin of the Viennese music buffs.