Frans Krajcberg: Eco Artist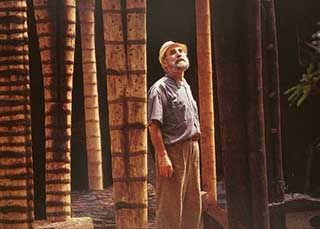 Frans Krajcberg (1921–2017) was a Polish Brazilian painter, sculptor, engraver and photographer. Known for his environmental activism, Krajcberg denounced the destruction of the Brazilian forests, using materials such as burnt wood from illegal forest fires in his artworks.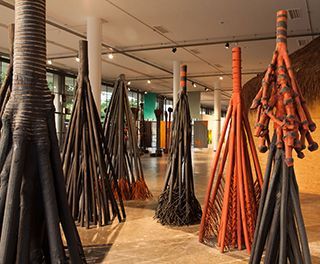 In his artistic and ecological experience, which is marked by his decision in the 1970s to establish residence in Nova Viçosa, Bahia, Frans Krajcberg finds in the diversity and exuberance of the flora, the raw materials and plasticity that qualify and compose his sculptural work, as well as his prints, paintings, drawings and photographs. The use of nature as theme and material for his works is consistent with his defense of the environment.
Among the numerous works developed throughout his career, three sets of sculptures – dubbed Gordinhos, Bailarinas and Coqueiros – gain prominence in the exhibition space of the Bienal's modernist pavilion by occupying part of the ground floor and creating a transitional environment between the park's outdoor area and the building's interior. Remnants of charred wood, trunks, vines and roots are transformed through whittling, carving, decomposing and painting. Emerging from this labor, these selfsupporting pieces of varying scales and dimensions are created and then arranged amidst the rational elements of this monumental architecture. (32bienal.org.br)
After the outbreak of the Second World War, Krajcberg, who came from a Jewish family, moved to the Soviet-occupied territories. In 1940, he commenced architecture studies in Leningrad. After the German invasion of the USSR, he joined the newly founded Polish Armed Forces in the East, where he was assigned to the sapper brigade.
However, when the Polish army marched out, he remained in the Soviet Union. After the war, he learned that his entire family had been killed in a concentration camp, and he decided to not go back to Poland. He was accepted to the Academy of Fine Arts in Stuttgart and continued studying architecture under Willi Baumeister. After graduating in 1948 he moved to Paris, where he stayed for several years. He travelled a lot during that period, for example to Ibiza or Brazil, where he eventually decided to settle. (culture.pl/en/artist/frans-krajcberg)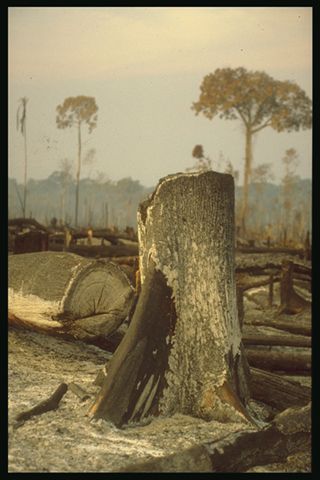 TRUNKS (Amazon) Photo by FransKrajcberg. In: Encyclopedia Itaú Cultural of Brazilian Art and Culture. São Paulo: Itaú Cultural, 2019. Available at: <http: enciclopedia.itaucultural.org.br="" obra26046="" troncos-amazonia="">. Accessed on: Oct 28, 2019. Encyclopedia Verbete.ISBN: 978-85-7979-060-7</http:>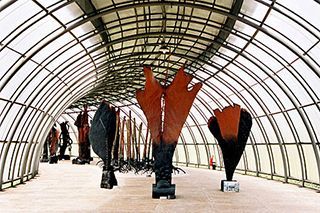 Between 1948 and 1954, he created his first sculptures and paintings expressing the direct exposure to nature and an attempt to make elements of the natural environment the sole material used in his works.
In 1951, he participated in the 1st São Paulo Art Biennial. He moved to the Minas Gerais state in Brazil, to the Pico da Cata Branca cave in the Itabirito region. The locals called him 'barbudo das pedras' (the bearded stone man), as he lived an ascetic life in isolation, washing in the nearby river and sculpting in stone. Zé do Mato, the artist's exhibition assistant and technician, reminisces that Krajcberg 'wanted to run away from humans, he resembled a wounded animal.'
He was saved by Brazilian nature, which 'smiled at me and never asked where I came from and what my religion was. That is when I discovered life', the artist confessed in an interview.(culture.pl/en/artist/frans-krajcberg)
Below is an Installation view of Frans Krajcberg, Sem titulo (Bailarinas), at the 2016 Bienal de São Paulo. Photo: Leo Eloy / Fundação Bienal de São Paulo.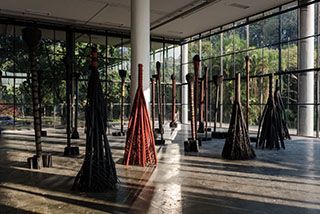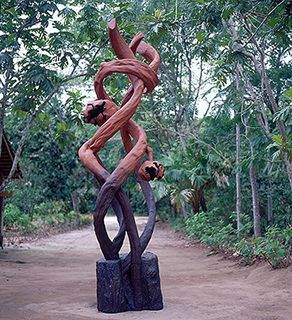 He later moved to the state of Paraná in southern Brazil, where he was hired as an engineer at a paper factory, but eventually moved to an isolated location in a forest and started painting (1952-1956). In 1956, he started living in Rio de Janeiro, where he shared a studio with Franz Weissmann (1911-2005), an Austrian artist, one of the major Brazilian sculptors of 20th century, and a student of August Zamoyski.
One year later, Krajcberg obtained Brazilian citizenship and received the title of the country's best painter at the São Paulo Biennial. Beginning in the late 1950s, he often travelled to Europe, temporarily living in Paris, as well as Ibiza and Brazil. During that period, he created oil paintings and sculpted, drawing inspiration from Japanese art.
In 1959, while in Ibiza, he started creating monochromatic reliefs decorated with natural pigments – Terras craqueladas (Cracked Earth). In 1964, he took part in the Venice Biennale, and afterwards returned permanently to Brazil, where he established an art studio in Cata Blanca and started creating sculptures and other spatial forms. That was when he created his first sculptures out of dead cedar trees. In 1970, he gained international recognition thanks to his sculptures made of charred wood. Krajcberg also started creating a new cycle titled Cutout Shadows, created out of specially trimmed vines.https://culture.pl/en/artist/frans-krajcberg
Here are three of his works on paper, all done in the 1950s. I'm tring to get a better understanding of abstarct art and these works certainly inspire me.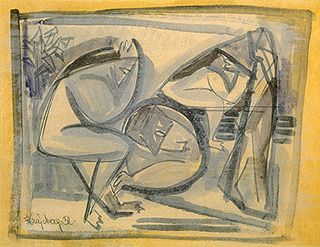 But it is the Frans Krajcberg sculptures from dead trees found in the Brazilian forests that I find thought provoking and creatively powerful.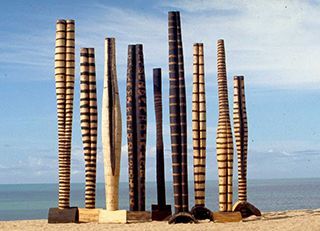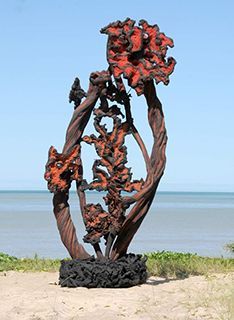 Frans Krajcberg died on 15 November 2017, aged 96, at the Hospital Samaritano in Rio de Janeiro.
An Ardent Champion of Ecological Art