The puzzle surrounding three tulips
Jacob Marrel (1614 – 1681) was a German still life painter active in Utrecht during the Dutch Golden Age who specialized in 'portraits' of tulips in bloom.
Flowers were costly, and tulips the costliest of all. Tulip bulbs were avidly collected in the 17th century and large sums changed hands for unusual specimens. We have previously written about Tulipmania for those interested please click here
You will need to read on to unearth the puzzle!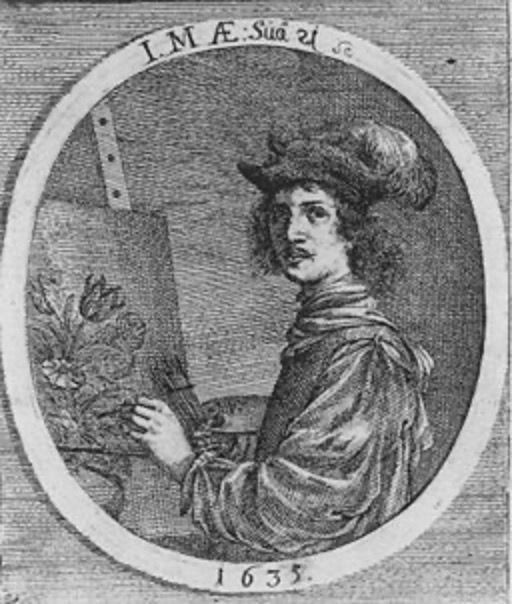 Jacob Marrel recorded tulips in great detail and these were recorded in books, drawn on parchment. The tulip book's exact function is not known. It could have been a catalogue from which an interested buyer made his selection, or a drawn inventory of a collection of tulips. Each album opening (except the last one) shows four tulip varieties, two per sheet.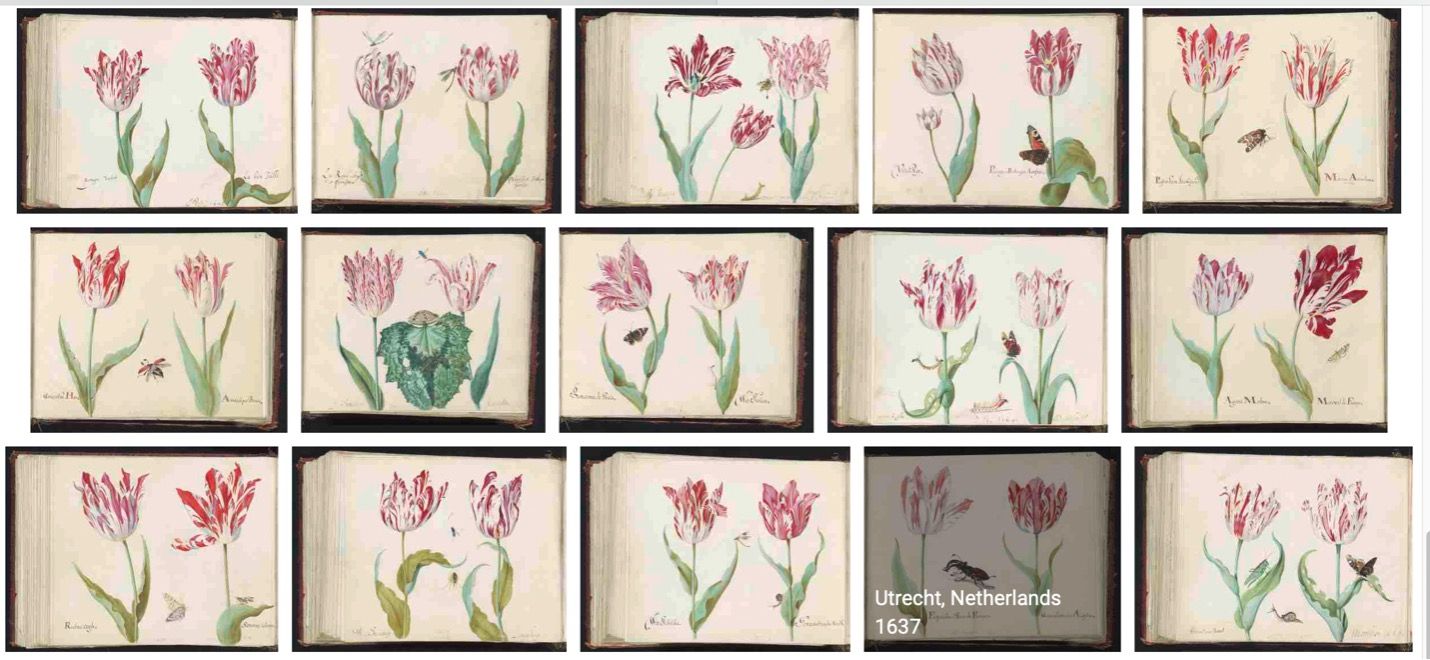 On each leaf, the tulips are supplemented with insects, shells, berries and other flowers. On some sheets are the names of the tulips, weight and prices of the tulip bulbs.
The watercolor shown below on vellum is a remarkable document of a fascinating moment in botanical and economic history, involving a venerated flower and its trade on the stock market. It depicts four different tulip cultivars, each clearly named: Boter man (Butter Man), Joncker (Nobleman), Grote geplumaceerde (The Great Plumed One), and Voorwint (With the Wind) and beautifully rendered to record the prized bloom. The sheet comes out of one of several watercolor albums or Tulpenboeken. Credit metmuseum.org
https://www.metmuseum.org/art/collection/search/337769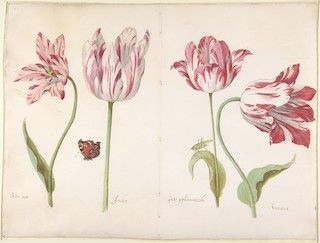 I was alerted to Jacob Marrel by our friend and subscriber J from Newstead who was given a postcard from the Rijksmuseum. On it appeared the picture below with the description on the reverse side "Three tulips and an anemone" (Drie tulpen en een anemoon). Quite strange as there are clearly 4 tulips. After researching I could not find out why it was described in this way. However, I did confirm via the Rijksmuseum website that it is also known as "Sheet from a tulip book".
**If anyone can shed more light on this puzzling question, please let us know! **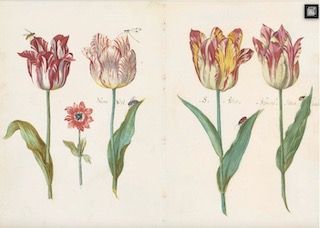 We will leave you with below, Marrels' Anemones, a tulip, an opium poppy and other flowers in a glass vase, with a sand lizard and a ladybird, in a stone niche which sold at Christie's New York in 2005 for $441,600 USD.(Credit Mutualart.com)
I would have liked to hear the auctioneer reeling of this name.
Food for thought for another post..."artworks with the longest names", all contributions welcome.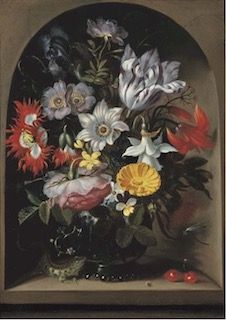 N.B. Anne, our clever Editor in Chief thinks she knows the answer relating to the name Three Tulips and an Anemone. She believes one particular tulip is drawn twice to show a different aspect. Do you agree?
And we start the week on a great note by welcoming L.F.W. in California who has joined us today as our latest subscriber.