The painting represents the first of my more sophisicated genre paintings of people engaged in their daily lives. Certainly one of my best paintings and very popular as a print. Originally it was exhibited as a pair with Night Developments.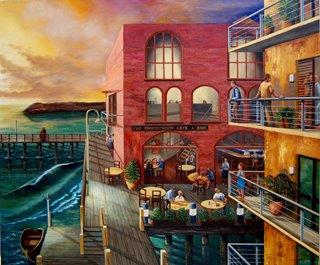 Dockland Developments - Anne Newman
Original: Oil on canvas, w126cm x h106cm, framed.
The subjects here are those that like to socialise. The painting also incorporates my interest in bricks and texture in buildings. The painting was purchased by St Kevin's School, Toorak as part of the collection to be displayed commemorating the work of Brother McCarthy who started their annual art exhibition many years ago.
Painting Status: Sold