The painting represents one of my first more sophisticated genre paintings of people engaged in their daily lives. The subjects here are the "night people". The painting also incorporates my interest in bricks and texture in buildings. It was exhibited as a pair with Dockland Developments.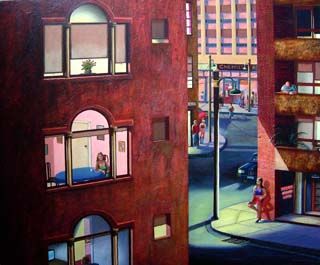 Night Developments - Anne Newman
Original: Oil on canvas, w126cm x h106cm, framed
This painting was chosen as a finalist in the Inaugural MacarthurCook Art Award in 2007 where it was exhibited with the title "Innercity Homes for Everyone."  
Painting Status: Sold