Childe Hassam, American Impressionist
When anyone mentions "The Impressionists", which group of artists do you immediately think of? I must say that I always think of the French Impressionists!
But there was also a strong presence of Impressionism in the United States of America, represented by artists such as Frederick Childe Hassam and John Henry Twatchman and Mary Cassatt (whom we have featured previously, click here and here.)
Frederick Childe Hassam, (known as Childe Hassam) was particularly instrumental in promoting Impressionism to American art collectors, dealers and museums.
Whilst Hassam was a contemporary of many of the French Impressionists, albeit on the other side of the world, I must admit I had never heard of him! So today we will learn a little bit about him.
He produced over 3,000 paintings - oils, watercolours, etchings and lithographs over the course of his career - and, as mentioned, was very influential in early 20th century American art. 1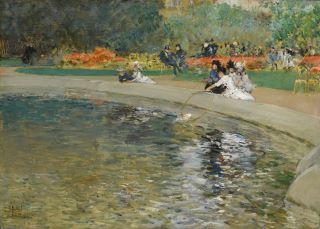 Childe Hassam was born in Rochester, Massachusetts on 17th of October, 1859. At school, he was good at swimming and boxing, but also demonstrated an early interest in art. He had his first lessons in drawing and watercolour whilst at school but his parents showed no inclination to foster his inherent talent.
Instead, at 17, his father arranged a job for him in the accounting department of publisher Little, Brown & Company. Outside work hours, Hassam studied the art of wood engraving. In 1876 he was apprenticed to a local wood-engraver and soon thereafter became a free-lance illustrator, known as "a black and white man". He started to paint in outdoor scenes in watercolour, and around 1879, began creating his earliest oils. He continued art classes at the Boston Art Club, and then in 1883, travelled to Great Britain, Holland, Spain, and Italy with an artist friend, the painter Edmund H. Garrett (1853-1929). There Hassam produced a large number of watercolours that he sent home to be exhibited in Boston. In 1884, Hassam married Kathleen Maude Doane and in 1886 the couple left for Europe. In Paris, Hassam studied The Old Masters at the Louvre, figure painting and exhibited his work at the French Salons of 1887 and 1888.2
He was a prolific landscape and figurative artist, but always distanced himself from the French Impressionists. Rather, he said he was most influenced by the English artists Constable, Turner and Bonington.2 His own family had migrated from England in previous generations. However, he must have been influenced by French Impressionist paintings to some degree as he would have seen them in museums and exhibitions, though he does not appear to have met, or collaborated with, any of the artists.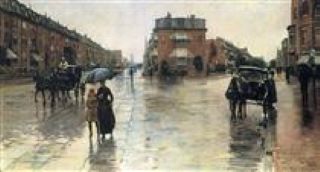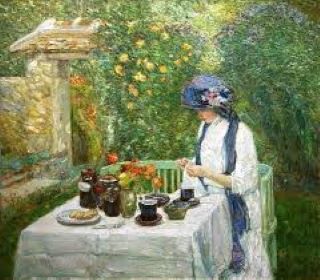 He wrote this about the French Impressionists: "Even Claude Monet, Sisley, Pissarro and the school of extreme Impressionists do some things that are charming and that will live." 1,3 High praise indeed! Hassam's closest contact with a French Impressionist artist occurred when he took over Renoir's former studio and found some of the painter's oil sketches left behind. "I did not know anything about Renoir or care anything about Renoir. I looked at these experiments in pure color and saw it was what I was trying to do myself." 1,3
When the Hassams returned to the United States in 1889 they settled in New York. Hassam subsequently assisted in founding the New York Watercolour Club and joined the Pastel Society of New York. He also began to exhibit with the Society of American Artists, until in 1897 he founded an art group that would become known as The Ten. 1 (Click here for more information about 'The Ten'.)
During the 1890s and the following two decades Hassam spent his summers painting in locations throughout New England, such as Gloucester, Massachusetts; Cos Cob, Connecticut; and Newport, Rhode Island. His favourite settings, however, were Old Lyme, Connecticut, and Appledore, on the Isles of Shoals, off the coast of Maine, where he produced some of his best known images.2
(Some paintings mention the name of Celia Thaxter who owned the small hotel at Appeldore, where Hassam stayed. She was a poet and keen gardener, and Hassam often painted her garden. Hassam's friendship with Thaxter dated back to the early 1880s, when she had been a pupil in his watercolour class in Boston).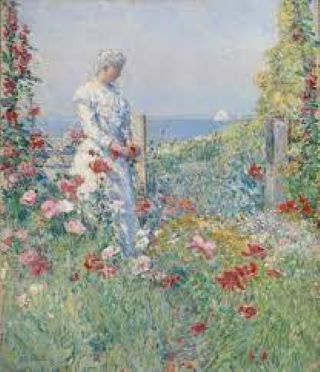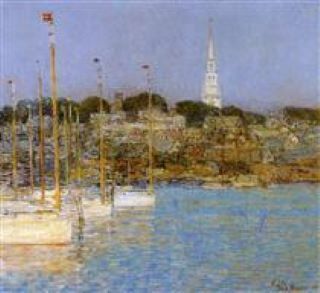 He is also well known for his depictions of flag-draped Fifth Avenue during and after World War One, known as "The Flag Series."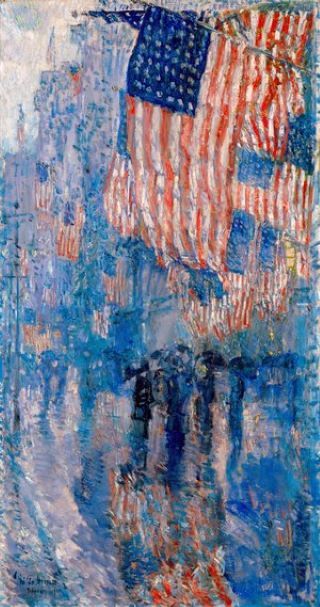 Unlike many of the French Impressionists, Hassam had the felicity of being an accepted and sought-after artist in his own life time. Hassam won numerous awards and prizes and earned the serious attention of the American collectors George A. Hearn, John Gellatly, and Charles Freer. His work was widely exhibited at established museums throughout the country.2
With this influence, along with that of contemporary American artists such as Inness, Whistler, Sargent, Impressionism in the United States became well established. Though I couldn't find anything that linked Hassam to Mary Cassatt, (as fellow Americans), she was also influential in promoting and guiding the art education and purchases of wealthy Americans, even though she lived permanently in Paris.
Hassam remained true to Impressionism, even when he turned towards prints and lithographs towards the end of his life. In fact, he denounced the modern trends towards Realism, such as the art of The Ashcan School (which we have featured previously, click here).
Shortly before his death, in East Hampton in August 1935, Hassam arranged to bequeath all the paintings remaining in his studio to the American Academy of Arts and Letters. According to his wish these were sold to establish a fund for the purchase of American works which were then presented to museums.
It is said that his work is most reminiscent of Claude Monet, but I think his work is very like Monet, Pissarro, and Renoir, all rolled into one! You might like to browse through more of his work by clicking here.
So, what do you think? Do you think Hassam's work resembles any of the French Impressionists, or is it uniquely his own style? Do let us know what you think!
Late Mail
A very special welcome to A.B.in Australia who has decided to become our newest subscriber and to join in the morning dose of art because there is no better way to start your day than in sharing a love of art.
Coming up this week we go into outerspace then off to our beautiful cousin country of Britain where Julie takes us to visit art works in Derbyshire and then to Pembrokshire, Wales and I conclude with a surprise visit to my home county of Dorset!
Footnotes
Wikipedia (https://en.wikipedia.org/wiki/Childe_Hassam)

Biography, Systematic Catalogue, National Gallery of Art, (NGA), Washington

Taken from the book "Childe Hassam: American Impressionist" New York, Hiesinger, Ulrich W. (1994).