Ben Quilty and Margaret Olley
In 2011 Ben Quilty won Australia's most prestigious prize for portraiture, The Archibald, with his painting of Margaret Olley.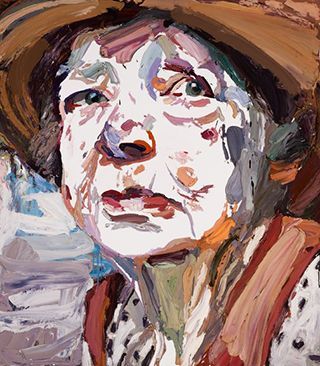 The relationship between these two greats from the Australian Art World is exemplified in the wonderful photo taken on the night of the award being received.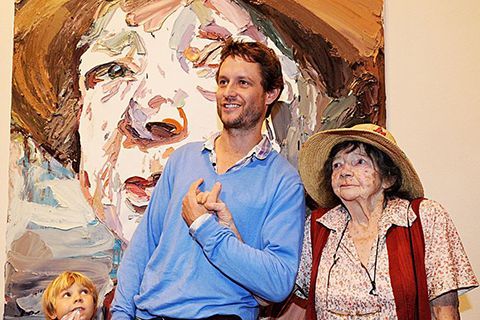 Ben first met Margaret Olley when she was a judge for the Brett Whiteley Travelling Art Scholarship, which he won in 2002. We saw Ben Quilty's painting of Brett's mother Beryl Whiteley when we were learning a little more about colour. Beryl Whiteley was founder and patron of the scholarship in memory of her son.
'She's such an inspiration,' says Quilty. 'She was a feminist ahead of her time. She's vigorously passionate about social and political issues, as well as art, and is enormously compassionate. Margaret has such an infectious attitude to both life and death. Recently, I was amazed at how many new works she had on the go. She said to me, "I'm like an old tree dying and setting forth flowers as fast as it can, while it still can." I thought that was such a powerful metaphor.'
As for the bright palette: 'You just need to walk into her home, which is also her studio, to see that you couldn't use anything but striking colour. It's full of translucent works-in-progress, beautiful drawings, sculptures and flowers, so I wanted the portrait to reflect that.'
Most of Quilty's work to date has been about masculinity but he says, 'Margaret has had such a powerful bearing on my career. She has asked me constantly for years to stop painting ugly skulls and paint something beautiful.' 1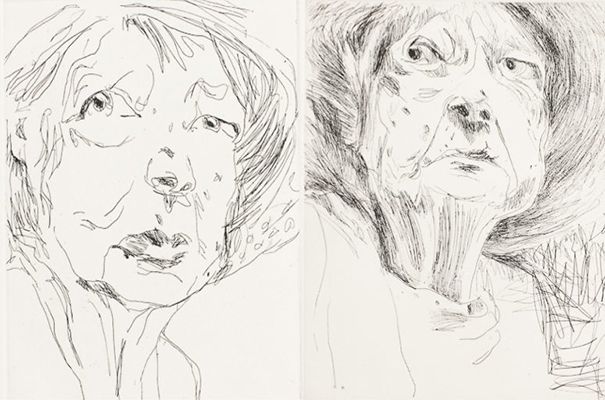 Here is an excerpt from Ben Quilty and Margaret Olley talking about the painting of Margaret Olley with Timothy McDonald:2
TIMOTHY MCDONALD: Margaret Olley's not shy when it comes to offering an opinion on paintings and that includes Ben Quilty's. But she says this one deserved to win.
MARGARET OLLEY: I told Ben the best painting doesn't always win. This year it has.
TIMOTHY MCDONALD: Judging from the paintings alone you'd never guess the two are friends. Margaret Olley's works are often cheery still lifes featuring flowers, bowls of fruit and vases. Ben Quilty, by contrast, has often delved into the darker side of being young and male; picture V8 cars, skull smoking cigarettes, snakes, and scowling faces. Margaret Olley, of course, was treated more gently. He's known for textured works, with paint layered on so thick it could have been applied with a trowel. In this case, it's the background that's densely layered, while Margaret Olley's face is for the most part, a blank canvas with just a few dabs of paint to define her features.
BEN QUILTY: It's just something I've been doing for the last 12 months; becoming fairly sparse on the face in this painting fits neatly into what I've been doing.
TIMOTHY MCDONALD: Now, you two have known each other for quite some time now, how do you think he's developed as an artist in that time?
MARGARET OLLEY: Well, the wonderful thing is you look carefully to see who you can help, who will go the distance, because there are a lot of art students but some of them just can't cut the mustard, they haven't got that long distance running ability. And I think we chose very well with Ben.
TIMOTHY MCDONALD: And Ben why did you decide to paint Margaret as your subject?
BEN QUILTY: Look, I was just thinking then, you said something that's triggered a memory for me, sitting with Margaret one day, having coffee that I'd bought in Paddington to her home that she's lived in for so, so, so long and I asked her a question about Hill End. I'd been out there, and she started talking to me about Russell Drysdale and her friendship with him and that she had this group of friends who to me are these mythical gods of early Australian art and they were her close, dearest friends...And her talking so frankly with me about those experiences just has been such an amazing experience for me to have over the last eight years; for her to give so freely to me.....As you said, she doesn't hold anything back. She's very direct and very honest with her opinions. If she doesn't like what I'm doing, she tells me to my face and I think, to be a good artist, you have to take those comments on in a really positive way. I haven't tried to, I've always just found that I love that sort of commentary from someone who I have such respect for.
TIMOTHY MCDONALD: And do you still get quite a bit of feedback? She does casually turn around and tell you one of your paintings isn't up to scratch?
BEN QUILTY: Yes she does. I don't show her the ones that I know she's going to really smash me about, sometimes, not all the time, Margaret. But yeah, occasionally I think that's just a bit brutal to show Margaret but she's very direct...And that's a good point, I paint a lot of stuff about the darkness of being a young man in this society and she says why not paint the beauty of living in the world? And it's a very valid point. Why don't I? And it's got me thinking.
MARGARET OLLEY: I call it celebrating life.
BEN QUILTY: It's got me thinking over the last few years, why haven't I? Why don't I try that on?1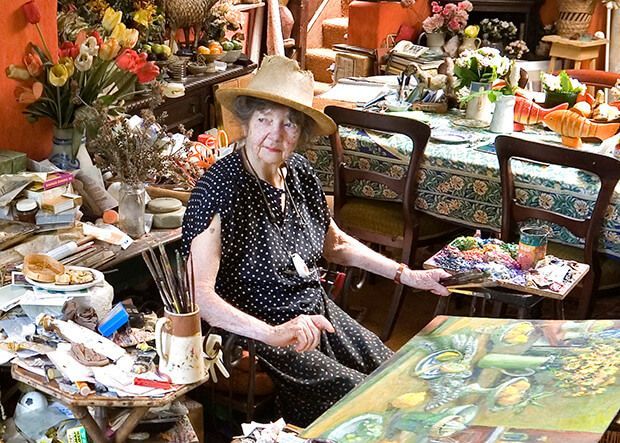 A footnote by Jane:
The Archibald winning entries travel around Australia after the initial exhibition in Sydney and in 2011 Tarrawarra Gallery, in Healesville, Victoria, won the honour. I had the pleasure of meeting Ben Quilty at a small breakfast event there, where he spoke of his friendship with Margaret Olley. I remember Ben as a humble easy going man, dressed in shabby jeans and a t-shirt. Margaret Olley had only just died and Ben was open in, not only his admiration for Margaret, but that he had felt honoured to spend so much time with her during the final months of her life.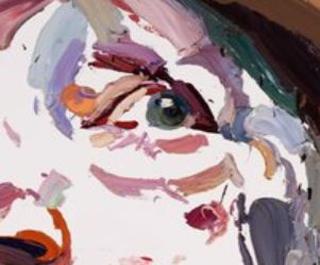 More on Margaret Olley in the coming days.
Credit
artgallery.nsw.gov.au
abc.net.au
blog.qagoma.qld.gov.au
widewalls.ch