Barney Glade and his Contentments
I love this painting and have refused to sell it. It is a symbolic depiction from my memory of my childhood.  I made up the name "Barney Glade" to represent men of my Dad's generation and the contentments in their lives.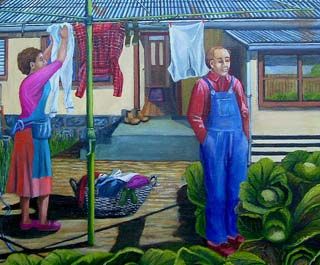 Barney Glade and his Contenments - Anne Newman
Original: Oil on canvas, w50cm x h60cm, framed
The name "Barney Glade" came to me in a moment of inspiration along with my desire to paint cabbages. The idea of the cabbages came from the painting "Watching the cabbages grow". I will paint some more backyards with cabbages one day when I get my present obsession with brick buildings out of my system. The woman in this painting is a dear friend of mine who had an old photo of herself hanging out nappies and this proved to be the perfect pose for Barney's woman hanging out his clothes. Who is Barney? My dad who loved his wife, children and garden, especially his vegetables.
Painting Status: Owned by the artist