Food Paintings with a Twist
Today I am going to expand on a couple of artists who featured in the Iconic Food Paintings which you might have seen if you followed the links provided in the blogs over the past two days. I find both these artists fascinating but for different reasons. The first had a great deal of fun in the way he arranged the fruit, vegetables and flowers in his paintings. The second sent interesting messages through her paintings.
The Fruit Basket or Reversible Head with a Fruit Basket is an oil painting on panel created in about 1590 by Ialian artist Giuseppe Arcimboldo When reversed, it shows an anthropomorphic head.


(commons.wikimedia.org)

Giuseppe Arcimboldo also produced The Cook
(commons.wikimedia.org)

And The Gardener.
(Atlas Obscura)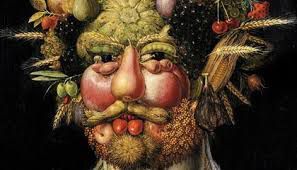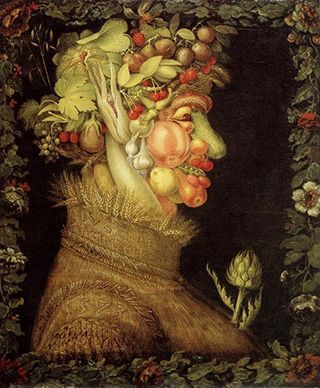 No doubt Giuseppe Arcimboldo had a great deal of fun creating these paintings. He was the court portraitist for the Hapsburg family so I find myself wondering if they were a little concerned each time Giuseppe was commissioned to paint a royal likeness!

If you are interested in learning a little more about Giuseppe Arcimboldo Click Here.
Our next Food Painting was created by American painter Lily Martin Spencer (1822-1902) in 1856.
Kiss Me and You'll Kiss the 'Lasses.


(brooklynmuseum.org)

Sight and taste are united in this well-known canvas by Lily Martin Spencer, which shows baskets of luscious apples, berries, and pineapples flanking an equally luscious brunette. Preparing jam or a similar sugary treat, the coy chef curls the fingers of one hand around a paring knife while lifting a spoon of molasses with the other. A lass who loved a good joke, Spencer included a flirty threat in the title of the painting. Should the gawking viewer try to steal a kiss from this well-heeled lady (who is clearly out of his league), he'll get a dousing of the "'lasses" from the spoon in her hand. Forbidden fruit never looked so sweet.—(Layla Bermeo, PhD in Art History at Harvard/firstwefeast.com)
The Young Husband:First Marketing was also painted by Lily Martin Spencer.


(1000museums.com)

Spencer portrayed the unvarnished reality of male-female relationships in this painting, which chronicles the travails of early married life. Here, the unseen young wife is not in full command of her kitchen, having sent her young husband out to procure the groceries—a task for which he is evidently not qualified. Using her own husband as a model, Spencer depicted the man stumbling down the street and attempting to hold on to the items in his overflowing basket, attracting gazes from at least one onlooker and suffering a public humiliation. Spencer depicted in humorous terms a real social anxiety of the time: that of setting up a household and running it efficiently. (Metmuseum.org)
And what awaits The Young Husband when he gets home? At home is his beloved learning from her mother to cook- The Young Wife: First Stew.


(PaintingStar.com)