Wulfran Puget – On the Nickel Run by Robert Carter
We continue our series on the marvellous paintings by Robert Carter OAM, FASMA, FISMP of the sailing ship era and recently published in The Marine Paintings of Robert Carter.
Robert is one of Australia's leading marine artists and is also joint founder of the Australian Society of Marine Artists with Dean Claflin.1 You can read more about Bob's biographical information by clicking here.
In The Marine Paintings of Robert Carter Bob has presented his paintings in five parts2 and we will follow this same format. We are up to Part Four: German Sail and French Ships where the ships painted by Robert illustrate that While Britain led the world in shipbuilding in the nineteenth century it was Germany, and to a lesser extent France, that took the sailing ship into the twentieth century. 2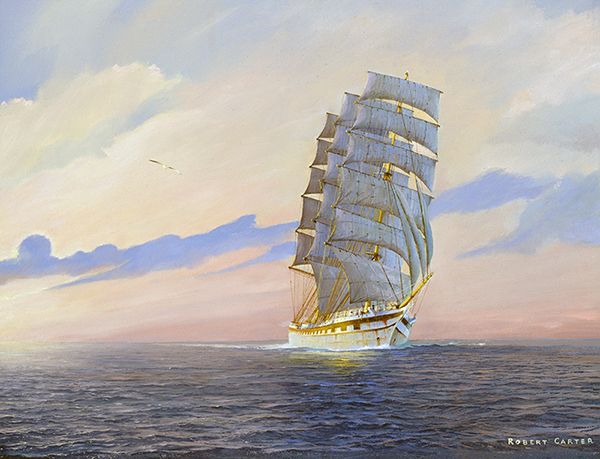 The 4-masted barque Wulfran Puget eases along gently at about 5 knots with a fair wind. In her belly is a cargo of nickel ore loaded in New Caledonia. The large deposits of this ore on this island provided a regular cargo for French ships for many years.
The 'nickel run' took French ships to New Caledonia around the Cape of Good Hope, through the westerlies of the Southern Ocean and around Tasmania up into the Pacific.3
© Thank you to Robert Carter who kindly gave permission for the image of his work to be shared on AnArt4Life.
Please check out the Robert Carter Website.
And also the site for the Marine Artisits Australia.
The next glorious vessel in our Robert Carter Marine Series will appear in about a week.
Credits
1. Correspondence with Robert Carter
2. The Marine Paintings of Robert Carter, Published in Australia by Robert Carter Maritime, Gosforth NSW, 2320, Australia, 2022
3. robertcarter.com.au