Falls of Clyde – Off the Dagger Ramereez by Robert Carter
We continue our series on the marvellous paintings by Robert Carter OAM, FASMA, FISMP of the sailing ship era and recently published in The Marine Paintings of Robert Carter.
Robert is one of Australia's leading marine artists and is also joint founder of the Australian Society of Marine Artists with Dean Claflin.1 You can read more about Bob's biographical information by clicking here.
In The Marine Paintings of Robert Carter Bob has presented his paintings in five parts2 and we will follow this same format. We conclude this series withn a a look at some of the ships Robert included in Part Five - ships which had their own narrative to tell. Today the Falls of Clyde and I have shown her before but what is wonderful you can still see her as she is still afloat in Honolulu as a museum ship. 3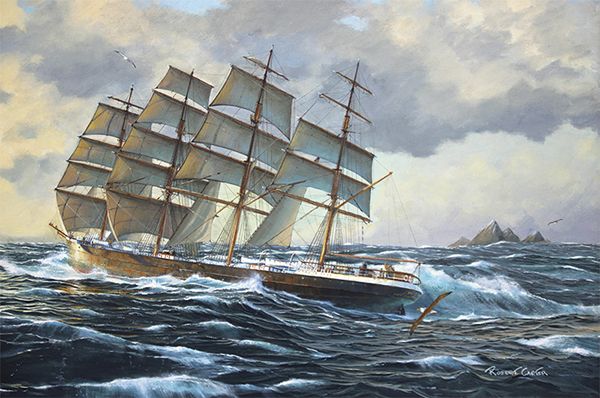 A familiar sight to seafarers in the days of sail were the uninhabited Diego Ramirez islands, a Chilean possession, about 60 nautical miles south west of Cape Horn. They are actually the peaks of an undersea mountain range. They were a hazard at night or if several days of cloudy weather prevented a sight being taken. Seamen of the day coined this sobriquet 'The Dagger Ramereez' which tended to replace the correct pronunciation.
Falls of Clyde was built in 1879 at Glasgow by Russell & Co. for the Glasgow Falls Line who named all of their ships after Scottish Waterfalls. She was initially employed in the India trade, taking out general cargo, steel products and cement and returning with jute or rice.
She often went to Australia, New Zealand, China and North America and loaded many cargoes of wheat from US west coast ports. In 1898 she was bought by Captain Matson of San Francisco who put her in the Hawaii trade. In 1907 he sold her to the Associated Oil Co. of California and she became a sailing oil tanker still in the Hawaii trade.
General Petroleum bought her in 1920 and she made just one more voyage under sail before being converted into an oil storage barge.
Museum ship
After 37 years at Ketchikan in Alaska she was towed to Honolulu to become a stationary exhibition ship for the Hawaii Maritime Center. Re-rigged as the four-masted ship as she was originally built, she is listed in the National Register of Historic places.
Falls of Clyde led a varied life and is still afloat in Honolulu as a museum ship.
In 2018 a syndicate has been formed to return her to Scotland, where it is hoped she will be restored to sailing survey.3
© Thank you to Robert Carter who kindly gave permission for the image of his work to be shared on AnArt4Life.
Please check out the Robert Carter Website.
And also the site for the Marine Artisits Australia.
The next glorious vessel in our Robert Carter Marine Series will appear in about a week.
Credits
1. Correspondence with Robert Carter
2. The Marine Paintings of Robert Carter, Published in Australia by Robert Carter Maritime, Gosforth NSW, 2320, Australia, 2022
3. robertcarter.com.au