Books and Bears in Our Lives
I've had a reminder that Pooh Bear deserves to get some attention as we wander down memory lane with Alice. And of course Winnie the Pooh would not exist without the creative mind of A.A. Milne (1882–1956) and his illustrator Ernest Howard Shepard (1879–1976).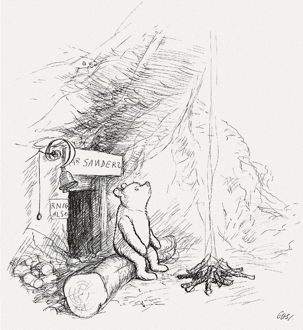 There is an interesting article about How Winnie the Poohs illustrator helped A A Milne draw out the bear we all know.
And please follow this link if you are interested in moving away from animals into the world of books as inspiration for artists
Also offers you some ideas on how to spend your spare cash!
Tomorrow you will hear from Jane and learn how Bears are bringing Art to the Streets.
PS
Shephard also illustrated the The Wind in the Willows by Kenneth Grahame. I am sure we will return to look at these works along the way.