Charles Blackman, Arthur Rackham and Alice
The answers to yesterday's puzzle are: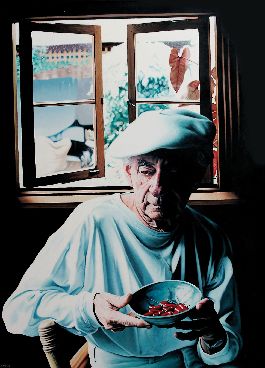 (Credit: Essentials Magazine)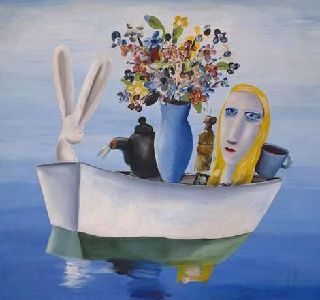 (Credit: Pinterest)
Answer to the next part of the puzzle.   Arthur Rackham English book illustrator who died 6 Sept 1939. This is a self portrait done in 1924.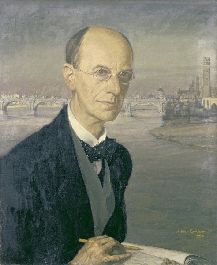 (Credit: Pinterest)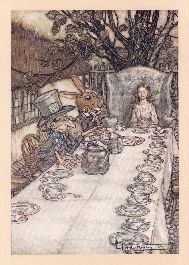 (Credit: www.brainpickings.org)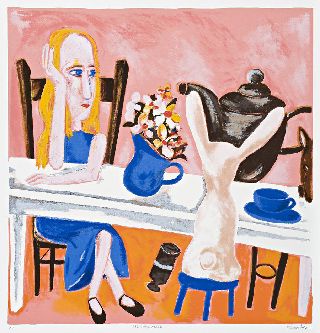 (Credit: Deutscher and Hackett)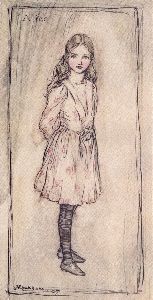 Publication of his full colour plates to Washington Irving's Rip Van Winkle by Heinemann in 1905 brought him into public attention and his reputation was confirmed the following year with J.M.Barrie's Peter Pan in Kensington Gardens, published by Hodder & Stoughton. Eventually book illustrating became Rackham's career for the rest of his life. Amongst the books he illustrated were Gulliver's Travels and Fairy Tales of the Brothers Grimm, both 1900. (Wikipedia)
Here is a sample of Rackham's illustrations for Alice in Wonderland.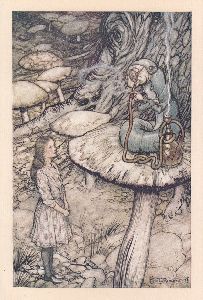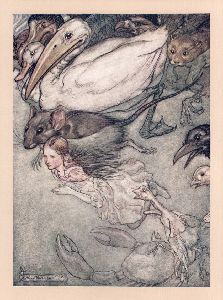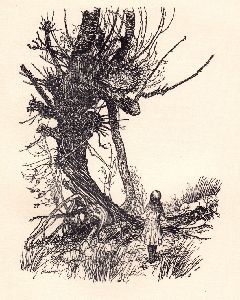 (Credit:www.brainpickings.org)
To enjoy more of Arthur Rackham's illustrations of Alice please follow this link.
In 1903 Rackham married his neighbour Edyth Starkie an established Irish portrait painter and sculptor who originally came from Ireland. From all accounts she was his greatest supporter and much of his success must be attributed to her dedication to Arthur and his talent. One would suggest, at the expense of her own potential.  
As a little aside Lewis Carroll has the Mock Turtle speaking  of a Drawling-master, an old conger eel, who came once a week to teach Drawling, Stretching, and Fainting in Coils. This is a reference to the art critic John Ruskin, who came once a week to the Liddell house to teach the children drawing, sketching, and painting in oils. The children did, in fact, learn well; Alice Liddell, for one, produced a number of skilful watercolours. Who are the Liddells? Alice's Adventures in Wonderland was told to Alice Liddell by Charles Lutwidge Dodgson (aka Lewis Carroll) as a story when on a boating trip. (Wikipedia)
I'm beginning to feel like I've gone down the Rabbit Hole and must resurface and show you some of the Alice works of Charles Blackman.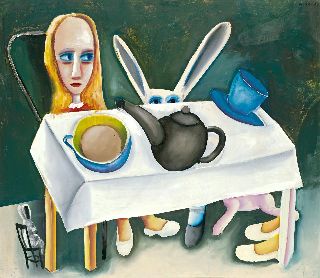 (Credit: National Gallery Victoria)
This painting illustrates Blackman's exploration of *the duality of life: innocence and experience, fantasy and fact, dreams and nightmares, beauty and savagery. (www.ngv.vic.gov.au)
The impetus for Blackman to paint Alice came through him hearing for the first time in 1956 the tale of
Alice's Adventures in Wonderland. It was read by the BBC announcer Robin Holmes on a talking book that the artist's wife, Barbara Blackman, listened to whilst suffering from progressive blindness. The story of Alice moving through a tableau of irrational situations, constantly frustrated by various events, paralleled Barbara's own experiences, and Blackman painted the Alice pictures for Barbara and  'to give sight to her poetry'. (F. St John Moore, Charles Blackman: Schoolgirls and Angels, National Gallery of Victoria, Melbourne, 1993, p. 19.)
And I love the implied symbolism in The Game of Chess. My memory is a little hazy but I think the references to chess are in Through the Looking Glass where the pieces come to life. Perhaps someone could enlighten us.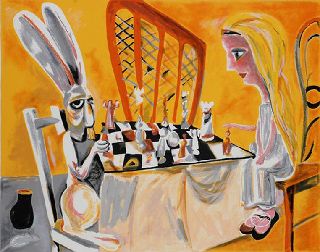 (Credit: Etching House)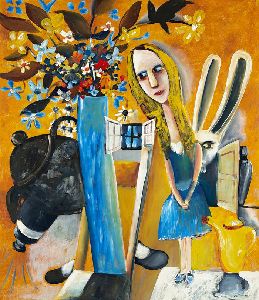 (Credit: The Guardian)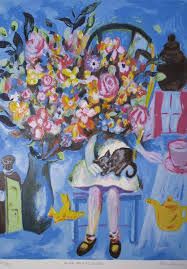 (Credit: Angela Tandori Fine Art)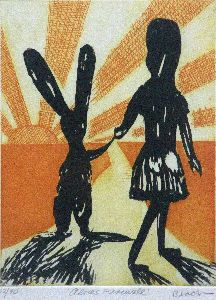 (Credit: cookshillgalleries.com.au)
PS
Charles Blackman was a member of the Antipodeans, a group of Melbourne painters that also included Arthur Boyd, David Boyd, John Brack, Robert Dickerson, John Perceval, and Clifton Pugh. He was married for 27 years to author, essayist, poet, librettist and patron of the arts Barbara Blackman. They divorced and Blackman twice more.
PPS
The first edition of Alice in Wonderland was illustrated by John Tenniel.
The Hero Image today is Alice by Charles Blackman as publicised on Pinterest.