The funny photography books of Clare Barnes Jnr.
Jane has recently featured a couple of posts showing us the finalists of a bird photography competition click here and the finalists of a funny animal photography competition click here.
These posts reminded me of a couple of books that have been on my parents' bookshelves since the 1950s. These are also photographs of animals and birds, but with funny captions. These books, and a number of others (see the list below)1, were produced by an American named Clarence A. Barnes Jr, (approx. 1907 – February 2, 1992. ) He was an advertising agency art director, and the idea for the books was promoted by an ad campaign he was working on. The photos are not his own: he researched photographers with expertise in animal photography.2 He published his first two books in 1949 under the name of Clare Barnes Jr.
His first book, White Collar Zoo, was the Number One non-fiction bestseller of 1949 on the New York Times Best Seller list, and its followup, Home Sweet Zoo was Number Four.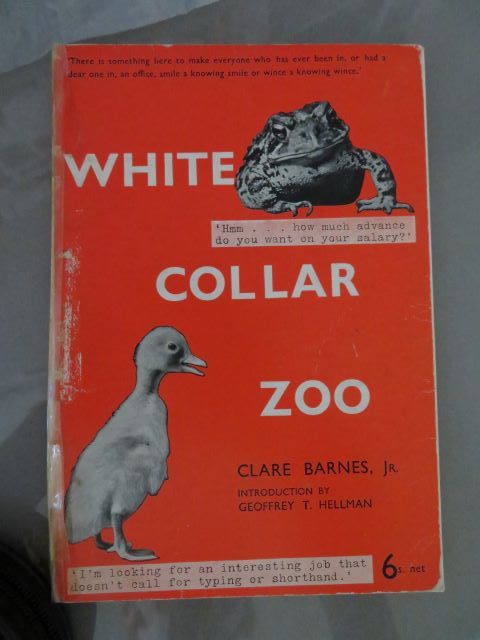 I could not discover much about Clarence Barnes, except that he was born in Boston and received an undergraduate degree from Yale University in 1929. He worked for a number of advertising agencies in New York. He died in his Manhattan home on February 2, 1992 of emphysema at age 85. Barnes' father, (also named Clarence A. Barnes), was a politician and the attorney general of Massachusetts in the late 1940s.
I thought you might enjoy seeing some of the photos and captions from the books as my family always found them very funny and remarkably apt!
The captions in Barnes' first book, White Collar Zoo, pick up on the dynamics and interactions of office work, and I don't think much has changed since 1949!..........
The animals and captions in Barnes' second book, Home Sweet Zoo, centre around domestic life…..
We hope you enjoy having a laugh! (Please double click the video to watch in full screen mode as some of the captions are in small type)…
Footnotes:
The list of books by Clare Barnes Jr:
• White Collar Zoo (July 1949)
• Home Sweet Zoo (December 1949)
• Campus Zoo (1950)
• Political Zoo (1952)
• Sleeping Under Blankets (1955)
• White Collar Zoo Revisited (1961)
• The Secret of Cooking for Dogs (with Martin A. Gardner) (1964)
• The Secret of Cooking for Cats (with Martin A. Gardner) (1965)
• John F. Kennedy: Scrimshaw Collector (1969)

With thanks to the photographers listed in the two featured books, particularly Lewis and Cushing.
Late Mail
A very warm welcome to S.S. in Australia - our newest subscriber who joined up on our 4th birthday and so will always be remembered for this. Thank you once more everyone for your on-going and loyal support to the AnArt4Life blog.