Vincent van Gogh at The Lume - A Multi-Sensory Digital Art Gallery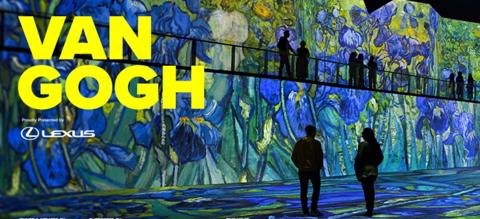 In recent years a new way to appreciate art works is in the form of a multi-sensory digital presentation where one is surrounded by the images of an artist moving around you, blown up to giant proportions and set to music.
It's an immersive experience that takes your breath away.
Julie first brought this concept to our attention when she attended an L'Atelier Lumieres (Workshop of Light), while in Paris during her travels there in 2019. Since then this type of exhibition has been shown in many cities around the world. Although today we share exhibitions featuring Vincent Van Gogh, other artists are being presented this way, for example Monet and Klimt.
Follow this links to read Julie's earlier posts:
L'Atelier Lumieres: Paris and L'Atelier Lumieres: Revisited.
More recently in August, 2021, Rowdy Wylie was captivated by a similar exhibition in Adelaide, South Australia titled Van Gogh Alive: The Experience.
Follow this links to read his post:
Van Gogh Alive: The Experience.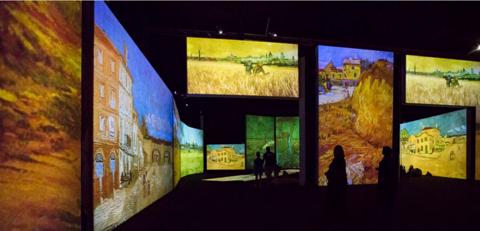 I saw this same exhibition in Sydney late last year and like Rowdy was completely enthralled. Imagine my excitement when I heard that Australia's first permanently housed digital art gallery, The Lume, has now opened its doors in Melbourne.
The inaugural experience is an epic adventure into the life and works of Vincent van Gogh, a favourite artist by so many art lovers, including us here on the AnArt4Life blog. I could not wait to buy a ticket and immerse myself in this digital presentation which surpassed my expectations and dare I say even better than the Van Gogh Alive: The Experience, I enjoyed in Sydney.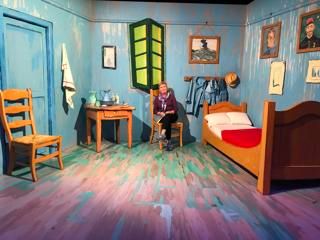 On entering the foyer of the exhibition, there is an opportunity to sit in a mock-up of the painting of Van Gogh's bedroom in Arles, which was a thrill, before entering the main exhibition space where there are 2 viewing levels (as shown in the first image) and even a café, designed as a replica of Van Gogh's The Night Cafe from which to enjoy the 30-minute digital presentation. In a small room to one side one can be surrounded by sunflowers.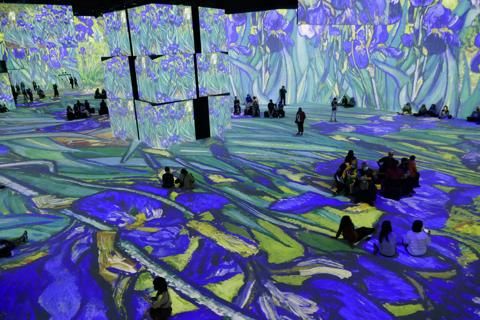 There is freedom to wander around the space, sit on a bench or the floor and allow yourself to be completely surrounded by the works of Vincent Van Gogh – the floor and walls a constant moving canvas, musical soundscapes and even evocative aromas.
If the mood takes you, sit at an easel and copy a Van Gogh masterpeice, or if you are into cars, perhaps you may like to drive around in a specially painted Lexus (a major sponsor of the exhibition).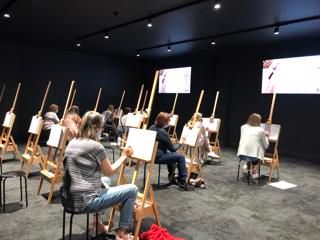 The experience follows the life and vibrant works of Vincent van Gogh through the Netherlands, Paris, Arles, Saint Rémy and Auvers-sur-Oise and transcends time and space as you accompany the Dutch master on a multi-sensory tour. A few excerpts are included in the photos and video clips presented below, which I took while I was engrossed in this enthralling show.
If you live in Melbourne, I urge you to plan a visit soon and look out for similar art shows in other cities within Australia or around the world. You won't be disappointed.
Have you attended a similar art show experience? Let us know in the Comments box below.
With thanks to thelume.com.au and credits to:
1. mcec.com.au
2. sydneytimes.com.au
Unless otherwise stated all images are my own taken during my visit to the exhibition at The Lume