L'Atelier Lumieres: Paris
Over the next few days we are sharing a few of our older favourite posts. They'll be new to recent subscribers and for our regulars, we feel sure you'll enjoy reading them again.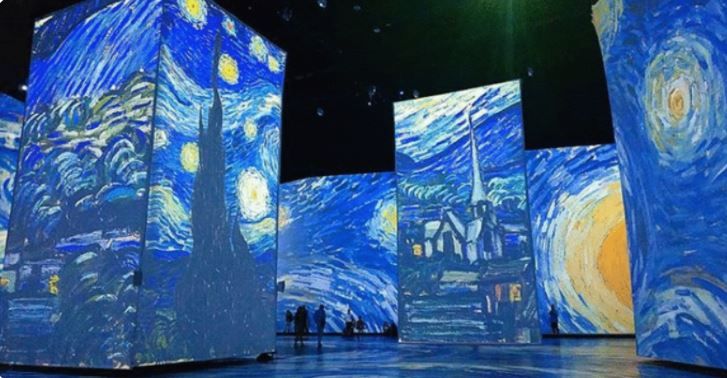 I was in Paris during 2019 and was mesmerised by L'Atelier Lumieres (Workshop of Light). This extraordinary digital art exhibition was one of the highlights of my trip.
The museum itself is actually an old 19th century smelting plant, the Chemin-Vert foundry, in the 11th arrondissement in Paris. It opened in mid 2018 and a number of exhibitions have been held there, combining art, movement and music together in a visual and totally immersive experience.

You walk into a totally dark, enormous internal shell of the building. The only light is that of the slideshow itself, projected on to every available surface of walls, ceiling and floor by 140 video projectors hung from scaffolds and gantries. The walls are 10 metres high, and it's a huge space that also includes the original internal columns of the old building itself. There's plenty of room to walk around to gain different views, or to just sit along the walls, or on strategically placed cable barrels, or even on the floor itself, to soak it all in. It's 3,300 square metres that are constantly moving and changing, set to evocative, powerful music which envelopes you as much as the vibrantly coloured images themselves. The dark silhouettes of the people look small and insignificant and only add to the mystique of the whole experience.


The official L'Atelier Lumieres Van Gogh "Starry Night" website provides the following summary:

"The latest digital exhibition immerses visitors in the paintings of Vincent van Gogh (1853–1890), a genius who was not recognised during his lifetime and who transformed painting. Projected on all the surfaces of the Atelier, this new visual and musical production retraces the intense life of the artist, who, during the last ten years of his life, painted more than 2,000 pictures, which are now in collections around the world."

"The exhibition explores van Gogh's numerous works, which radically evolved over the years, from The Potato Eaters (1885), Sunflowers (1888) and Starry Night (1889) to Bedroom at Arles (1889). The Atelier des Lumières highlights the Dutch painter's expressive and powerful brushstrokes and is illuminated by the bold colours of his unique paintings. Warm hues give way to sombre colours. The immersive exhibition evokes van Gogh's highly emotional, chaotic, and poetic inner world and highlights the constant interplay of light and shade."

"The thematic itinerary retraces stages of the artist's life, and his sojourns in Neunen, Arles, Paris, Saint-Rémy-de-Provence, and Auvers-sur-Oise. Visitors are transported into the heart of his works, from his early to mature years, and from his sunny landscapes and nightscapes to his portraits and still lifes"

"The visual and musical work is produced by Culturespaces, which has been creating such light and sound shows in other spaces since 1990. "Van Gogh, Starry Night" is created and directed by Gianfranco Iannuzzi, Renato Gatto, and Massimiliano Siccardi, with the musical collaboration of Luca Longobardi". (Credit: L'Atelier Luminieres official website)
In these photos, you can see the detail of the thick brush strokes as Van Gogh's self portrait emerges in front of the dark figures of the audience.


The gradual transition of colours from one painting to the next was mesmerising……….
Whist many of Van Gogh's paintings are dark and can be seen as disturbing, these beautiful still life studies of plates, vases and flowers illustrate his versatility and lighter touch to some subjects.


And of course, the namesake of the exhibition, "Starry Night", where the water was actually rippling on the floor!


It's a 30 minute extravaganza of the senses which is played on a constant loop, so you can stay and re-live the experience multiple times if you wish. In fact, I stayed for two hours! There was so much to absorb. Even watching the people and the children was fascinating……




For me, it was so powerful that this little boy was prepared to just sit there by himself, against a backdrop of Van Gogh's sunflowers, totally absorbed in all that was going on around him.




Tomorrow we will return to watch some videos of the Van Gogh Exhibition at L'Atelier Lumieres (Workshop of Light) in Paris.