It's wonderful to see young artists being given the chance to work and exhibit alongside more experienced artists. This happened recently in Bendigo, (Central Victoria, Australia) the city of my birth. Subscriber D of Bendigo sent news of the works of emerging talents being coupled with well-known street artists to contribute to 11 new artworks in the Pennyweight Walk Open-Air Gallery.
Please follow this link to get an in-depth preview of the artists and their works to be presented.
This is young artist Josephine Gullan with her artwork, now in Pennyweight Walk.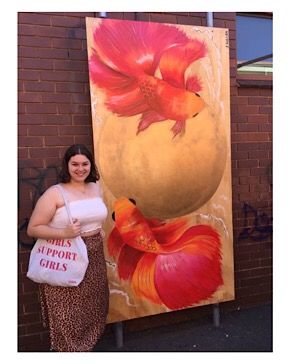 (Credit: Bendigo Advertiser)
And another of the young emerging artists is Connor Cantwell, an example of his work below.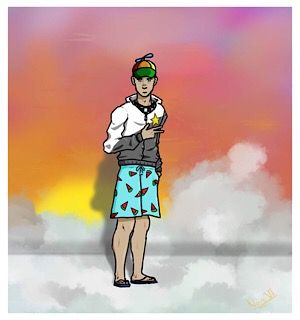 (Credit: Nacho Station)
Amongst the more experienced artists is the work of local artist David Snowdon.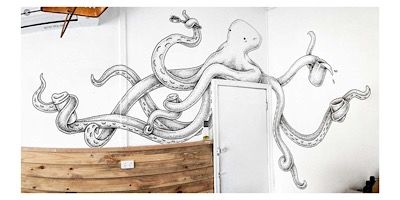 (Credit: Nacho Station)
David Snowdon designed the mural on the South Entrance of Bendigo Marketplace under the guidance of renowned artist, Scottie Neoh, AKA Bonsai.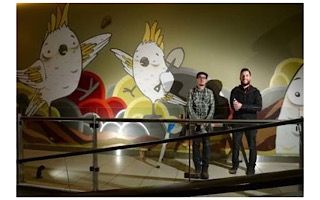 (Credit: bendigomarketplace.com.au)
Bonsai has completed works for Melbourne Central, Red Bull and the John Butler Trio and will be assisting David Snowdon in the installation of the art piece, inspired by Bendigo and its natural surrounds. David Snowdon, local artist and published illustrator of children's book *The Nerdy Birdy, is looking forward to the process and a chance to showcase his work at a central location in his hometown of Bendigo.The Piece features a flock of Sulphur-crested Cockatoo characters mining at Bendigo Creek. Set in a natural colour palette with vibrant highlights, flowing geometric landscape and gumtrees.*(Bendigomarketplace.com.au)
Nacho Station's Reece Hendy said they commissioned art from three up and coming artists, five active artists in central Victoria, and three high-profile artists from Melbourne.(bendigoadvertiser.com.au)