Creative Central Victoria, Australia
I have had mail from D. of Bendigo which I would like to share with you as it showcases some of the wonderful artists and art events found in this part of our state.
Today we will look at a current exhibition Support Structure taking place at La Trobe Art Institute featuring Victorian, South Australian and New Zealand Artists. The art works being shown is way beyond my knowledge so I have borrowed heavily from other sources to help you understand a little more about the direction these artists are taking and what they are hoping to achieve. A couple of my subscribers are studying art and I would imagine they have a greater understanding of this style than do I. I did warn that I am going to tackle more difficult topics this coming year!!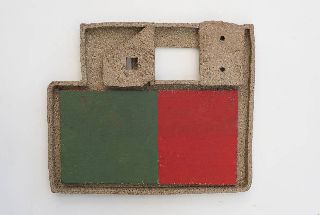 (Credit: Image courtesy of the artist and STATION, Melbourne)
An internet search revealed this image of Jake Walker and some of his works which he terms Folk Modernism.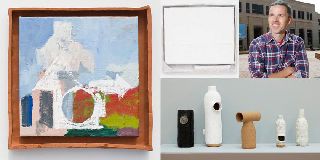 (Image: Kevin Stent)
Walker is a Melbourne-based painter whose work explores the cyclical recursions of modernism in the contemporary era, often through the use of readymade objects, the formal idiom of abstraction, and the framing function of architectural modernism, which doubles as a personal framing device for the artist. Typically, his intimately scaled paintings are intrinsically and directly entwined their surroundings: either by incorporating imagery of a specific environment (such as a modernist interior from an Ian Athfield or Roger Walker architectural design in which the artist lived whilst growing up), or by literally painting onto the surface of domestic objects (such as pre-existing paintings salvaged from op shops, or old, worn-out PC laptops). (http://utopianslumps.com; Helen Hughes, 2012)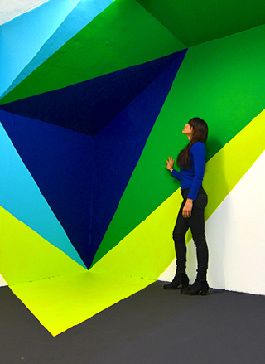 (Image: emmacoulter.com.au)
"Operating in an expanded field between painting, sculpture and spatial practice, my work explores the use of architectural space and the trace of its patterns as a medium through the use of colour as an idea that functions as a set of rules or a predefined language. Simultaneously, negotiating between the formal and the kitsch and the concrete and the ephemeral. My aim is to challenge boundaries and make connections between high and low culture, history and currency, and the intellectual and the ornamental. Through my work the parameters of site, situation and spatiality are examined, delineated and repurposed to construct new realities, to question the distance between place, painting and the autonomous art object." (emmacoulter.com.au )
Kate Tucker (Melbourne),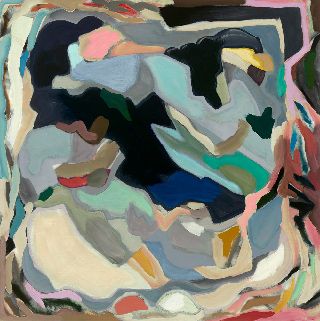 (Image: Daine Singer)
Kate Tucker's paintings shift and fracture then recombine elements in a manner that subverts expected order. Materials are manipulated so as to maintain a rawness and familiarity whilst taking on foreign characteristics. The result is a compression of stuff, physical and pictorial, where traits are swapped and shared, and the painting is located through rather than onto the surface.(dainesinger.com)
Louise Blyton (Melbourne) with Sweet Delirium.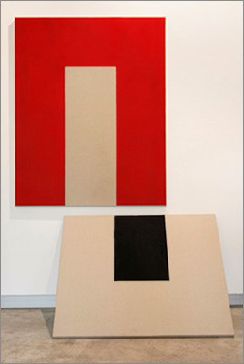 (Image: Geoform)
For many years now my practice has been committed to and informed by reductive art and its histories. My early work concentrated on using only straight vertical and horizontal lines to demarcate solid shapes. This structured method led me to a new concentration on the materials I was using. I became interested in reducing the materials to reveal a purity and simplicity that mirrored the minimalist forms and composition they are inspired by.   I have long harboured a love of raw pigments; the amazing saturation of true colour, the intense matteness and the physicality they possess. Similarly, I am drawn to the tactile texture and historical significance of linen, which evokes in me a certain romance. Linen provided a substrate with a rawness and simplicity that partnered beautifully with raw pigments. Both materials have been chosen for their purity, which allows their innate aesthetic to resonate in the work.  The reductive nature evident in these materials allows the simplicity of their form, colour and composition to become central, creating works that evoke a sense of quiet. More recently, I have incorporated three-dimensional forms and multiple surfaces into my work. This has brought a more interactive quality between the work and its environment, creating a discursive relationship between the viewer, the work and the subtleties of surrounding light and shadow. The installed pieces become stoic, meditative and silent; they are for reflection. (geoform.net)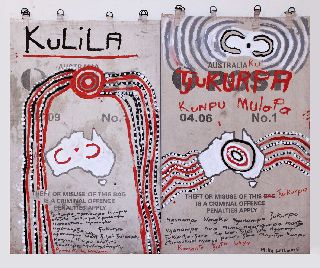 (Image: nganampa kililpil)
Mike has embarked on a series of paintings on repurposed canvas mail bags. These works respond directly to the text printed on the bags by Australia Post, which Williams uses as a starting point for his own text additions that talk about heritage, ownership and custodianship, as well as Commonwealth law and Anangu lore. "Theft or Misuse of this Tjukurpa munu manta (culture and land) is a criminal offence, penalties apply." (.ourstarshazelhurst.com)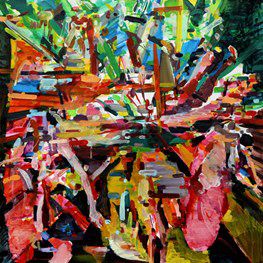 (Image: Ocula)
Emerging talent Sam Martin's works examines the permeable relationship between abstract and figurative painting. His paintings have an amorphous quality in which any given brushstroke can be read as abstract or image bearing becoming reliant on the viewer for the construction of pictorial meaning. (ocula.com)
Many of my local subscribers travel frequently to Bendigo to see the latest exhibtion at the Bendigo Art Gallery which has an international reputation. What you wouldn't know is that every year at about this time the Friends of the Bendigo Art Gallery hold their annual book fair.   This is a volunteer group that assists the gallery with acquiring art through fundraising activities, such as the book fair. But member Barbara Macumber said the money would also go towards visual arts bursaries for Year 11 students. (Bendigo Advertiser 15 Nov 2018)
Tomorrow, also thanks to the mail from D of Bendigo you will meet some very young emerging talents through to well-known street artists who have contributed to 11 new artworks in the Pennyweight Walk open-air gallery in Bendigo.
And finally from the mail bag which arrived on Cobb & Co from Bendigo you will meet Natalie Ryan - Textile Designer, Illustrator and Sunday gardener. I am sure you will love her work.