I have long been a great fan of the American artist Andrew Newell Wyeth (1917-2009)- probably since a friend gave me a beautiful book of his paintings (above) which I frequently browse. I particularly love Wyeth's works because he painted the landscape and people that were part of his daily life around where he lived in Chadds Ford, Pennsylvania and also his summer home in Cushing, Maine.
Wyeth is quoted as often saying: I paint my life.2
His exquisite and sublte touch is so well illustrated in Up in the Studio.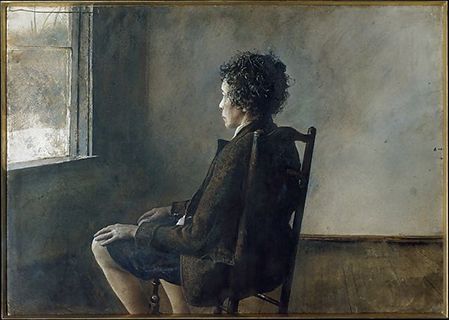 Andrew Newell Wyeth was a visual artist, primarily a realist painter, working predominantly in a regionalist style. He was one of the best-known U.S. artists of the middle 20th century.2
He was the youngest of the five children of illustrator and artist Newell Convers Wyeth and his wife, Carolyn Bockius Wyeth. And this is where I want to start our journey around the Wyeth art world because Andrew Wyeth was one of those fortunate artists who belonged to a dynasty of creative talent.
Andrew Wyeth's father N.C. Wyeth was an American painter known mostly for his illustrations of The Last of the Mohicans (1826) and Treasure Island (1883).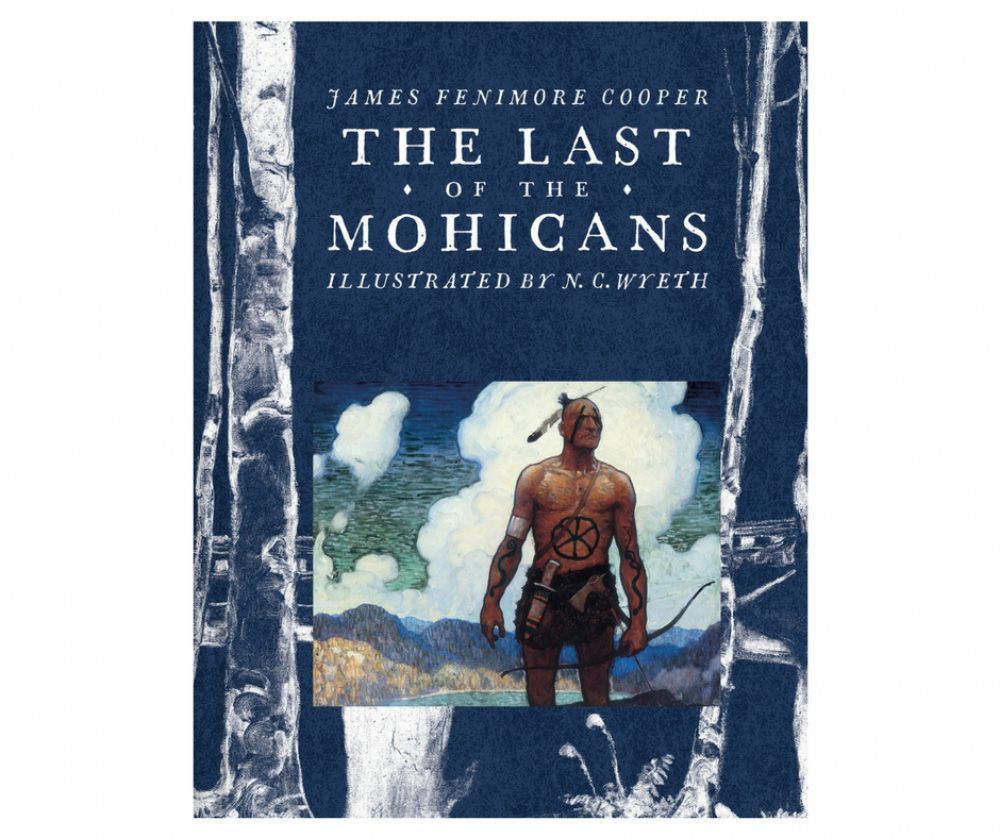 Wyeth's technique and ability to convey complete narrative scenes using light and color were hallmarks of his best works. Born Newell Convers Wyeth on October 22, 1882 in Needham, MA, his parents enrolled him in a number of private art classes as a youth. In 1901, he became a pupil of George L. Noyes and year traveled to Wilmington, DE, to study at Howard Pyle's private art school. Following Pyle's advice, Wyeth spent the next few years going on painting trips to the American West. Settling in Chadds Ford, PA in 1906, over the decades that followed, the artist worked as an illustrator for Harper & Brothers, Lucky Strike, Coca-Cola, The Saturday Evening Post, and Scribner's while continuing to produce his own paintings. Wyeth died tragically in a car accident on October 19, 1945 in Chadds Ford, PA. 6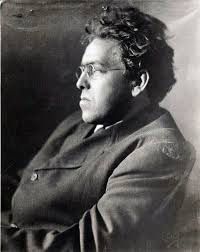 Below is a selection of some of N.C. Wyeth's illustrations to show you the breadth of his style and subject matter.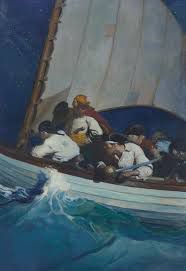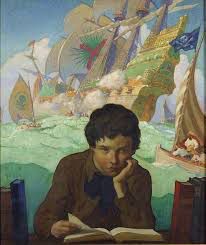 N.C.Wyeth was extremely prolific in his work producing during his lifetime over 3000 illustrations. There can be no doubt that he was exceptionally talented. As N.C. once remarked, "When I paint a figure on horseback, a man plowing, or a woman buffeted by the wind, I have an acute sense of the muscle strain." 11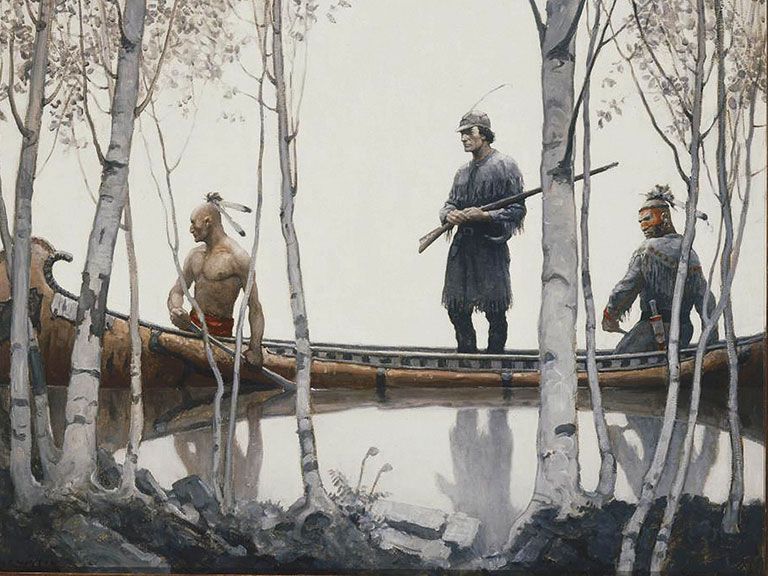 N.C.Wyeth's personal life however did not match the many scenes he created of idyllic and simple life.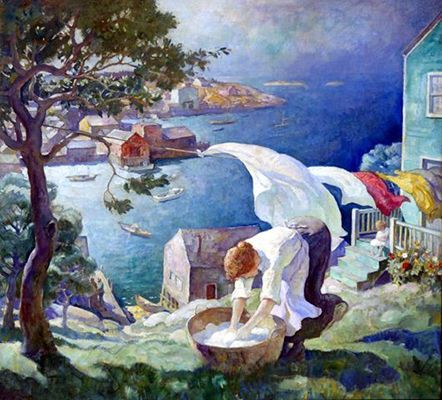 He was also known for highly dramatic paintings which most likely resemble more closely his own personal demons. We don't need to go into these but rather take note of a remarkable artist who gave the readers of the books he illustrated most wonderful illustrations of their favourite characters.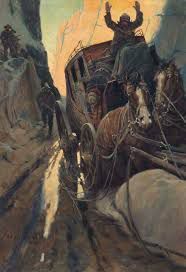 And to finish off today back to N.C.Wyeth's son Andrew. I have referred to the works of Andrew Wyeth occasionally in the blog though never studied his paintings in detail. That is what we are going to endeavour to do so now over the next few weeks as we look at The Wyeth Dynasty.
Below are three past posts from the AnArt4Life blog where Wyeth gets a mention - starting with the fact that Andrew Wyeth was Snoopy's favourite artist!
But more on the Wyeth Dynasty very soon.
A special thank you to the Brandywine River Museum of Art, Chadds Ford, Pennsylvania, for their assistance in acknowledging the credit source for some of the images.
References
Andrew Wyeth Memory & Magic by Anne Classen Knutson, High Musuem of Art, Atlanta, Philadelphia Museum of Art in association with Rizzoli, 2005 New York,
en.wikipedia.org
metmuseum.org
fenimoreartmusuem.org
en.wikisource.org
artnet.com
christies.com
bkrulikfineart.com
N.C.Wyeth (1882-1945), Nightfall, 1945, tempera on hardboard. Brandwine River Museum of Art, Bequest of Helen and John Kenefick, 2019. (Item No 2019.3)
pinterest.com
The dark side of illustrator N.C. Wyeth by Michael G. Williams February 15th, 2018 (ericksonliving.com).
N.C.Wyeth (1882-1945), The Last of the Mohicans, endpaper illustration, 1919, oil on canvas. Brandwine River Museum of Art, Given in memory of Raymond Platt Dorland by his children, 1973 (Item No 73.1)
1stdibs.com
N.C.Wyeth (1882-1945), Island Funeral, 1939, egg tempera and oil on hardboard. Brandywine River Museum of Art, Gift of E.I. du Pont de Nemours and Company in honor of the Brandywine Conservancy and Museum of Art's 50th Anniversary, 2017 (Item No 2017.1.3)
redtreetimes.com