The Schranz Painters continued
From my reading about the Schranz Dynasty of Artists I have learned that there were at least 8 painters in the family across four generations. We met the first painter in the family Anton Schranz in the last post and I now know he was German by birth, studied painting in Italy and ended up in Menorca.  He married a Hispano-English lady, Isabella Howard Tudurí, and after 24 years in Menorca, moved to live in Malta.
We also met his son Giovanni in the last post as it is his descendant, John Schranz, who has brought his artistic ancestors into focus.
Anton's other two sons Antonio and Giuseppe were also painters, as was his daughter Maria Ana. All of the children were taught to paint by their father. Through John Schranz, who has written many articles on the family, I have endeavoured to tease out some highlights which will help us begin to gain a greater understanding of the Schranz contribution to the art world.
Because the family travelled extensively back and forth across the Mediterranean, painting, photographing, and making lithographs, their main contribution, in my opinion, is as a record of historical events that were happening all around them. Here are a few highlights from my research.
First, we look at two paintings of Malta Habour painted by the head of the Schranz dynasty Anton Schranz. Both paintings belong to the Royal Collection Trust (Buckingham Palace)(rct.uk), being purchased back in the 1870s.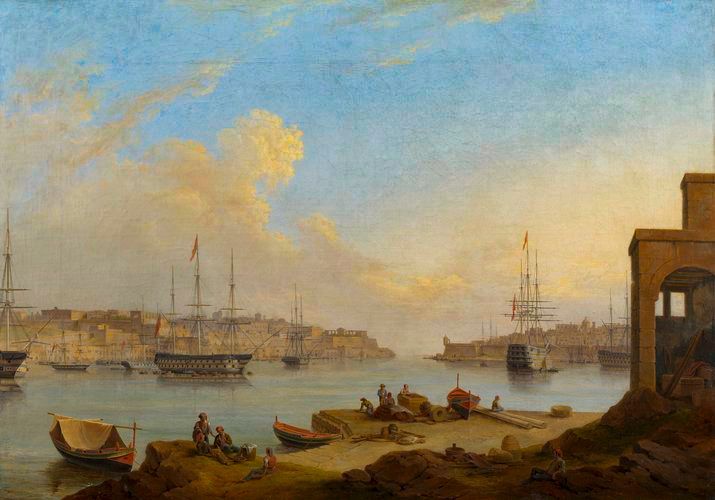 Below is a view of Valletta harbour from which a Man of War puts to sea in the centre, with other smaller vessels close to the shore in the foreground; with several groups of figures on the rocky shore below the harbour wall on the right; in the distance on the left, harbour fortifications with two windmills on the horizon (rct.uk). (However, these are hard to see in the image below).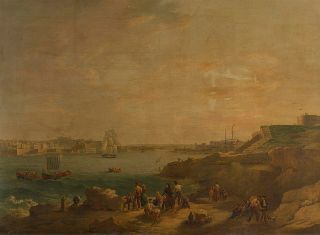 This is a black and white illustration of the same scene as above. It makes it a little easier to see the features. I think can just discern the two tiny windmills on the horizon on the left!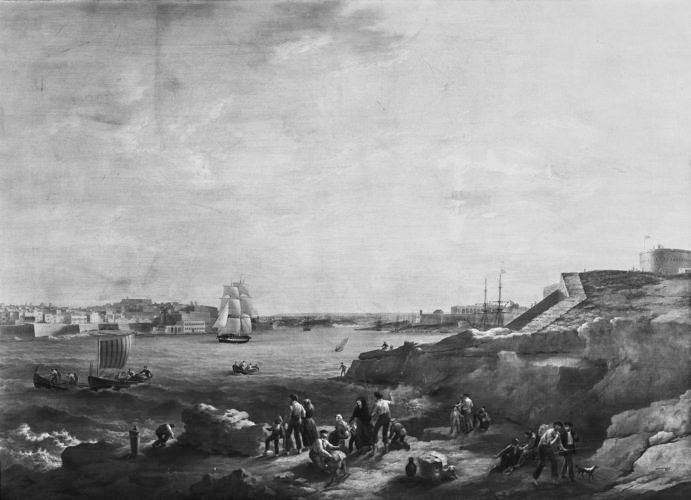 Anton's son Giovanni Schranz (we saw some of his paintings yesterday) set up a highly sophisticated lithographic studio with his brother Antonio and I believe he also ran a painting school. Giovanni's major clients were British naval officers wanting paintings of maritime subjects and works as topographical souvenirs. Some of his works were included in the London Exhibitions of 1851 and 1886 and the Paris Exhibition of 1867.
Below is a painting believed to have been done by Giovanni Schranz showing King Otto of Greece in the HM Steam Vessel1. The building at the left by the garlanded landing jetty flies the Greek revolutionary blue-on-white cross of the 1820s and foreground figures are shown in Greek dress.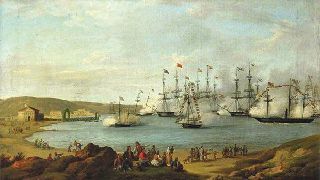 And this oil on canvas painting by Giovanni Schranz shows the HMS Rodney In The Grand Harbour At Valetta.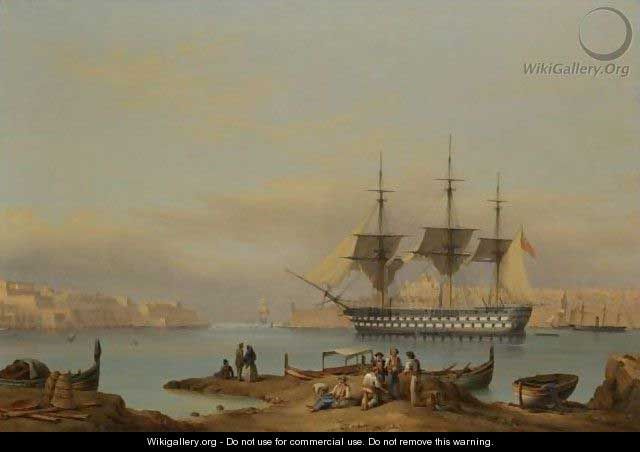 Antonio Schranz (1801-1865), brother of Giovanni, was also a painter but it would seem of very different subject matter.
On the Road from Smyrna to Boudja was painted by Antonio in 1836 and sold a few years ago at Sothebys for 15,000 GBP. I know Smyrna was a city in Greece but I haven't found out where Boudja was. Perhaps someone can enlighten me.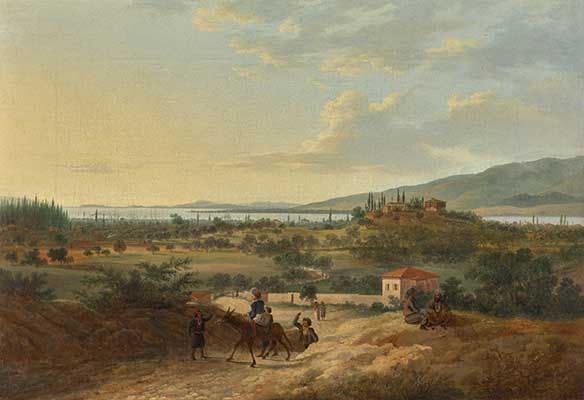 And below is a delightful watercolour by Antonio of Alexandretta (Gulf of Iskanderoon) painted in 1837.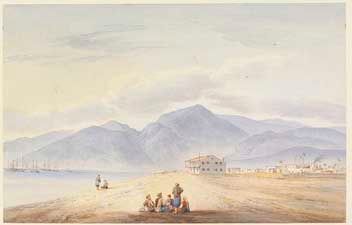 It is very obvious from these works that Antonio Schranz was a traveller. To quote John Schranz from the Times of Malta (Sunday, May 28, 2017) in his article Antonio Schranz and the Travelling Artists' Grecian Ideal:
"It is this picture of scavenging and dour determination that Antonio's Grecian works present. No utopia. No clarion call to arms. No tourist attractors. They testify to humanity's grim perseverance."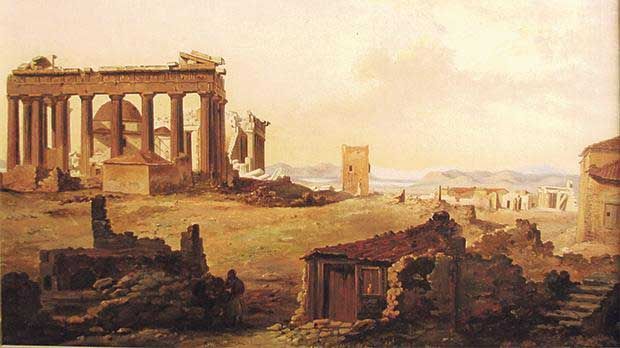 Maria Ana Schranz sister of Giovanni and Antonio, painted miniatures and also followed in her father's steps by teaching. Maria Ana gave painting lessons to ladies in her studio at 340 St Paul Street, Valletta. Sadly I was not able to find any images of her works but this is a photograph of the street where she had her gallery - fourth door from the right.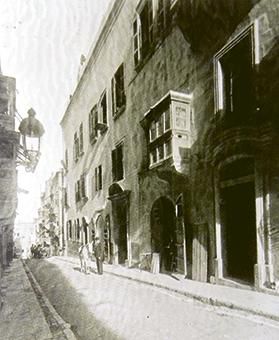 Maria Ana married Giovanni Quintana and their residence at 6 Sda.S.Venera, Imsida was captured in the painting below thought to have been done by Maria Ana's brother Giovanni.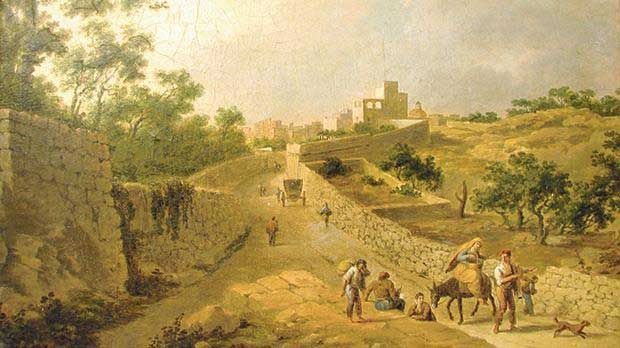 I did however find a watercolour painting created by Maria Ana's daughter Angelica Quintana as shown below.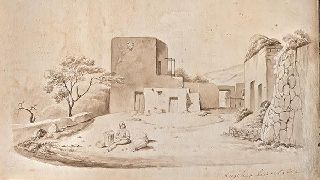 I also found reference to the painting below Chapel in a River Landscape with Sailing Boat by Ida Camilleri Schranz but sadly I haven't been able to work out where she fits into the dynasty.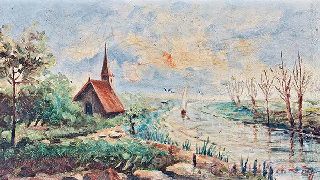 Likewise, this painting of Turkish Ships in the Bosphorus, Firing Celebratory Salvos is signed by a Rinaldo Schranz in 1863, another member of this dynasty.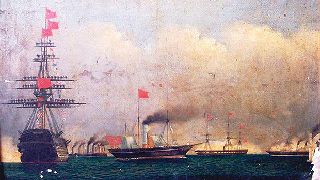 And so now we must leave Malta for new vistas. I am sure we will be back to learn more about the art works of this interesting country.
Footnote:
This painting is now titled 'The International Squadron, Carrying Prince Otto of Bavaria to Become King of Greece, Firing a Salute off Nafplio, February 1833'.