The Glorious Gardens of Capability Brown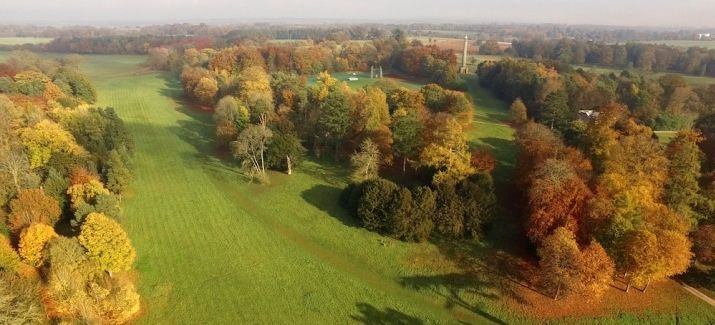 We are going to wander through some English gardens and admire some of the creations designed by the English landscape architect who was commonly known as Capability Brown, though baptised Lancelot Brown (c1715-16 -1783). He gained the nickname Capability because he would tell his clients that their property had the capability for improvement.2
After leaving school at 16, Capability Brown worked as the head gardener's apprentice at various locations around England and then in 1741, he joined Lord Cobham's gardening staff as undergardener at Stowe, Buckinghamshire (above) where he worked under William Kent, one of the founders of the new English style of landscape garden.2
In 1742, at the age of 26, Capability was officially appointed as the Head Gardener, where he stayed for the next 8 years. He made the Grecian Valley at Stowe, which, despite its name, is an abstract composition of landform and woodland. Lord Cobham let Brown take freelance commission work from his aristocratic friends, thus making him well known as a landscape gardener. As a proponent of the new English style, Brown became immensely sought after by the landed families.2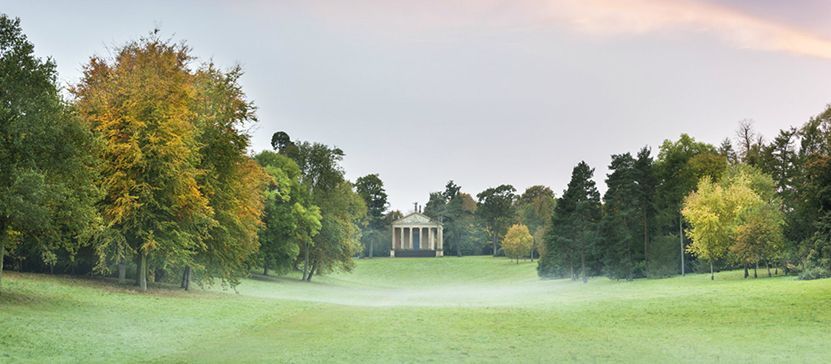 It was a huge engineering job to dig out the curved bowl, creating a valley with densely planted slopes. Brown's men had to move 18,350 cubic metres of earth, using spades, barrows and horse-drawn carts.3
Other features at Stowe include the East Lake Pavilion and the Palladian Bridge as shown below. Importantly in the context of today, Capability Brown planted thousands of trees.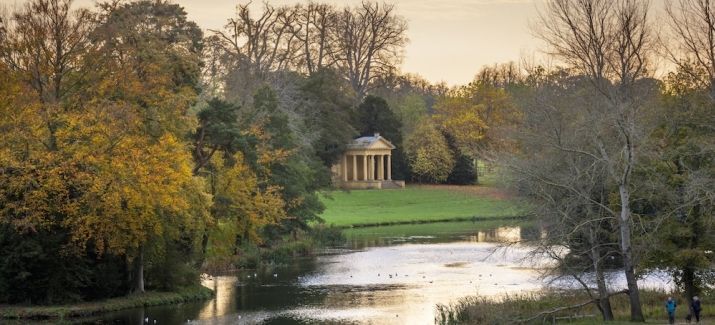 The first work undertaken by Capability Brown after leaving Stowe in 1750 was at Croome Court (near High Green, Worcester) in Worcestershire, where he also designed the house.1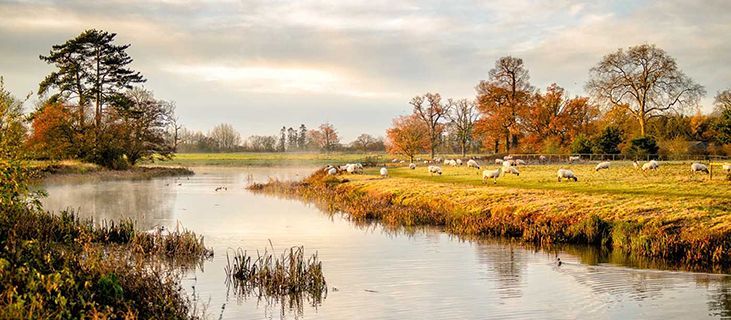 Two of the blog subscribers have worked in the field of water treatment so I thought they would be interested in the problem faced by Capability at Croome Court. Because the estate was on marshy ground, on a plain between two rivers, the Avon and the Severn, it had to be drained before work on the garden could start. I gather from my reading that the main house was placed where it was impossible to see the village and the formal gardens were dug up. Brown had the old church demolished and a new one built on a more prominent site. Winding paths framed carefully chosen views of the parkland, house, a fine tree or garden building. The plan of Croome Park by John Snape (below) shows the estate in 1796 after Brown's work (reproduced courtesy of Worcestershire Archive and Archaeological Service). Brown put in lots of culverts, underground drains which channelled the water away from the house and towards the site of a new river in a boggy area called Seggy Mere. The river is actually a narrow lake 1.75 miles long, snaking across the parkland - all created with manual labour. 3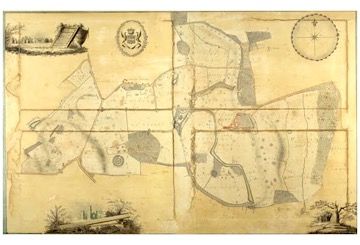 Between 1750 to 1786, Capability Brown was commissioned by the 1st Duke of Northumberland to redesign the grounds of Alnick Castle, Northumberland. Brown transformed the existing farmland into parkland, redesigning the River Aln and creating raised causeways to act as a viewing platform across the valley.
Originally, Brown was asked to create a large lake within the grounds, although these plans were dropped in 1771 following serious flooding. Instead, Brown joined forces with engineer James Brindley to rework the river and make it a feature of the landscape. Work was undertaken to clear it of boulders as well as clear and level the river banks. Cascades were created to slow the river's flow, creating the perfect compromise between river and lake. 4
Of interest is that Alnwick Castle was built in the years immediately following
the Norman Conquest.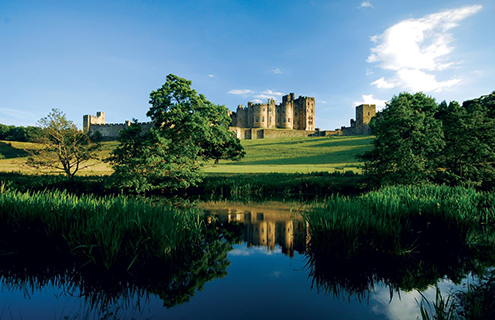 And below is the magnificent vista created by Capability Brown at Blenheim Palace, Oxfordshire. It took Brown 10 years to complete this work which included building two dams and creating a 40-acre lake. He planted thick belts of trees around the park boundary, designed new drives and remodelled the entrance to the north of Blenheim Palace.3 The palace is notable as the birthplace and ancestral home of Sir Winston Churchill.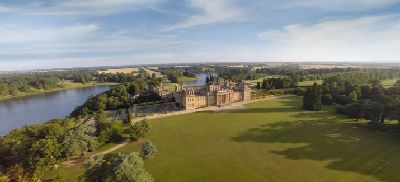 Here is the estate from a different angle. Brown designed the new lake around the existing bridge which was designed by John Vanbrugh.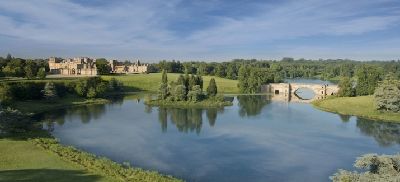 Brown understood the importance of trees in creating the perfect view for visitors driving or riding in the park. They both hid and revealed features – making people want to explore further. At Blenheim he planted four stands of beech trees on either side of the Grand Bridge, hiding the points where it sloped into the ground. He used cedar, acacia, poplar, chestnut and beech in the area around the Cascades.3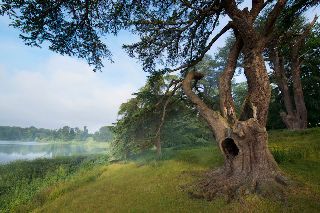 And from one creative genius to another, here is a painting of Harewood House by JMW Turner. The garden landscape for the estate near Leeds, West Yorkshire was designed by Capability Brown in the 1770s.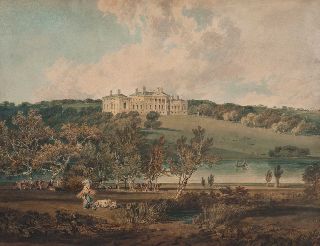 What I love about writing the blog is not only the comments that come in from the subscribers but also discovering little gems of information. Some of my English ancestors came from Dorset and to my delight I have just discovered that one of Capability Brown's most ambitious landscaping designs was 500 acres of wooded landscape in the valley at Milton Abbey, Dorset.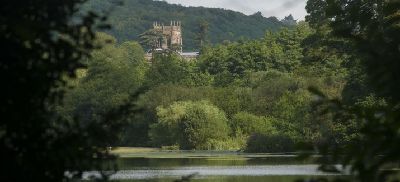 Even more interesting and somewhat controversial is that Mr Brown built the new model village at Milton Abbas, Dorset, in the mid 1770s.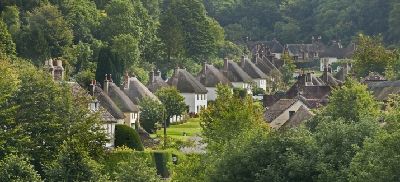 From 1773 Capability helped Lord Milton to enlarge the estate by removing the old village of Milton. To replace it, Brown designed the model village of Milton Abbas with its attractive streets of thatched cottages, lying out of sight of the house, just as he had at Croome Court. I'm not sure how I feel about Mr Brown now and his creative works as he was trying to keep some of my ancestors from the view of Lord Milton!  The new village looks delightful but what happened to the families who lived there while the new cottages were being built?
As we are learning, Capability Brown was an expert in harnessing water to its best effect. Trentham Gardens (see below) in Staffordshire, just four miles from Stoke-on-Trent, contains a mile-long lake with cascading weir, designed by Capability Brown.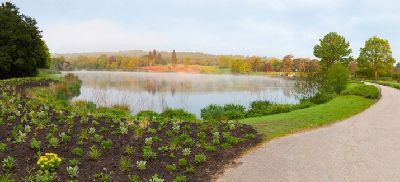 John Phibbs is an expert on Lancelot Capability Brown and explains: You have to remember that Brown loved streams... (because) A stream has sound, and animals will come down to drink. He also made ponds, canals and cascades, and he was a master at drainage. In some places, the fencing at the edges of lakes is controlled so that animals gather at a specific 'beach' to drink, becoming a component in a vista seen from the house. 6
By designing grassland and parkland trees, woodland and water parkland features in an intricate pattern, Brown created a varied mosaic of habitats, concentrated in one place, that provide plenty of homes for wildlife, some of them very rare. They include grassland, wood pasture, woodland and wetland habitats, but most important are the hundreds of parkland trees he incorporated or new trees he planted, which are now 300 to 1000 years old. They are important for their decaying wood and the nooks and crannies that develop in old wood, that lichens, fungi and invertebrates such as beetles need to survive, as well as providing roosts for bats. These trees reach a very great age because they grow in open grazed areas rather than competing for light and nutrients in woodland. Brown's landscapes offer important refuges for wildlife and stepping stones for species to connect with habitats in the more intensively farmed or developed landscape that surrounds them.3
And which landscape design of Capability Brown is considered to be the best?
It would seem that The Golden Valley at Ashridge Estate (Hertfordshire) is considered to be Capability Brown's crowning achievement.
The Golden Valley is considered one of his greatest projects, not just due to the impressive view, but also due to Brown's clever design. Due to the sloping and gentle bends at first glance, it looks like the valley goes on endlessly, when in reality it only stretches a short distance. 1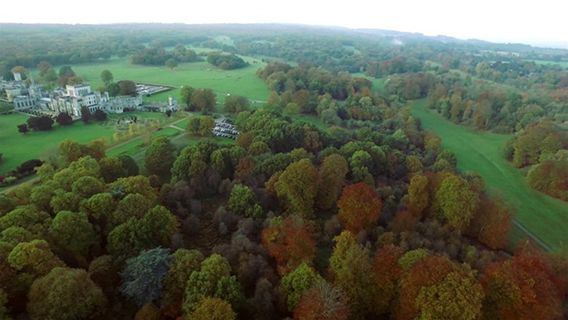 Capability Brown is known as the founder of landscape design. Three hundred years ago he created some of the most magnificent landscapes in England. He travelled the length and breadth of the country, improving more than 200 of the greatest estates in the land, for some of the most influential people in the eighteenth century. But there is one plan that never got off the drawing board. His own garden. The only land he ever owned was in Fenstanton, Cambridgeshire. But he died before he could carry out any plans for his own garden. Today it is a piece of flat land, bisected by the A14 dual carriageway. Landscape designer and Gardeners' Question Time regular Bunny Guinness travels across England to some of Capability's finest landscapes - Blenheim, Burghley, Milton Abbey and Castle Ashby - to understand what he might have created. Rediscovering plans and letters, and using the latest technology, Capability Brown's unfinished garden is brought to life. 7
Garden lovers and landscape designers can follow this link to the official website for Capability Brown.
Credits
1. nationaltrust.org.uk
2. en.wikipedia.org
3. capabilitybrown.org
4. alnwickcastle.com
5. pinterest.co.uk
6. telegraph.co.uk
7. Capability Brown - BBC Documentary 2016