The ethereal sculptures of Benjamin Shine
Most sculptors work with hard substances such as clay, marble, stone, bronze, or even wire. But today we meet a British sculptor who works with fabric – tulle, to be exact. You may know tulle as a netting fabric most commonly used in wedding veils, or to provide stiffening in ball gowns and the like.
But this pioneering artist creates portraits by draping the lightweight tulle where it wants to go, and either hand stitches or irons into place the intricate but gentle folds. The density created by bunching the fabric or allowing it to loosely flow creates the three dimensional, detailed features of his portraits.
He describes his work as "painting with fabric" and can spend up to 100 hours on a single 'portrait', constantly moulding the fabric to create tones and texture, walking back to see the effect, adjusting and checking again….. and again …..and again.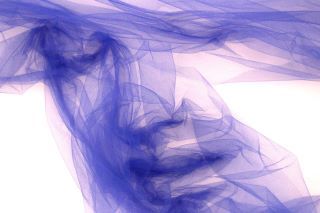 Benjamin Shine was born in 1977 and grew up in London. In 2000 he studied fashion design at The Surrey Institute of Art and Central St Martins. After graduating in 2003, he set up a creative studio inventing and designing innovative apparel, furniture, sculptures and other products.
In 2004, Benjamin received the Enterprising Young Brit Award and later, the Courvoisier Future 500 Art & Design Award. He has since gone on to win many other awards, listed here in his bio.
Shine has worked internationally on installations and fashion shows, in places such as Paris, Los Angeles, Monaco and New York. Whilst he is a multi disciplined artist, designing clothing, furniture and public artworks, it is his unique tulle designs that have racked up a coterie of collaborators, including Givenchy, Google, Bergdorf Goodman, Harrods, MTV and Coca-Cola,1 just to name a few.

In his artist statement, Shine explains that his work "centres on ideas of energy, impermanence and the relationship between the spiritual and the superficial." And indeed, don't you think they do look like a wreath of smoke, captured in a moment of time?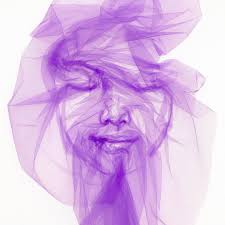 With his most recent sculpture, "Quietude", took his his signature portraits to a whole new level. He built an outdoor sculpture that measures over eight feet tall. The fuchsia-toned sculpture was made from an 80 by 20 foot piece of netting made by a mesh manufacturer from recycled high density polyethylene (HDPE).
This was shaped around a steel frame to form the portrait. Its colour changes from light pink to deep crimson as the natural light changes throughout the day. 1,2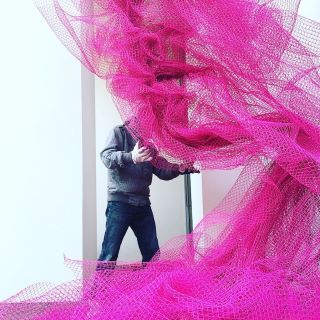 You may like to hear more about this aspect of his work directly from Benjamin himself in this 2 minute video:
Footnotes
With thanks to
The Business of Fashion
MyModernMet