Teenage Wallabies and other Creatures in the Grampians National Park, Victoria
The majestic scenery of the Grampians, as Jane showed you yesterday, is embellished by the wildlife which abounds (literally) at nearly every corner.
In fact we were greeted and given the once over as we arrived at our cabin nestled on the side of the escarpment which dominates the town of Halls Gap.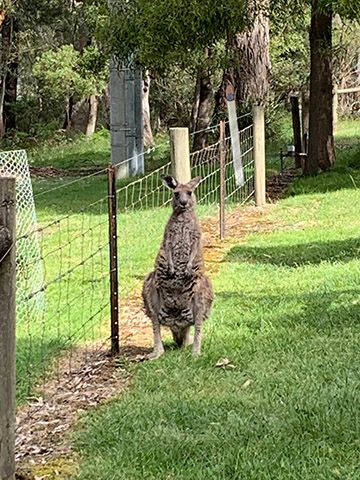 We must have been given the seal of approval as every evening and morning small family mobs of wallabies would come down close to our cottage and feast on the lush grass which has grown from the very wet Spring Victoria has experienced.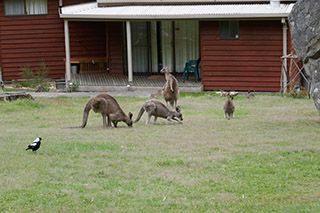 As we drove around we saw many emus which would have to be one of the funniest birds on earth. We featured a post a little while back when we had a competition to Vote for your favourite emu portrait with the emu portraits having been painted by Australian artist Jos Coufreur. I couldn't resist snapping a few portraits of my own.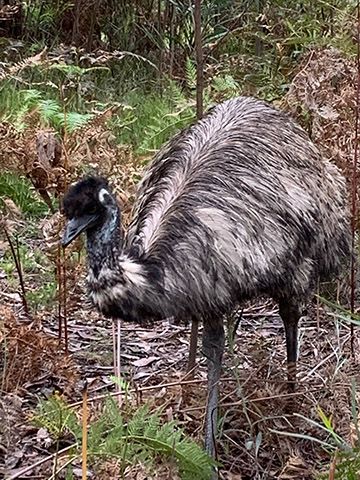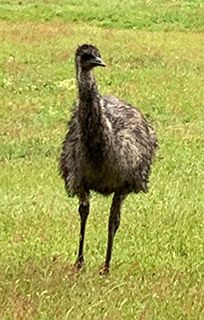 Bird life in the Grampians is prolific. There are about 300 species of parrots in the world and Australia boasts 56 of these species. I'm not sure how many of these parrot species inhabit the Grampians but I do know that the Crimson Rosella is certainly the most stunning and as you will see in a video (below) the most cheeky!
I always thought the ones with the green feathers were the girls but I have read that it is the younger birds that have the green feathers. The colours in the feathers on the older bird were truly amazing.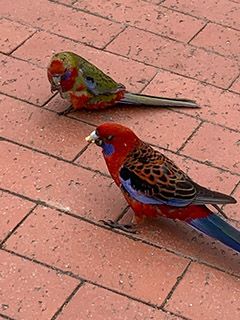 And being Spring we were delighted to see some of the babies - furry and feathered. Jane was quick to photograph the little joey who features at the beginning of the Cute, Shy and Misbehaving video below and of course a baby magpie also get a role in the clip.
You will also meet a very shy emu and a very recalcitrant parrot who wanted our ice-creams!! And as you will see I won!!
Like the rosellas, magpies and cockatoos are known for being very friendly...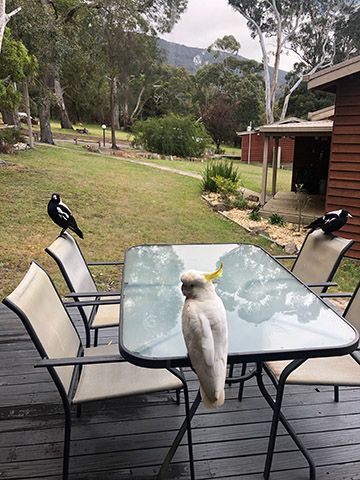 ...and Jane was determined to make a friend of one sulphur crested cockatoo who was definitely interested in forming a firm relationship - that is so long as she continued to feed him.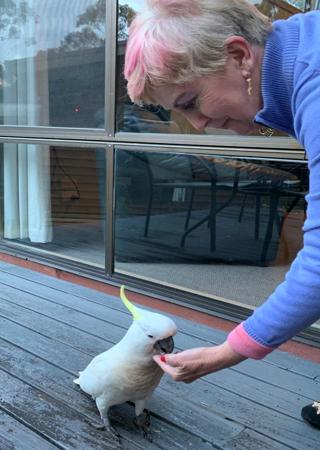 The ducks weren't friendly at all but their home setting was beautiful.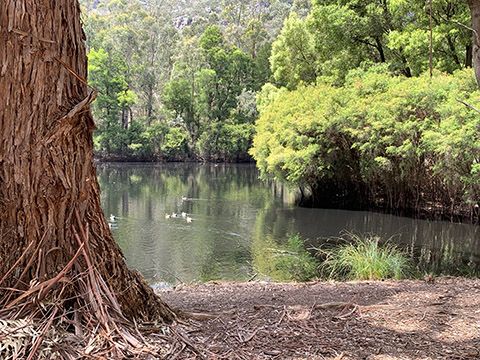 And where are those cute little animals called koalas I can hear you saying? This is the closest we came to seeing a koala and note that Anne decided to get dressed in koala matching clothes so as to blend in with the landscape!!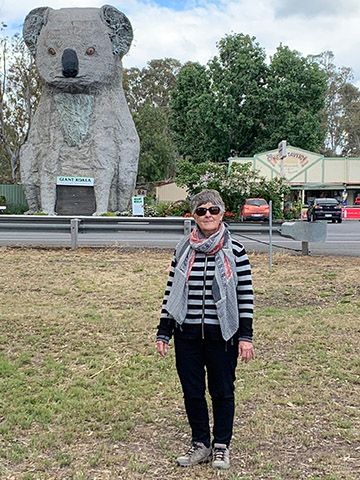 Animal behaviour is fascinating and I can watch them endlessly especially as much of what they do is so similar to human behaviour. We all know about the behaviour of teenagers and how they love competing with each other and showing off their abilities. The boys of course love to show how strong they are - and teenage wallabies are no different. I think you will enjoy this video just as much as I did filming it. Note the way they copy each other's gestures.
I do think these boys might have been showing off just to impress me as they were well aware they were being filmed.
Tomorrow - a shed made from sticks!! A very large shed made from sticks!! A remarkable work of art with a very practical purpose.