This year Thanksgiving falls on 25 November being the fourth Thursday of November.
We wish all our American family, friends, subscribers and followers a Very Happy Thanksgiving Day and may all the good things of life be yours, not only at Thanksgiving but throughout the coming year.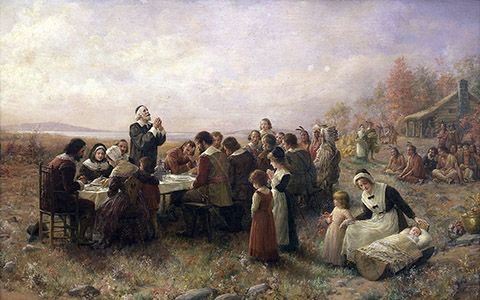 Thanksgiving is a federal holiday in the United States, celebrated on the fourth Thursday of November. It is sometimes called American Thanksgiving (outside the United States) to distinguish it from the Canadian holiday of the same name and related celebrations in other regions. It originated as a harvest festival, and the centerpiece of Thanksgiving celebrations remains Thanksgiving dinner. The dinner traditionally consists of foods and dishes indigenous to the Americas, namely turkey, potatoes (usually mashed), stuffing, squash, corn (maize), green beans, cranberries (typically in sauce form), and pumpkin pie. Other Thanksgiving customs include charitable organizations offering Thanksgiving dinner for the poor, attending religious services, watching parades, and viewing football games.In American culture Thanksgiving is regarded as the beginning of the fall–winter holiday season, which includes Christmas and the New Year.1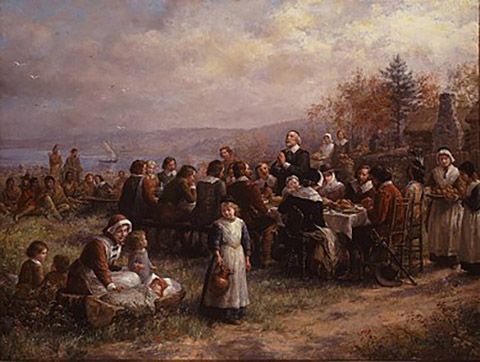 Jennie Augusta Brownscombe (December 10, 1850 – August 5, 1936) was an American painter, designer, etcher, commercial artist and illustrator. Brownscombe studied art for years in the United States and in Paris. She was a founding member, student and teacher at the Art Students League of New York. She made genre paintings, including revolutionary and colonial American history, most notably The First Thanksgiving held at Pilgrim Hall in Plymouth, Massachusetts (above). She sold the reproduction rights to more than 100 paintings, and images of her work have appeared on prints, calendars and greeting cards. Her works are in many public collections and museums. In 1899 she was described by New York World as "one of America's best artists." 1
Tomorrow we return to the Grampians in Western Victoria to see some of the remarkable wildlife Australia is famous for.
Credit
1. en.wikipedia.org