Street Art: turning Yarram into a "Heesco" town
Street artist and silo painter, Khürelbaataryn Khosnaran, known as "Heesco", has painted ten exterior walls in Yarram, a country town in South Gippsland, Victoria. This 5 week project was one of his largest yet.
Information is courtesy of the ABC.net.au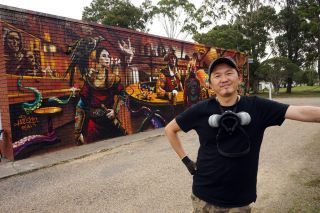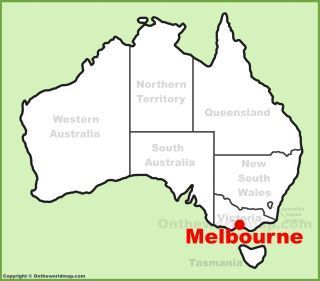 Heesco was enticed to go to Yarram for the project by Wayne and Anne Tindall, who had moved to Yarram and turned an old butcher's shop into a hip and happening bar, called The Bull Bar and Gallery. They had met Heesco some 6 or 7 years previously when they co-ordinated the painting of a laneway in the Melbourne suburb of Windsor, and Heesco got involved.
Eric Greenaway, a local resident on the Yarram tourism committee, saw a large mural Heesco had painted inside the bar, and wondered what it would do for the town of Yarram to extend this to perhaps 10 wall sites across the town. The townspeople agreed to support the project and so it was full steam ahead to turn Yarram into a 'Heesco' town!
Ten walls were chosen, and each wall owner was able to decide the image they wanted him to paint. They vary from historical images of local identities of Yarram, to simple pictures of early industry, to local flora and fauna, to a complex bar scene outside the Ship Inn Motel.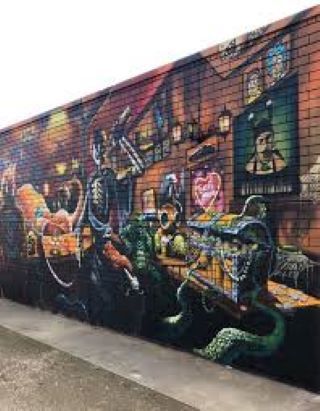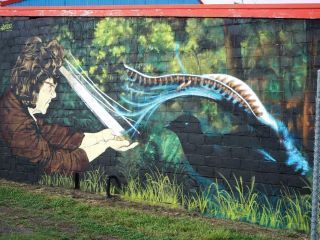 Heesco was born in Ulunbaataar, Mongolia, in 1979. In a video interview he describes how tough life was in the 80s and 90s. He went to Poland for a year with his mother, and went to school there. As the only Asian kid in the school he used to spend lunchtimes just drawing by himself in the class room and the other kids gradually began to take notice. They got him to draw comic book and superhero figures for them, and these subjects remain an influence in his art today.
His father was something of an artist, and Heesco thought he would like to become a professional artist. He decided he wanted to go to an English-speaking art school and, for no particular reason, chose the Sydney School of Art. He migrated to Australia in 1999, and later moved to Melbourne in 2010. He has painted countless walls around Melbourne and Sydney.
Heesco sometimes uses his art as a means of highlighting issues and causes he believes in, such as "Breathe Mongolia", below left, which he produced to highlight the breathing difficulties of people living with the extremely poor air quality of industrialised Mongolia.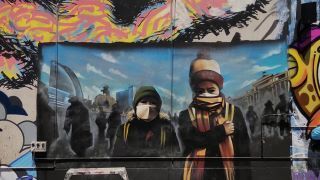 But Heesco loves the rural projects best because he says people are so appreciative of his type of art, and he can see the beneficial impact it has on the town. It's unique and stands out, whereas there is street art everywhere in the big cities.
He has also painted two silos in New South Wales, in Weethalle and Grenfell, during 2017 to 2019. These are part of the NSW Art Trail, made up of 13 locations, including five silos, six water reservoirs and three street art towns which stretch over 2,100 kilometres and involve a number of artists.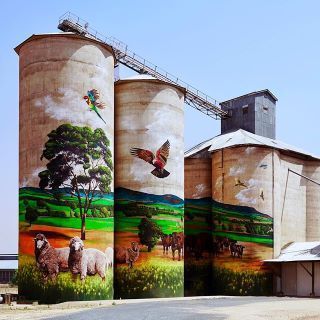 His silo project in Grenfell, New South Wales, was also chosen to be one of a set of just four Australian postage stamps!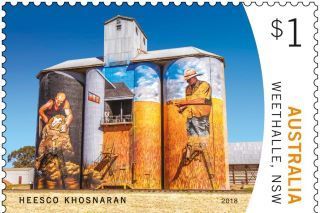 Wayne Tindall, the project co-ordinator of the project in Yarram, says that Heesco has a unique ability to take a picture or photo and translate that by sight to a two or three storey building, working up close, but keeping the proportions and perspective accurate when viewed from a distance.
He is becoming known more and more, and hopefully this latest project will put both Yarram and Heesco "on the map" !!!
If you would like to see more of how the transformation of Yarram came about, please Click here.