Spring by Arthur Streeton
Spring was painted by Arthur Streeton in 1890 and gifted to the National Gallery of Victoria, Melbourne by Mrs Margery Pierce in 1978. Its an oil on canvas on plywood 81.4 x 152.6 cm.
Streeton, or 'Smike' as he was known, depicts in this work bathers on a corner of Sill's Bend on the Yarra River, located in what is now known as Banksia Park.
The Yarra River is swollen with heavy Spring rains, and in the distance are cattle grazing on the rich river flats. Streeton was called 'Smike' by his friends after a character in the novel 'Nicholas Nickleby' by Charles Dickens. 2
The storyboard states:
In this painting Streeton has come down from the Heidelberg Hills to the valley below the rich green suggest the abundant growth of the season of renewal it adds to the sense of an idyllic and verdant scene with naked men bathing in the river as immersed in nature itself as they are in the water.

One reviewer however failed to recognise the beauty of man in his natural state remarking on a painfully pronounced suggestion of the absence of clothes.
There is so much to see in this painting, I was surprised the reviewer focussed on the lack of clothing - especially as we only have a partial view of the men and most are in the water!
I love the way Streeton draws our eye to the stream, gently meandering into the distance.
Streeton has devoted a large part of the painting to the riverbank, divided by a narrow path. To the right and left the bush is interspersed with splashes of colour to mark flowers, grasses and reeds. Below is a closeup where its clear to see his individual brushstrokes. Just a dash or a stroke in an impressionist style is all that's needed to achieve the effect he was after.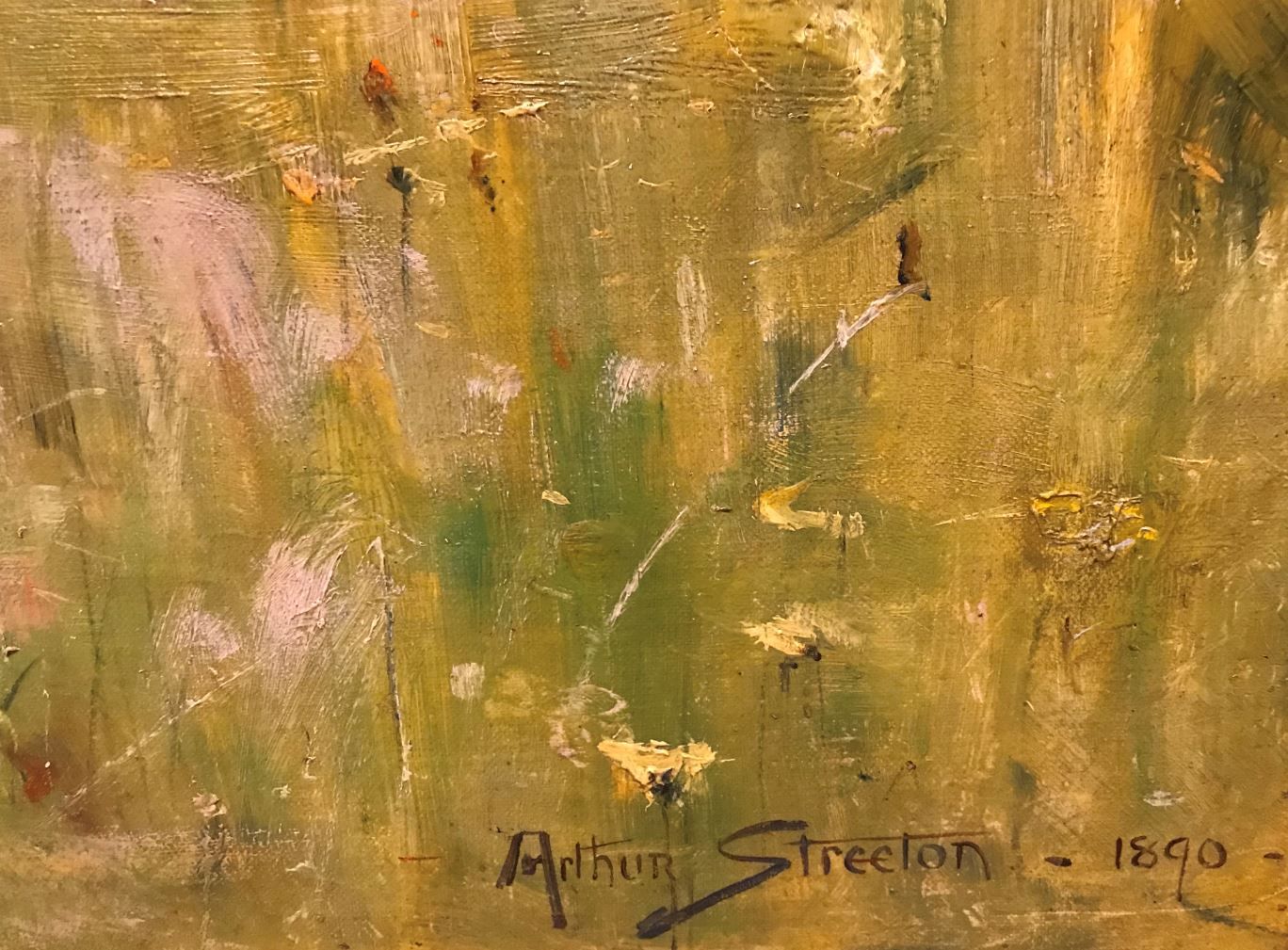 The Storyboard goes on to say:
Streeton often included amusing details in his paintings such as the cicada emerging from its shell on a stem of grass in the foreground.
On studying the painting for a few minutes I was thrilled to spot the cicada which is shown below in another closeup.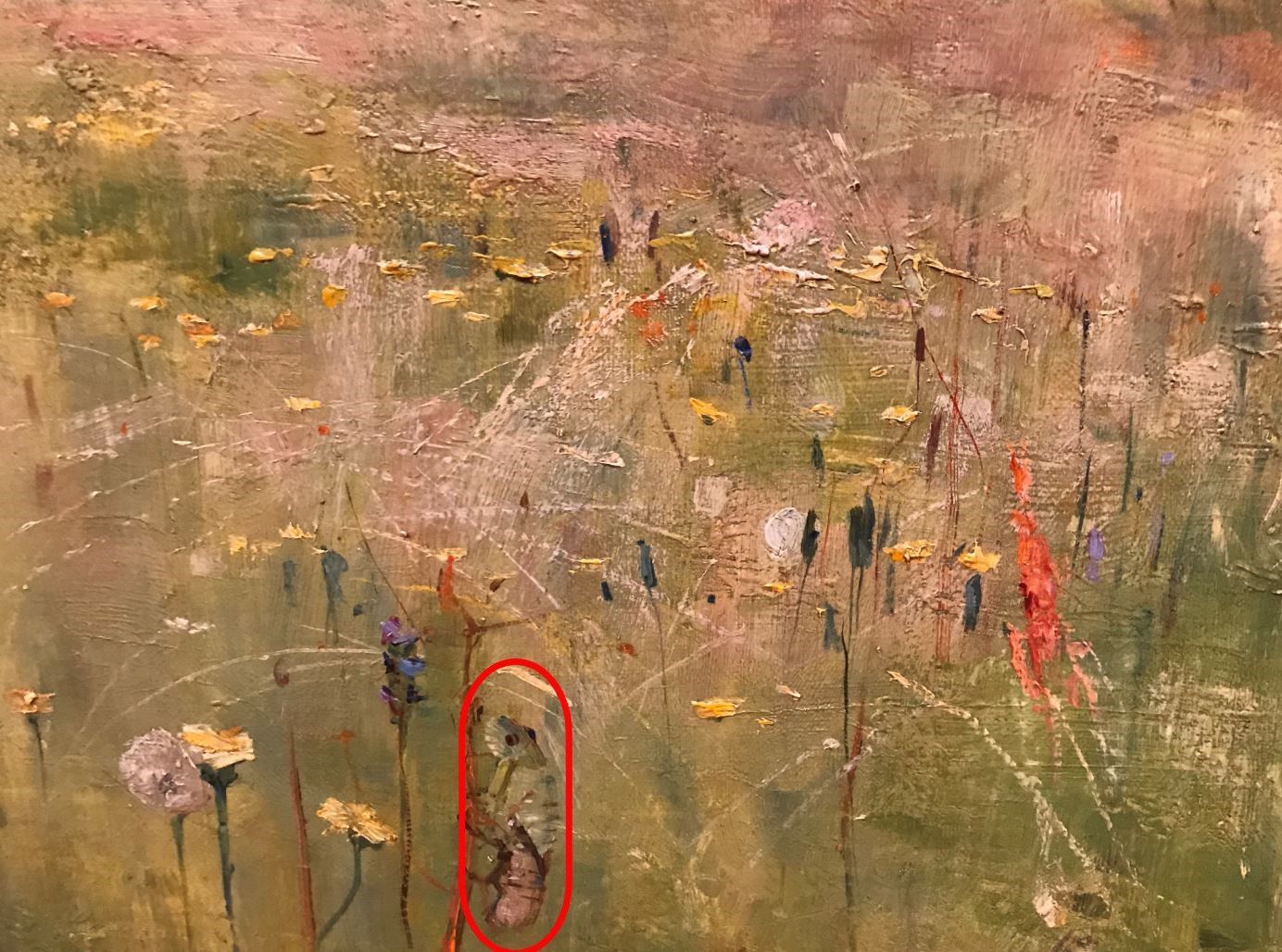 Although I could not find a lot about Streeton's personal life, he was quite the romantic.
In 2007 NGV conservator Michael Varcoe-Cocks spent a year cleaning the painting. An X-ray revealed the artist's original sketch showing a naked woman with her back turned where there are now youths swimming in the river. (now that would certainly have shocked the reviewer mentioned earlier!)
The conservator later found that Streeton had inscribed "Florry Walker is my sweetheart" into the wet paint using a pin or needle, and her name several more times. The words are invisible to the naked eye.
Mr Varcoe-Cocks' investigations led to another artist, Lucy Walker, with a sister called Florence, who would have been 17 at the time. Streeton was 22.
Florry's granddaughter, who wishes to remain anonymous, said the family had always known there was some sort of romance.3
Such tantalising details - if only we could know more...
I hope you have enjoyed learning a little about Arthur Streeton and his art works. During his years in Britain he painted many works, some included in the exhibition, but I did not find them as interesting as his Australian and Egyptian works.
Streeton joined the British army as a private in 1914. After being invalided out, early in 1918 he was commissioned by the Australian government as a war artist.
After spending 2 years in Melbourne and then revisiting London, Streeton decided in 1923 to return permanently to Victoria. From his home in the picturesque hill country east of Melbourne, he continued to paint in his established manner. He was knighted in 1937 and died at Olinda, Victoria, on Sept. 1, 1943.4
Website biography.yourdictionary.com somes up:
Streeton was a pioneer of the heroic impressionism which dominated Australian art for half a century, beginning in the 1880s. In settings of well-clothed rolling countryside, his paintings invested the continent's inner pastoral lands with a truly Arcadian grandeur.
His contemporaries saw him as a true product of "the sun and soil of his land," and he was acknowledged to be "a natural technician, with virtuosity and technical perfection including correct drawing and balanced design."4
Credits
1 My own photos taken at the Exhibition - Art Gallery of NSW
2 artistsfootsteps.com
3 Article dated 13/6/2007 - theage.com.au
4 biography.yourdictionary.com