Bailed Up and The Breakaway: A Story to Tell
The title of the blog conjures up visions that something is afoot and it was - but over a hundred and twenty years ago!
The current story starts in an Op Shop as we call them in Australia; Charity Shop in the UK, and Thrift Shop in the USA.
Recently John Wylie from Port Elliot in South Australia sent in a photo of a print he had bought in a Tea Tree Gully Op Shop (in Adelaide's North/East). John tells us:
I was out shopping in Tea Tree Gully this morning and called into the local "Op" Shop to check out any old picture frames and came across a No:11 Limited Edition Painting "Print" by Tom Roberts – Titled "The Breakaway". An absolute bargain!
What a fortunate discovery. It just needs cleaning up and a new frame to enhance its beauty. I will put this "gem" with my other Tom Roberts – "Bailed Up".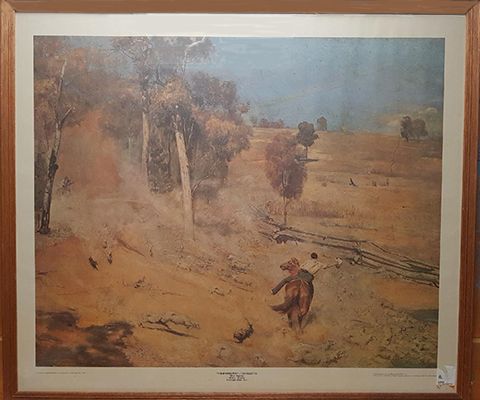 A little about the original painting The Breakaway which is owned by the Gallery of South Australia and painted in about 1891.
Roberts made his preliminary sketches for this painting at Collendina sheep station, near Corowa. He then worked in the Brocklesby station woolshed and his Melbourne studio, finishing parts of the painting in situ, carting the large canvas cross-country for the outdoor work.
In this complex action picture, the rider works with his horse in a futile attempt to prevent further rushing of the sheep. Choking dust almost obscures the other horseman and more sheep further up the slope. One of the kelpies has been bowled over in the stampede while another runs wide, doing his utmost to work with his masters to regain control. Dozens of sheep already lie stricken at the edge of the waterhole, unable to pull themselves from the mud or to escape the press of more sheep coming from behind.1
Details of The Breakaway
Materials used: oil on canvas
Dimensions: 137.3 x 167.8 cm
Signature & date: Signed l.l. corner, red oil "Tom Roberts". Not dated
Credit: Elder Bequest Fund 1899
Location in Gallery: Painting Collection area Australian paintings 2
John continues:
I have always admired the paintings of Tom Roberts and have been absolutely intrigued with each "title" he gave his paintings as each conveys a unique story - especially the Australian bush theme series.
In 2010 I was relocating with my employment from Victor Harbor SA to Mount Gambier in the South East of South Australia. I was seeking a painting to take with me for the new house and came across a Tom Roberts print titled "Bailed Up" in an old "Op Shop" in the main street of Victor Harbor. Last year I reframed the print to enhance it's appearance & to preserve the print.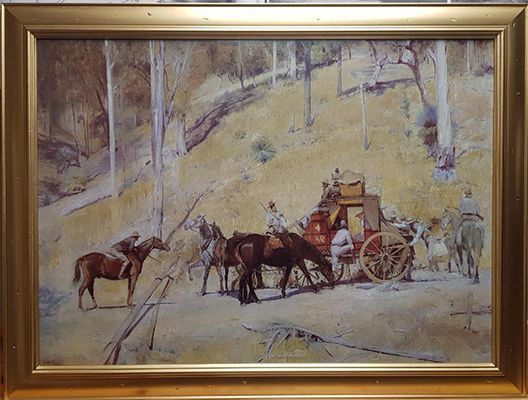 A little about the original painting Bailed Up which is owned by the Gallery of New South Wales.
Tom Roberts conceived the idea of a bushranger picture while he was staying at Inverell in northern NSW. He painted 'Bailed up' largely en plein air. It tells as much of the qualities of the local landscape as of its staged drama.
Roberts superbly captures the summer heat conditions, which render to stillness the dramatic circumstances of a Cobb & Co hold up. The scene was painted from a purpose-built platform in a stringy bark tree, giving the work its high vantage point. Roberts modelled the figures on Inverell townspeople, including stagecoach driver 'Silent Bob Bates' who had been held up by local bushranger 'Captain Thunderbolt' three decades earlier.3
Details of Bailed Up
Materials used: oil on canvas
Dimensions: 134.5 x 182.8 cm stretcher; 158.0 x 206.5 x 12.0 cm frame
Signature & date: Signed and dated l.l. corner, brown/red oil "Tom Roberts/ 95=/27".
Credit: Purchased by Gallery of New South Wales 1933
Location in Gallery: Not on display3
And John tells us:
There are unique opportunities & bargains in the local "Op Shops" including old picture frames that can be recycled & old books about our "Forgotten Artists"... which is so unique.
I enjoy discovering books of the early Australian Landscape painters of the late 1800s. Many have compositions with our "First Nations People" being featured and pioneer miners from Victoria, NSW & SA.
Shopping at "Op Shops" assists numerous outreach support services for the disadvantaged
Breaking News: Hot off the Press
Email note from John:
This morning we were having a coffee in Ocean Street Victor Harbor and I came across another Tom Roberts "Master Piece" in a shop.
Title: "Bourke Street Melbourne" c. 1885-6 - the same year my Grandmother was born!! It's framed and in exceptional condition.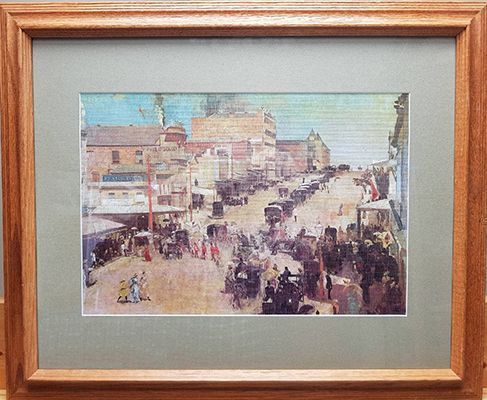 On the back of the painting is the following description.
Tom Roberts lived on the second floor of a small two-storey building alongside the post office where Myers Emporium now stands. The painting was originally titled 'Allegro Con Brio' and was probably painted from his studio window. The figures of the daughters of the late Rev. Duncan Fraser, of Heidelberg in the lower left of the picture were added by Roberts in 1890.
The painting was one of the first to illustrate his use of the characteristic pink-ochre colours of Melbourne. This was new in Australian painting and Roberts made it his own. 'Bourke Street Melbourne' is a good example of his awareness of the advanced formal tendencies of European art.
It bears a striking resemblance to Claude Monet's 'Boulevard des Capucine' both in technique and in selecting a point of view above the street. Such an impression of excited movement had not been achieved before by an Australian artist and, moreover, with such a commonplace subject; again the same use of colours as in 'Reconciliation' to represent shadows gives 'Bourke Street Melbourne' a luminosity unprecendented in Australian painting.
Details of Bourke Street Melbourne
Materials used: oil on canvas
Dimensions: 51.2 x 76.3cm
Purchased 1918. National Library of Australia and the National Gallery of Australia, Canberra
A special thanks to John Wylie for sharing his At Home Treasure with us.
Recently I have been contacted by one of our subscribers in California who has generously agreed to share her At Home Treasure with us - a painting, a portrait that commenced its story in France in the heart of the Impressionists' world. Coming up soon.
Credits
1. nga.gov.au
2. agsa.sa.gov.au
3. artgallery.nsw.gov.au
4. en.wikipedia.org