Slightly Whimsical and Definitely Quirky with Suellen Saidee Cook
Recently my cousin, photographer Colin Morris introduced me to the amazing photographs being created by Suellen Saidee Cook in what I would term a style of Magical Realism.
As Suellen states on her website:
I am a photographer of the imagination and the impossible.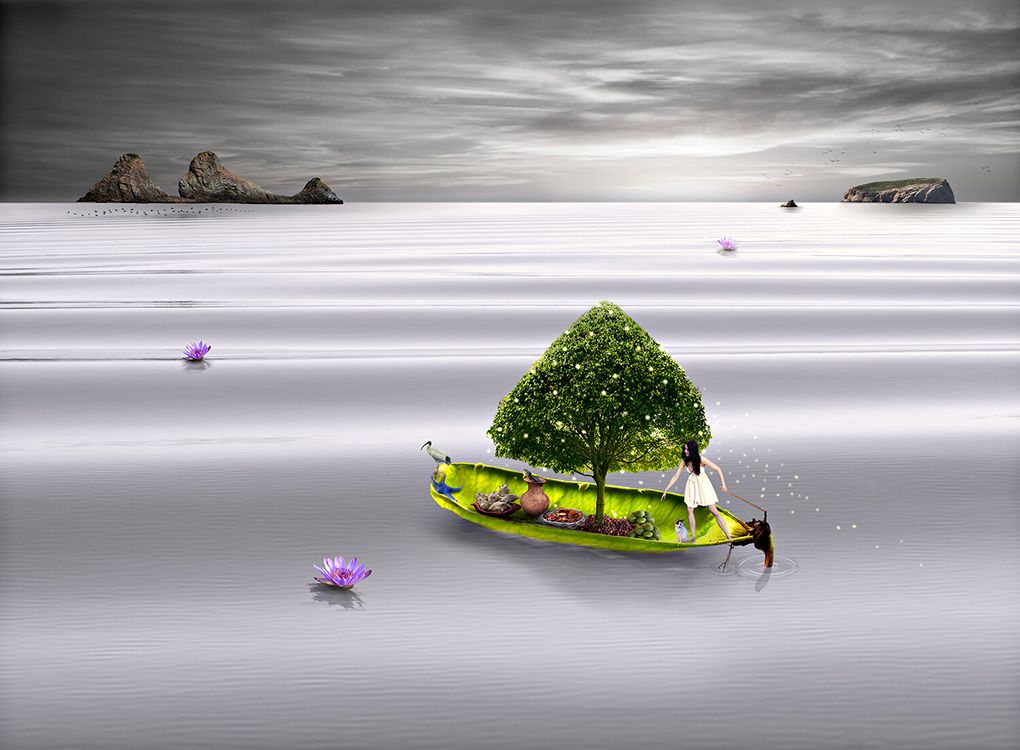 Suellen tells us about her amazing images:
The Gatherer's Daughter tells the story of our planet's future. In particular, the threat to species diversity and imminent mass extinctions brought about by the consequences of climate change. The image speaks of what will be inherited by future generations and that life will very likely look different to what we enjoy now, a home on a quarter acre block in the suburbs. It cannot be ignored; we must do all that is possible if we are to ameliorate and alleviate the unstoppable consequences of our current behaviour. But that is something that only another generation, our sons and daughters, will fully understand and be prepared to make the sacrifices to preserve life, all life, on earth. We can only hope they have the foresight to predict, to understand and to take the necessary action.1
Biology is close to my heart as I studied marine science for 10 years gaining my PhD in Southern Ocean phytoplankton (plants). The sea and its treasures are precious to my heart. There are so many weird, quirky and very strange things in the sea, we understand very little about how they live and what they do, but they are all so beautiful. Because they are largely out of site being under the waves and often small even microscopic means we do not get to see them nor do we realise just how precious each one is to the ecology and how very important to the wellbeing of Planet Earth. 1
Suellen has provided the following details to explain the technical side of the image:
The image combines 19 individual photographs into 91 layers. The layered file size is 3.83 GB. The landscape features the Thumbs and Hypolite Rocks on the Tasman Peninsular and smooth water from Great Taylor's Bay on Bruny Island, Tasmania.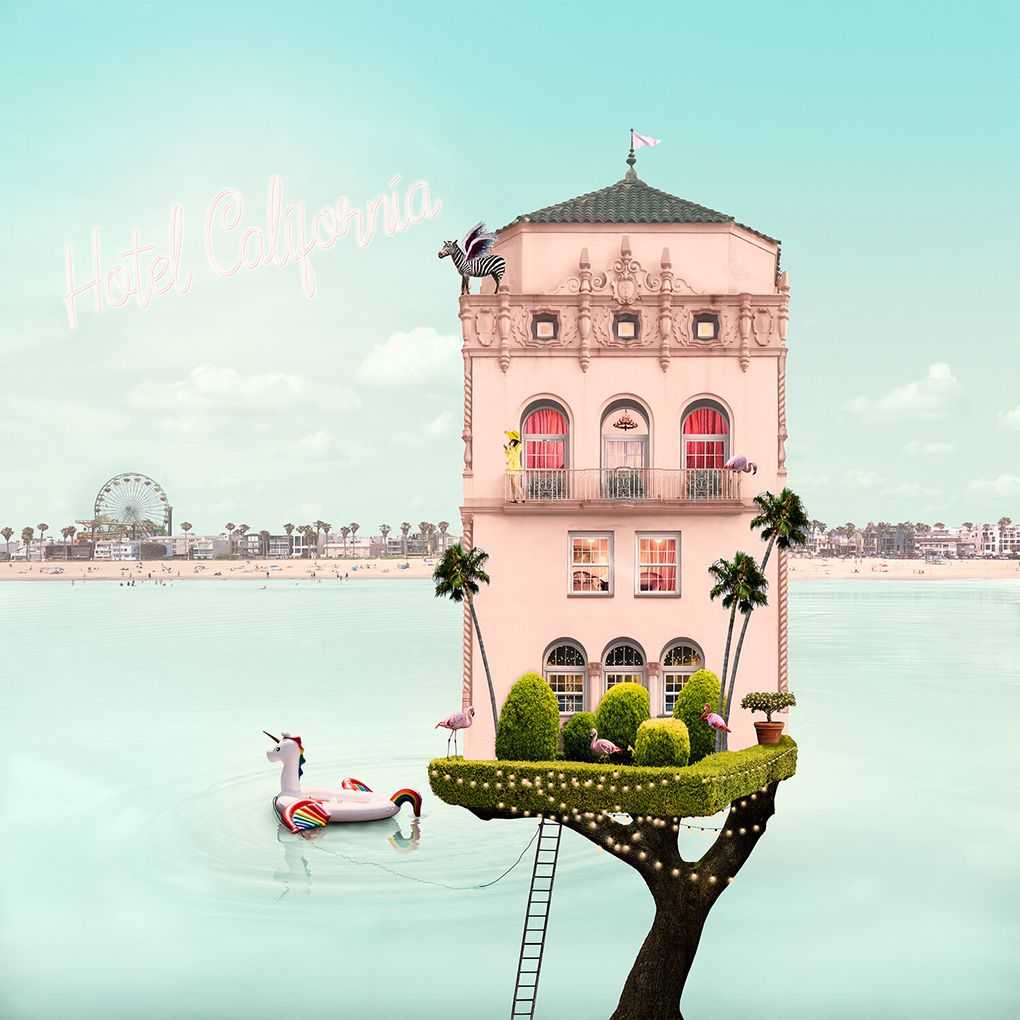 Suellen explains that:
HOTEL CALIFORNIA is about my trip with my daughter to the USA back in 2018. We spent a week in LA before heading across to the other side of the country to Maine. While in LA we got the opportunity to go to Venice Beach. Venice Beach is a beautiful Californian beach (in the image) however behind the beach is a canal estate with a less than idyllic history which I researched when doing my science degree honours. However quite a bit of work has been done to clean it up and it is a popular place to find large homes and water craft, including inflatable unicorns. While in Hollywood I photographed the Hollywood Roosevelt Hotel, a magnificent hotel that is immensely popular with the rich and famous. It made me think of the pink hotel referred to in Joni Mitchel's song A Big Yellow Taxi (a song that inspired my image The Tree Museum)…..and the words of the Eagles song, Hotel California…pink champagne on ice….. Hollywood, LA, California is a unique place, beautiful, warm, has pretty much everything, a big history, lots of characters, box office movies, famous people and is overwhelmingly larger than life. An experience I am very glad to have had.
The image is an expression of what I saw and felt while travelling through California especially and USA. I have drawn on that experience, brought it into my imagination and now manifested as visual stories interwoven with my own life. This artwork is an assimilation of my recent experience with that of my past, my history and my culture. Inspired by songs I love, places I've been and the people around me.
If you would like to see some close ups of some of the details in the photograph click here.
Suellen has several images of tree houses - Hotel California (above) is one of them. Below is another - Water Garden.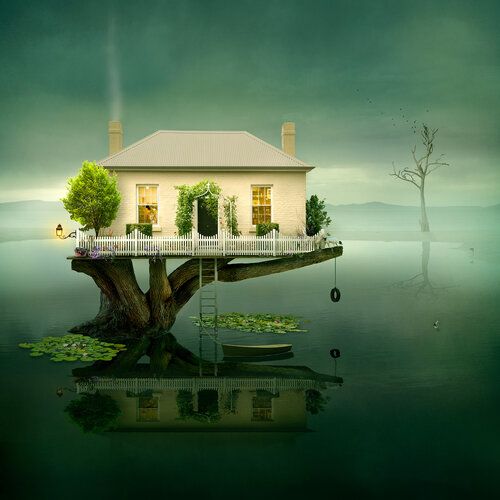 ARE YOU LOOKING FOR ART FOR YOUR HOME OR OFFICE THAT IS UNUSUALLY ENGAGING, SLIGHTLY WHIMSICAL, DEFINITELY QUIRKY, ENGAGES YOUR IMAGINATION AND VERY BELIEVABLE?
You can follow Suellen on Instagram by following this link.
Or check out her amazing and and thoroughly enthralling website by clicking here.
Credit
1. suellensaideecook.com.au